Utah @en
now browsing by tag

It is on September the 7th in the morning I found my "home on wheels" back for the coming weeks. Significantly cleaner than when I let her since Fullservicestorage that housed VivaLaVida for more than one year has cleaned her!


1. Dashing!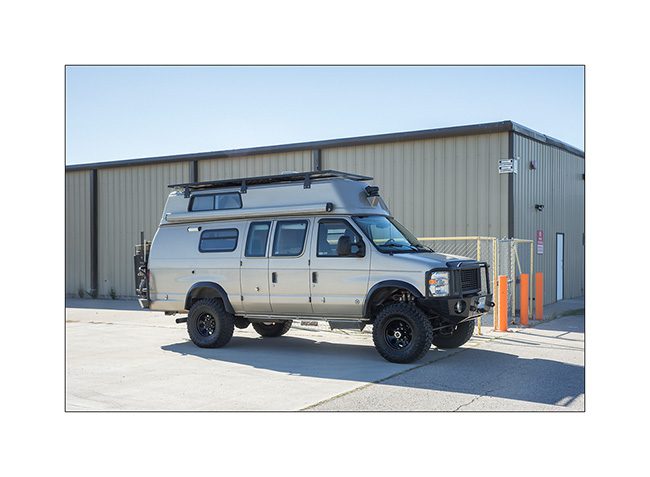 Having installed the track rod with new ball joints and wired the oil cooler fan installed the eve of leaving VLV in 2015, I took the road to visit Hans and Madeleine in Moab, hosted by high températures: 98F at 5 PM! I slept near some bentonite hills North of Moab.


2. Boondocking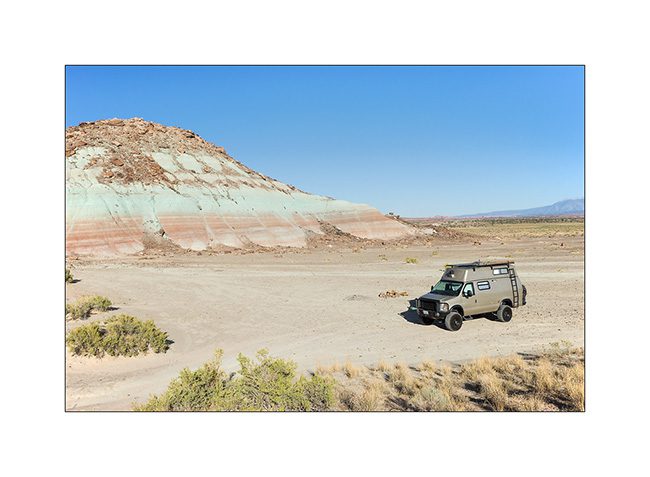 3. This clay, often colored by inorganic oxides in different sedimentary layers, is always spectacular.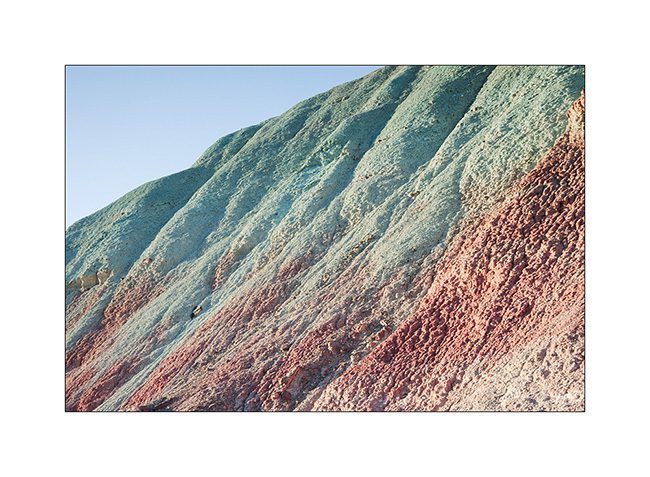 4. Late afternoon light.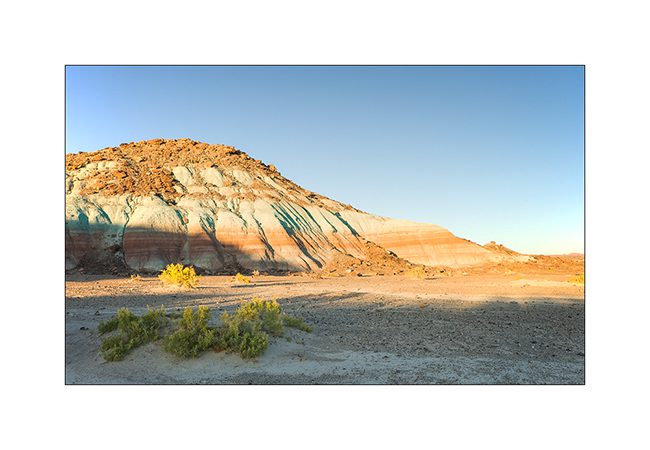 5. Quiet Wake up…





6. Silhouette of La Sal Mountains in the morning.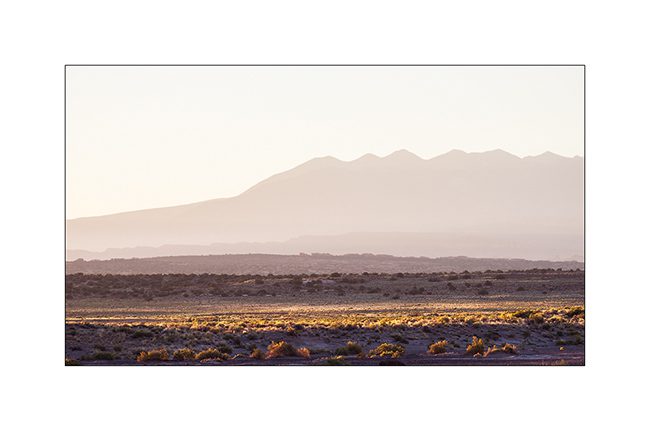 7. Castle Valley…

;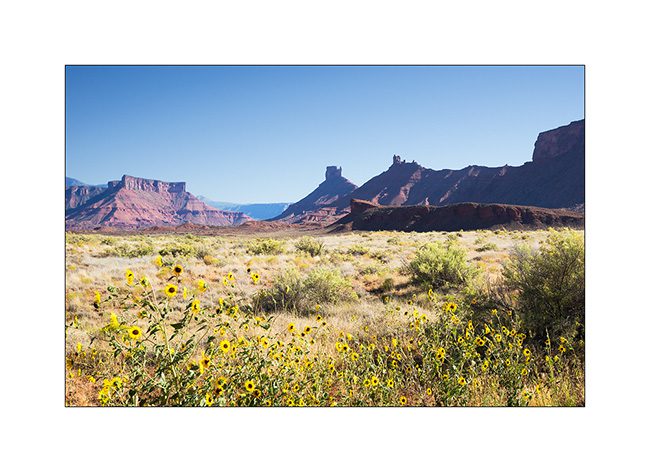 8. Fisher Towers in front of La Sal Mountains.





9. Along Colorado River…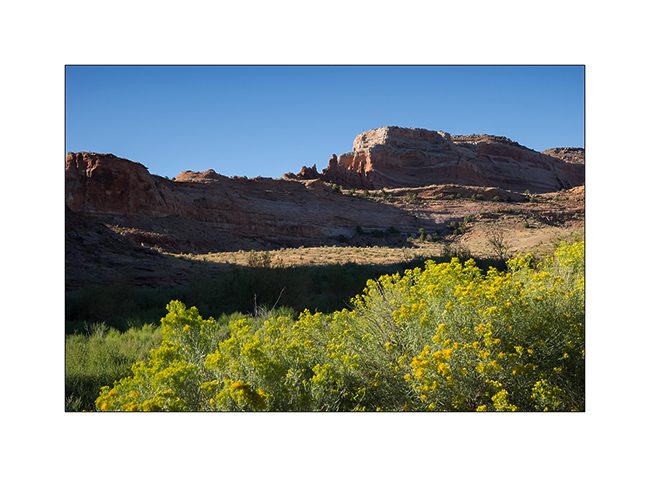 10. Not sure that in case of gas failure, it is of great ease..!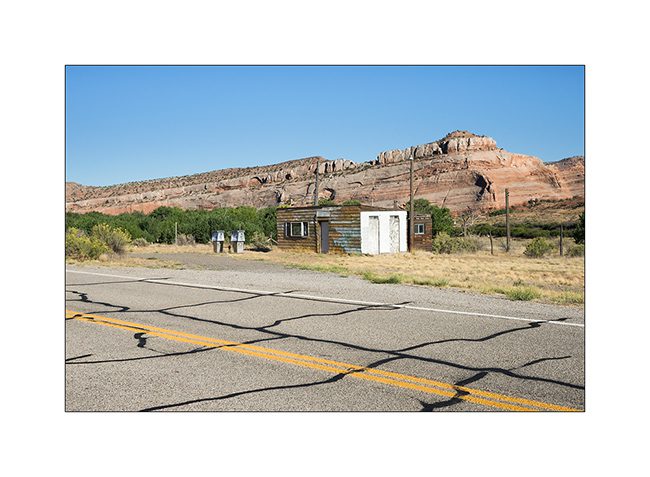 11. Colorado River North of Moab.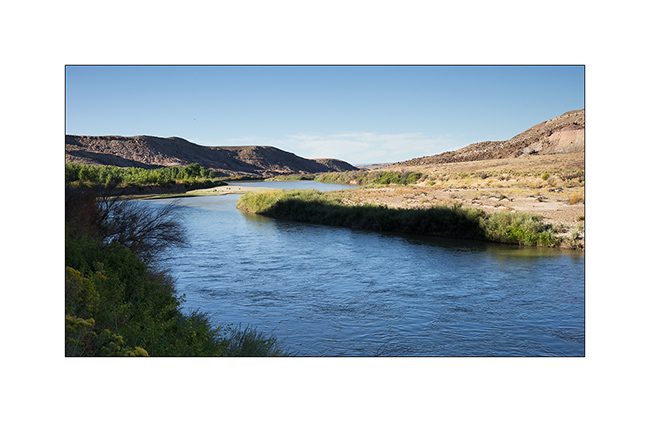 VivaLaVida is then passed in Colorado, discover some interesting spots. To come in a few days.



During Memorial Day Weekend, I held waiting for mechanical work on VivaLaVida discovering some surrounding canyons.


1. Going up Mill Creek canyon in a rainy day…





2. … I discover this pretty small waterfall.





3. Higher in the canyon, is a cave whose traces of soot on the vault attest that it served as a shelter for Indian people years ago.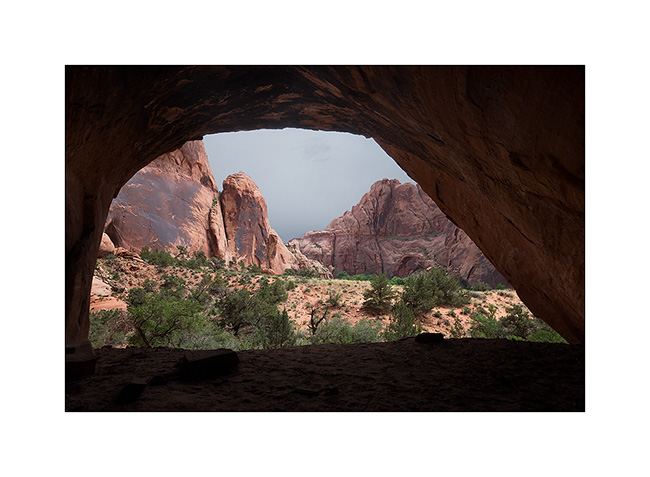 4. The next day I went discover the Negro Bill Canyon, renamed since with an unpronounceable name for "political correctness" reasons. The unusually wet spring in this region provides more water and greenery than it's common here.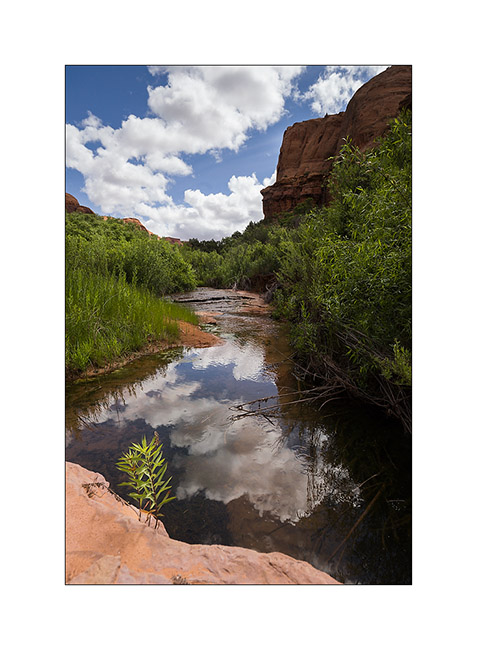 5. Arriving near Morning Glory Arch.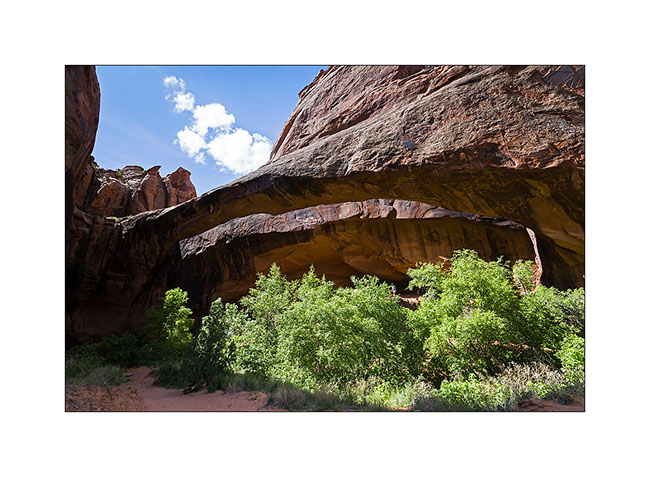 6. It's a place where tourists offer some thrills rapelling from about 120 feet.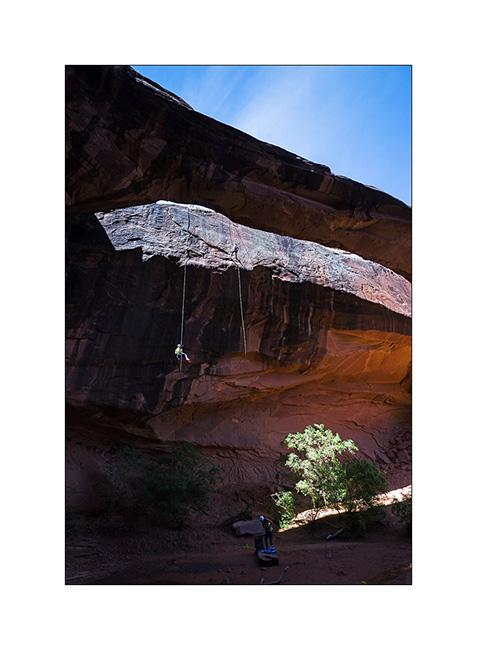 7. There is quite some air with a second portion away from the overhanging cliff.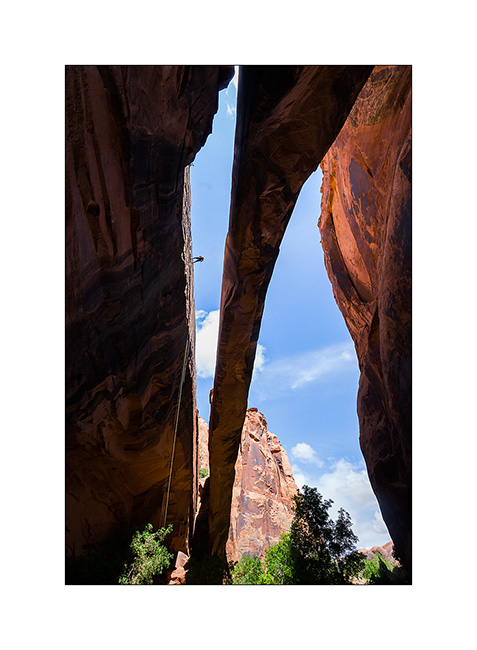 8. Giant arch.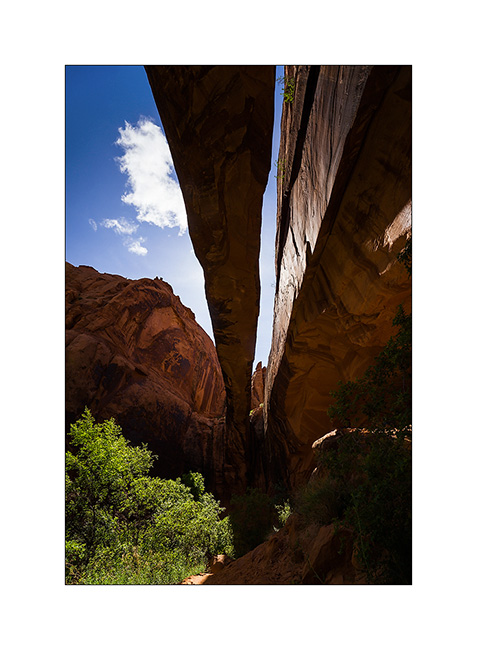 9. Hiking higher in Negro Bill Canyon, widely flowery.





10. Cacti offer many yellow ar roses flowers.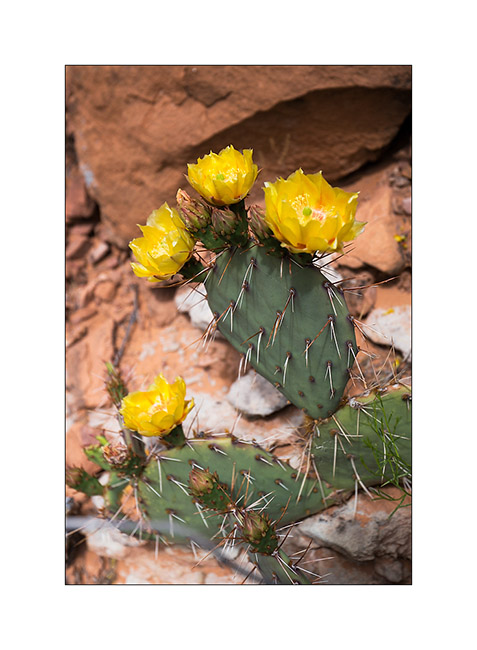 11. Small waterfall down the cliffs.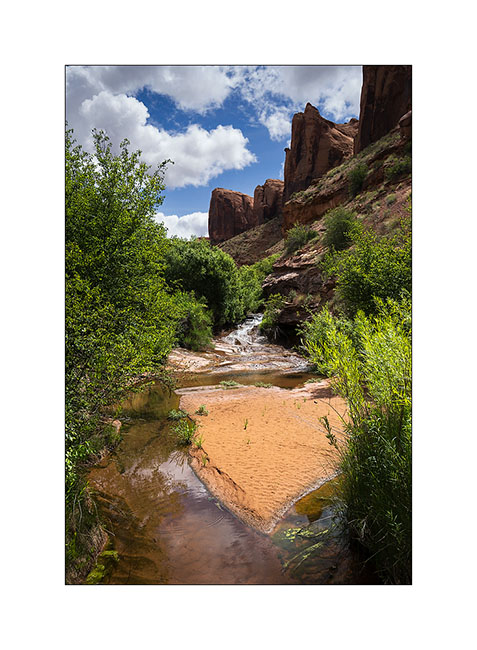 12. This one looks like a lys…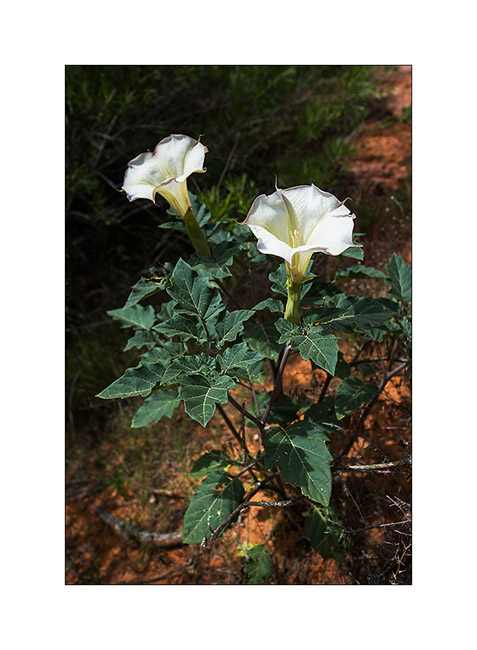 13. Not far from the mouth of the canyon, water runs on the sandstone.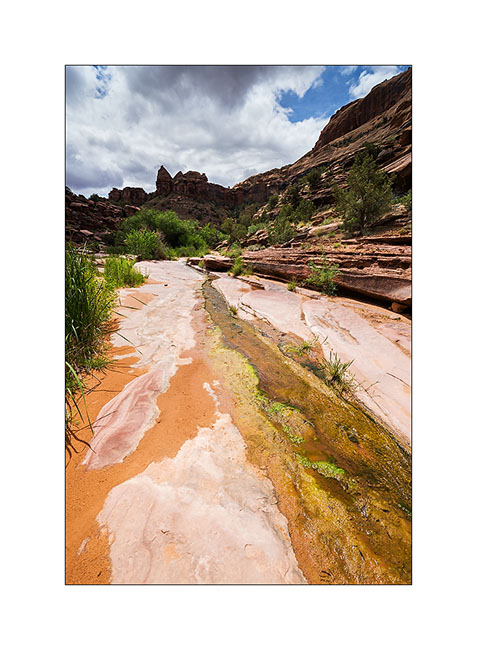 14. The place is wild and desert despite the crowds of Memorial Day.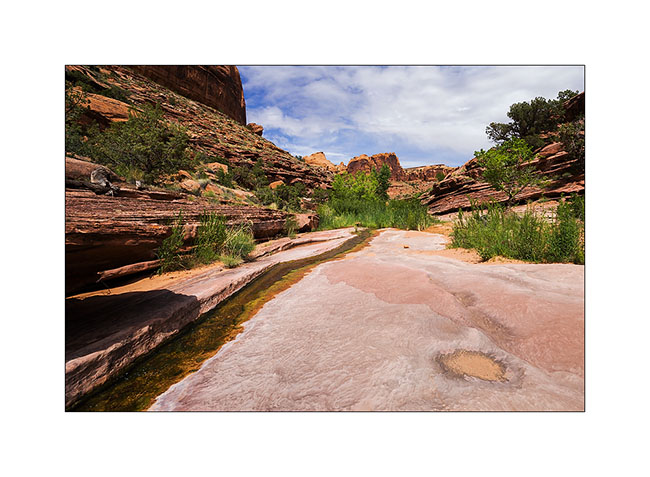 15. Last compo before going back to VLV and heading to Salt Lake City to do the work on VLV.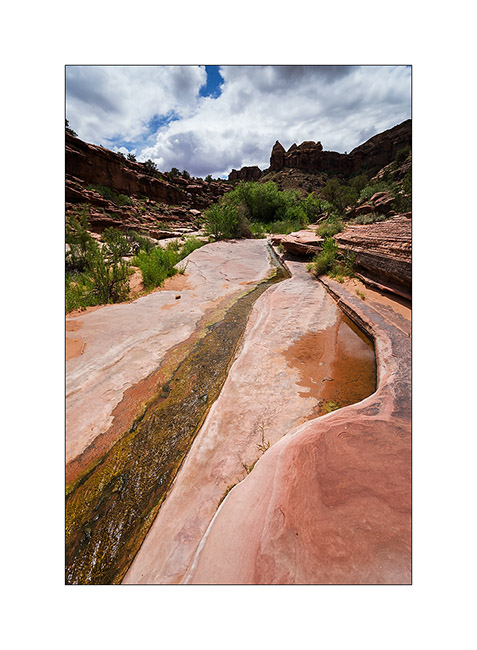 To be followed soon. 😀


Thank you for your latest messages triggered by the long rest of the blog. Vivalavida received important works, including the modification of the entire oil system to try to improve cooling. The oïl to water exchanger has been removed and replaced by a large oil cooler controlled by a thermostat. I hope that recurring heat problems will be if not solved at least reduced.

After the long break period, VivaLaVida has hit the road again.


1. Heavy thunderstorms dot the plains of New Mexico.





2. Some dump hail..!





3. I make a stop at the Overland Expo West, South of Flagstaff, where I see John & Mandi again who started their journey since two weeks for their Pan American: from Alaska to Patagonia…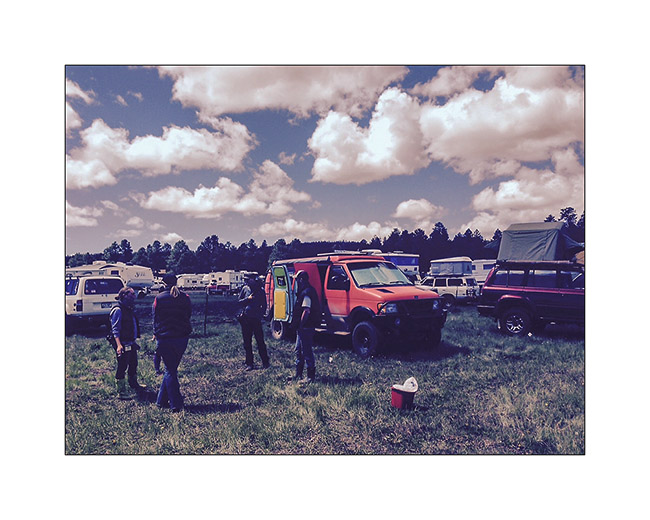 4. Camping stop with Chris and Jennifer on the shore of Lake Powel.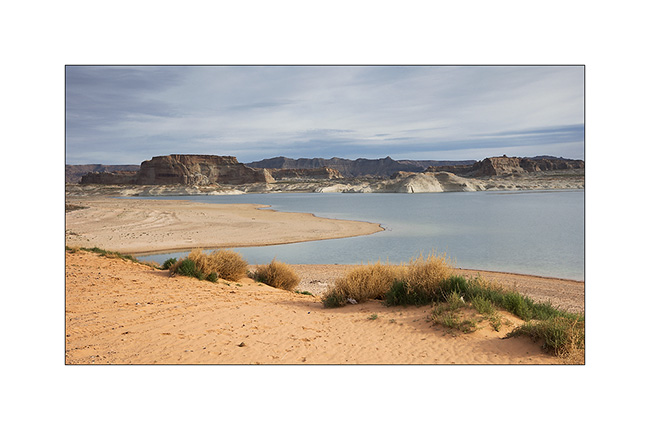 5. V4 with the "Sherpa" installed, the Chris's very special van going up the Grade Kelly on the Smoky Mountain Road.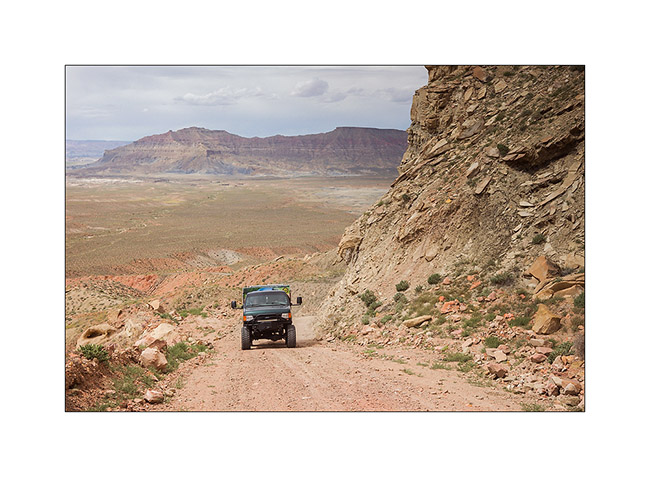 6. Camping at Deer Creek, along the Blurr Trail. The Sherpa is a base station for group camping. It offers a double bed in the upper part once lifted.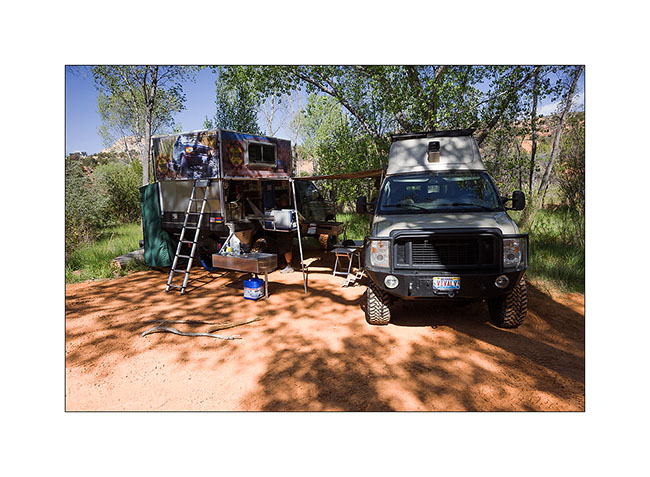 7. Fantastic view over the north of Capitol Reef and the Water Pocket Fault.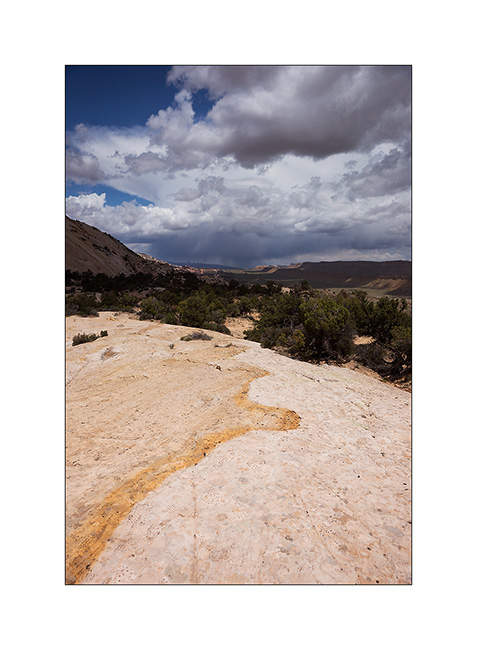 8. View toward South.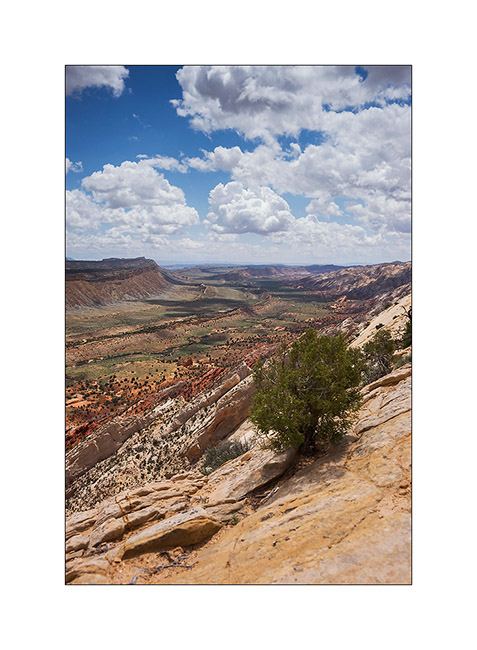 9. VLV in the Upper Muley Twist Canyon.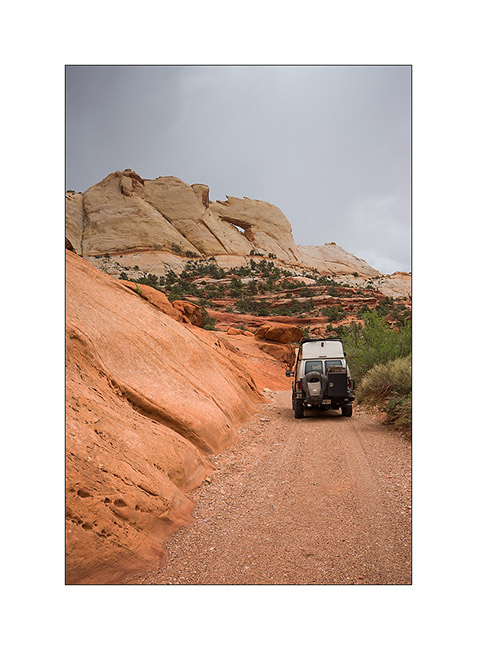 10. V4 going down the Blurr Trail.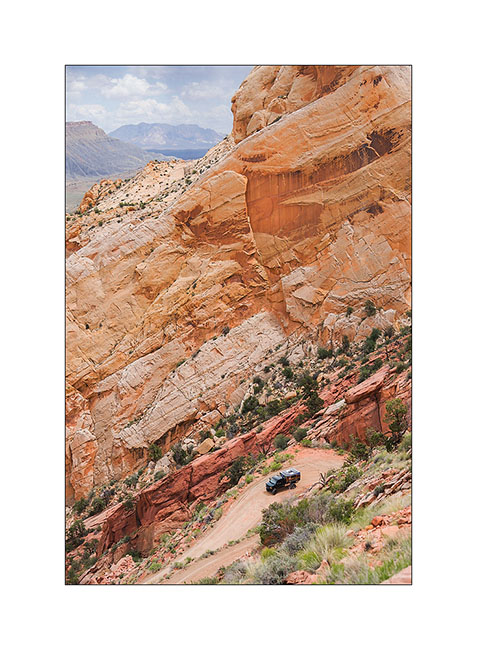 11. A few hundred feet below, it is only a small point…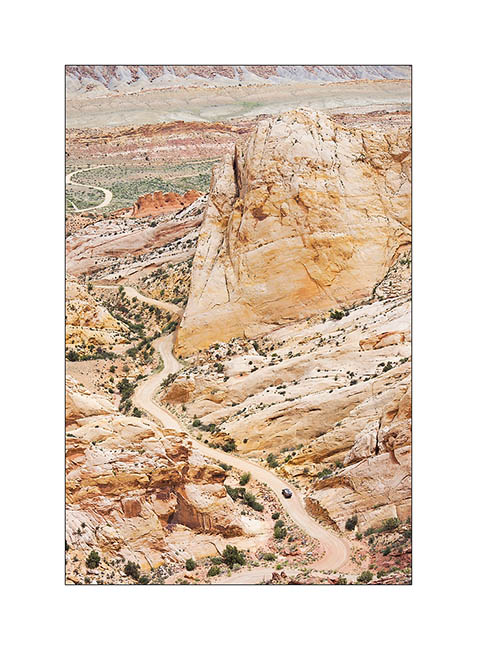 12. Temple Mountain Under thundersotrms.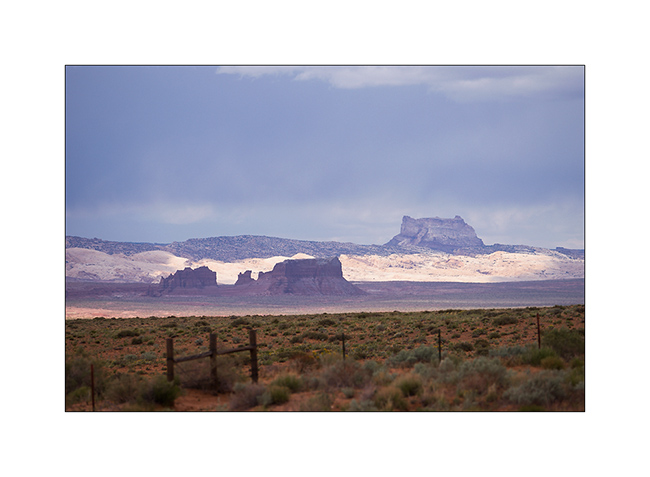 Vivalavida is gonna stop again for some technical changes, the oil cooler mounted recently needs to be repositioned. If it significantly lowers the oil temperature, the hot air flow is building heat in the transmission. We must find another solution.
So expect a few delays before new updates… 😉


I spent the last days of 2014 between Zion and Gooseberry Mesa, not far away.


1. The bottom of the Zion Canyon is quite open, with magnificent cliffs.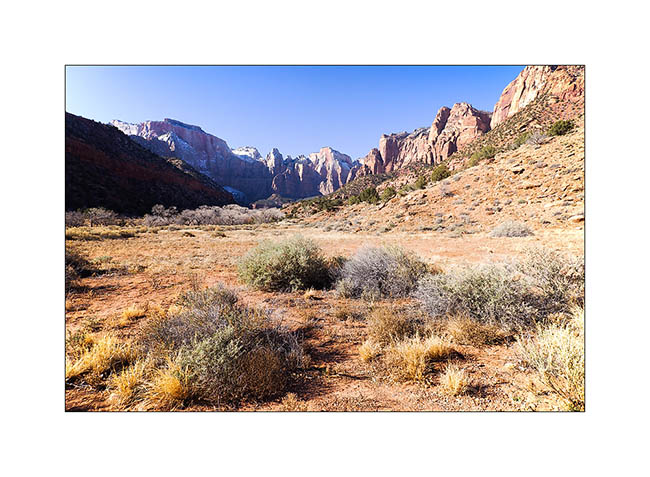 2. Gradually, when going upstream in it, he gently tightens.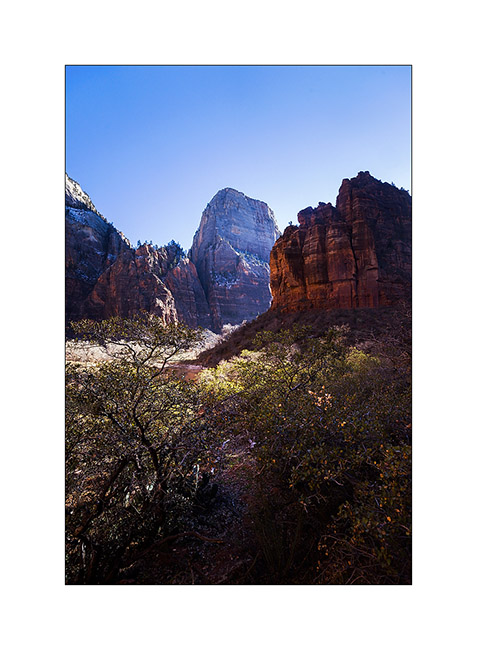 3. Then suddenly, because of a change of rock, it turns into a narrow, a deep trench not wider than the river bed.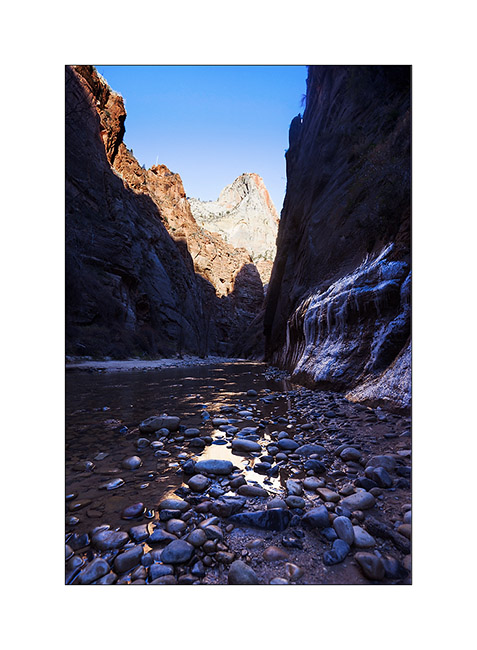 4. Some cliffs are almost vertical walls over 2,000 feet high, really impressive!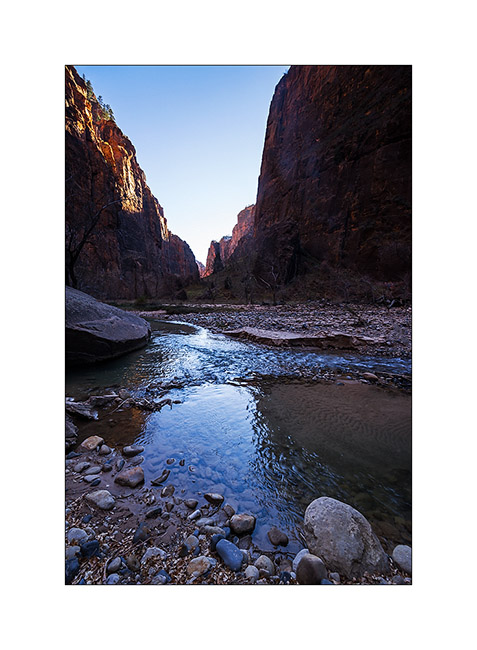 5. Along Kolob Terrace Road while it starts snowing… A few miles further, I will tow the Subaru of two French and two Belgian guys stucked in deep snow. Without VivaLaVida, they would have spent the night there, no one else was up there in this season. A little reckless in my opinion, without even a tow strap…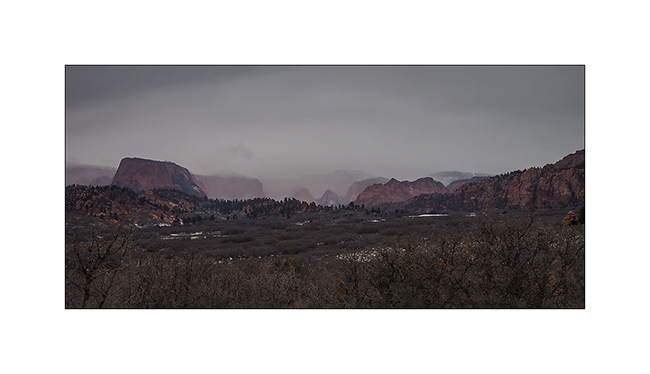 6. I spent my New Year Eve on Gooseberry Mesa, while it was snowing… 😀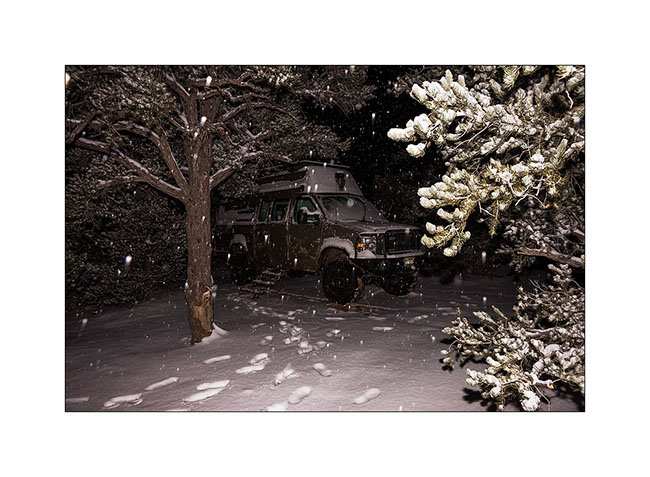 7. In the morning, there was about 4 inches fresh snow.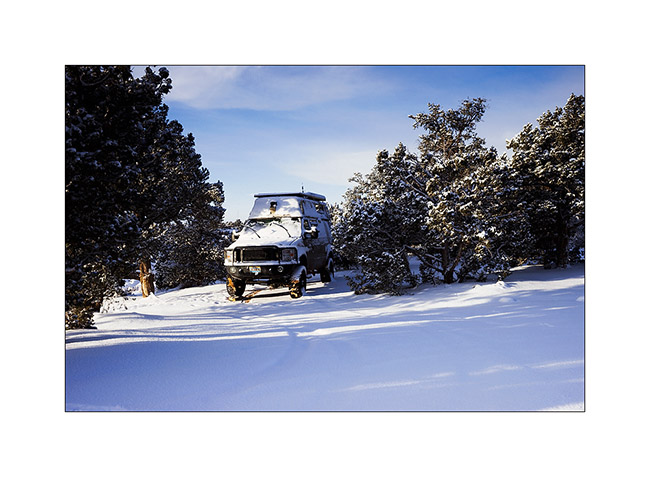 8. The view over the Zion Mountains clears in early morning…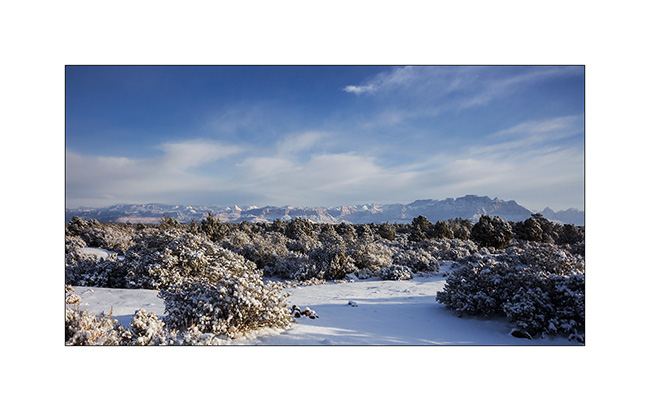 9. Despite the snow that fell the previous night, I tried to reach a viewpoint on the North Rim of the Grand Canyon. It's a really unfrequented corner because of difficult access via a hundred miles trail, really muddy for the first part, then rocky and quite rough for the last 20 miles and closed in winter. However with VLV capabilities, I reached it in late afternoon when the moon rose.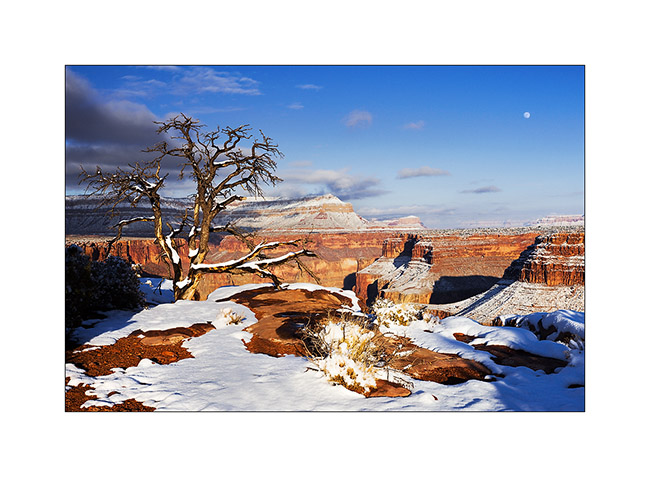 10. Enough air there! I'm on a 20 inches ledge overhanging a truly vertical wall… But it was the only way to show you the Colorado River, exactly 2,890 feet down! 😀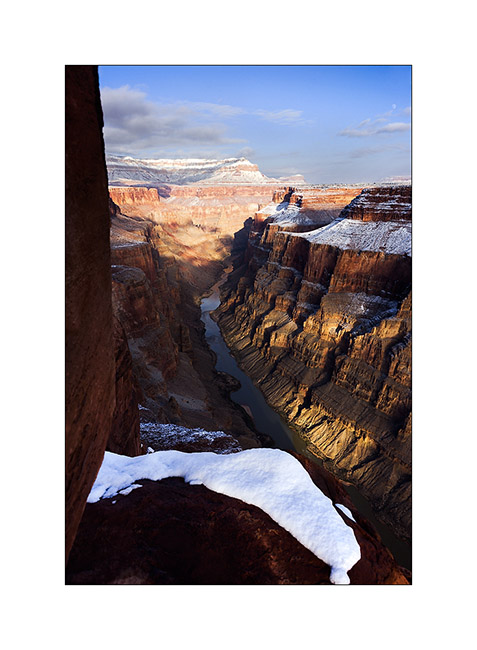 11. Warm last light rays in this winter atmosphere.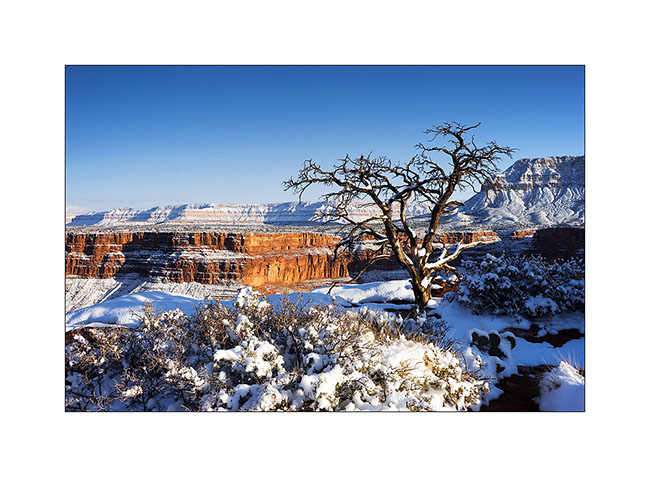 12. The snow fallen a few hours earlier makes patchwork design on the sandstone.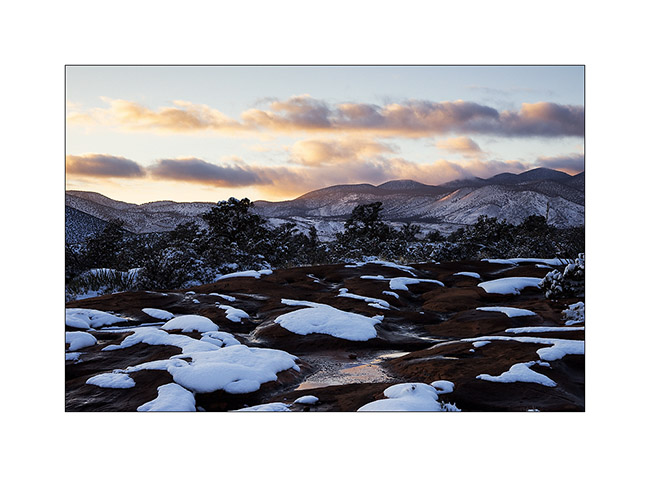 13. The camp will be really cold in the clear night…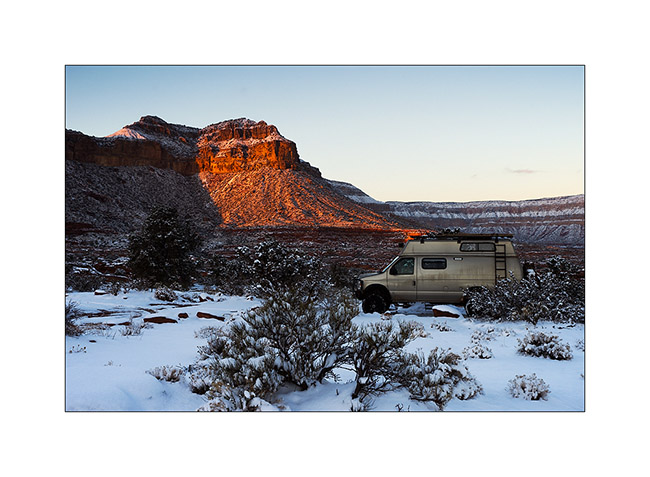 14. The potholes freeze on the sandstone, with beautiful textures. Here, ice pebbles…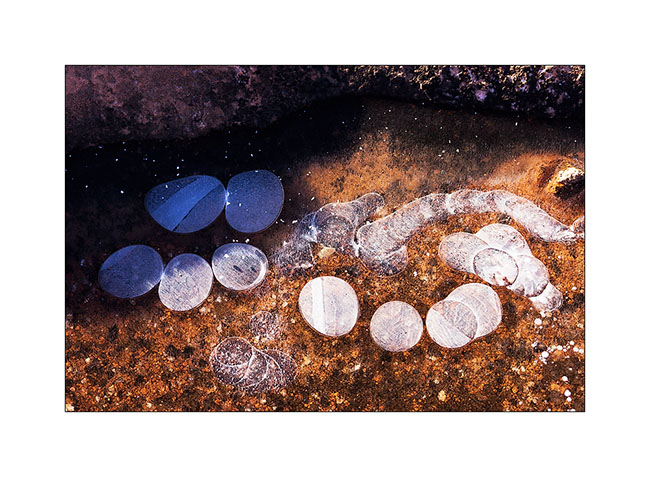 15. Down the next day in the canyon to see Lava Bed Rapids, the most difficult rapids of the entire Colorado River. The trail, sometimes non-existent, is very steep in a lava flow that makes walking dangerous, lava stones rolling like bearings under the feet. there is even some climbing in places, hopefully not too difficult because only I wouldn't have be able to reach the bottom otherwise. A trek to not recommend to everyone anyway!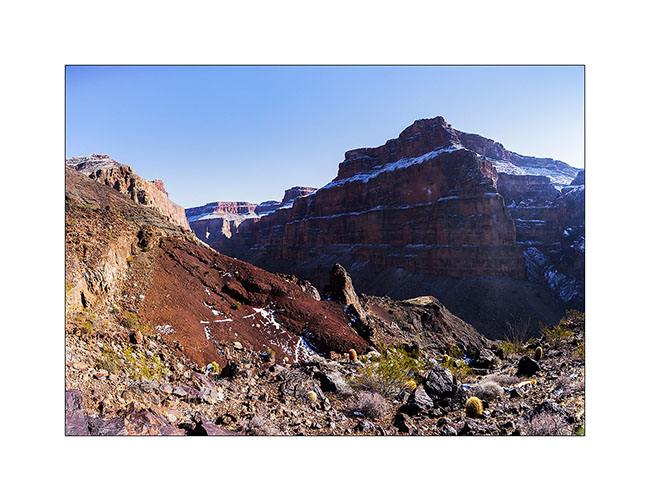 16. Here the rapids, without sun this season. Hard to show the scale as the canyon is so huge but it's pretty impressive. What a power! I understand that there is a portage trail for canoes…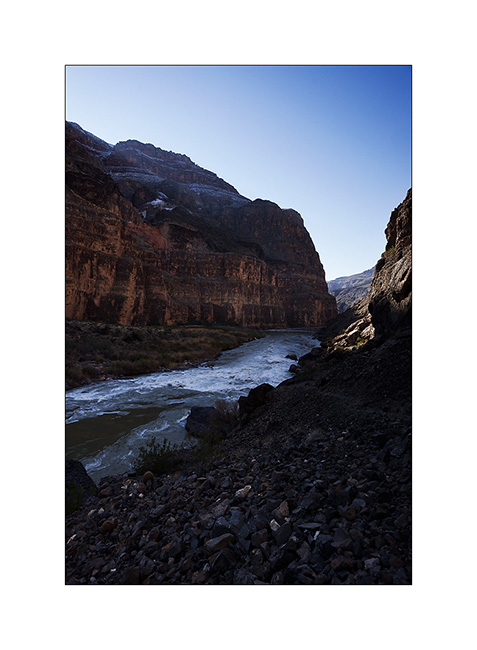 17. The depth of this canyon is just amazing, I fell really small down there!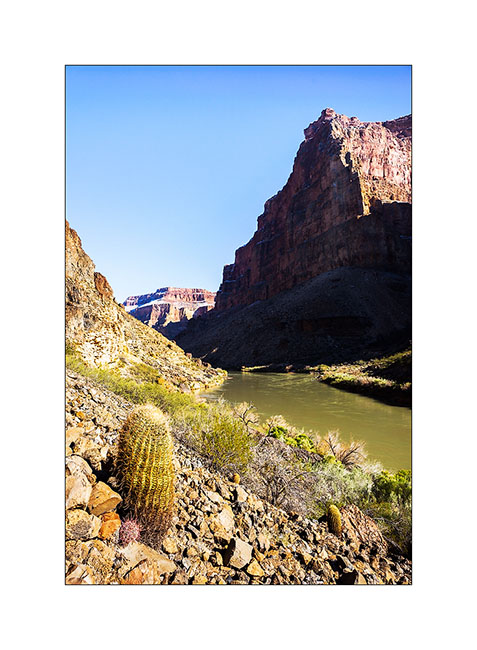 18. Small beach upstream the rapids.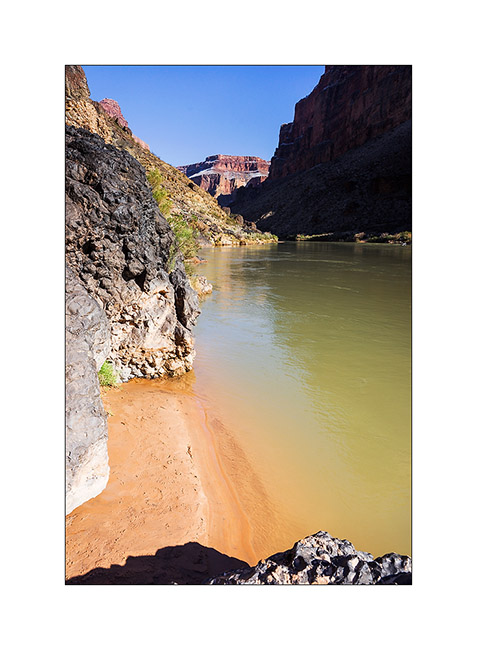 19. I begin the long climb back. Top left is Toroweap Point where I go, 2,890 feet higher! 😀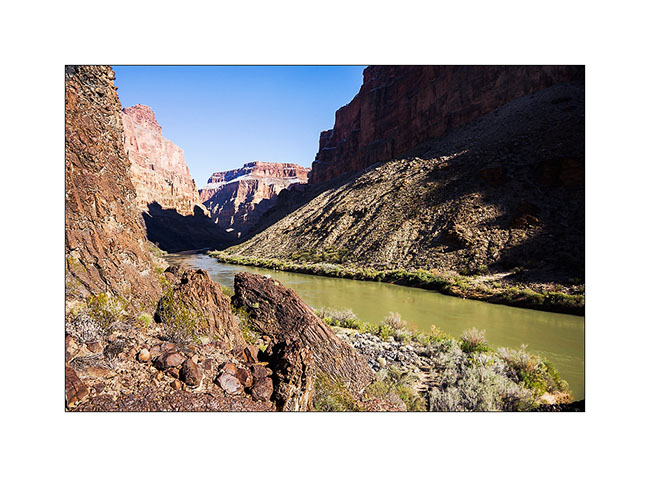 Following of the discovery of this part of the Grand Canyon to come soon!


While I've been in Utah a few times, I had never gone through Zion yet. The upper third of these mountains consists of Navajo Sandstone. It is a very touristy place and I took advantage of the off-season to discover it.


1. Going up in Zion Canyon, accessible by a paved road.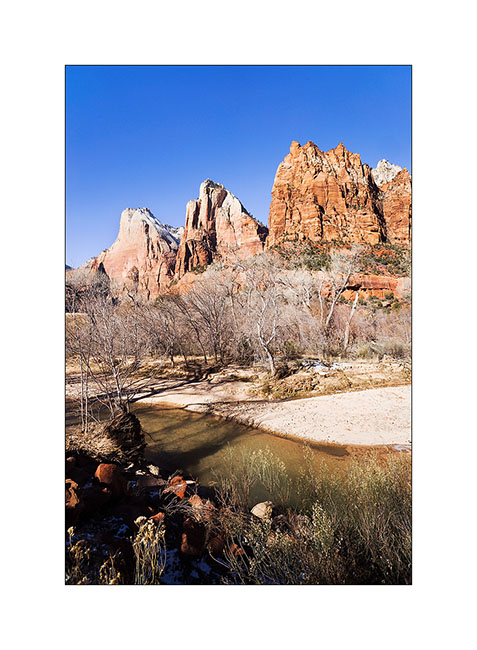 2. Cottonwoods don't have leaves anymore in this season.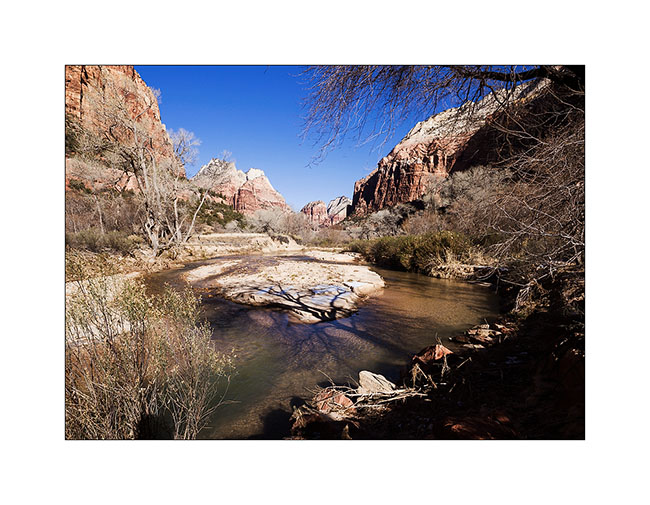 3. Angel Landing. For those who know it, climbing this edge while rock is covered with snow and ice is quite… well… aerial! 😉 I must say that there are a few hundred feet of emptyness on each side and that certain passages are not more than five feet wide.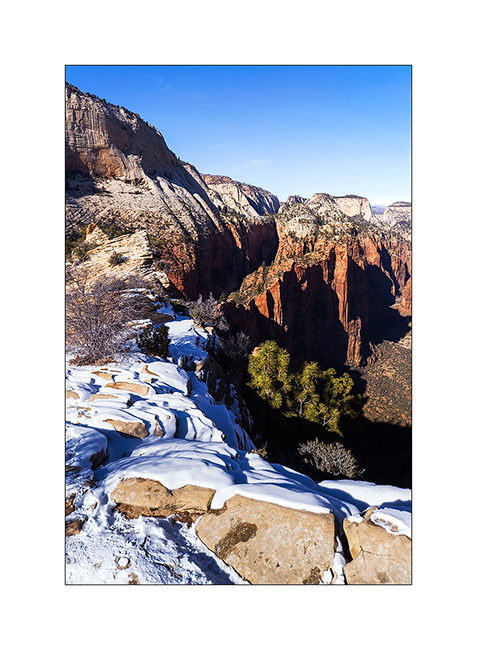 4. Hiking the West Rim trail…





5. Top left, the edge by which one accesses Angel Landing.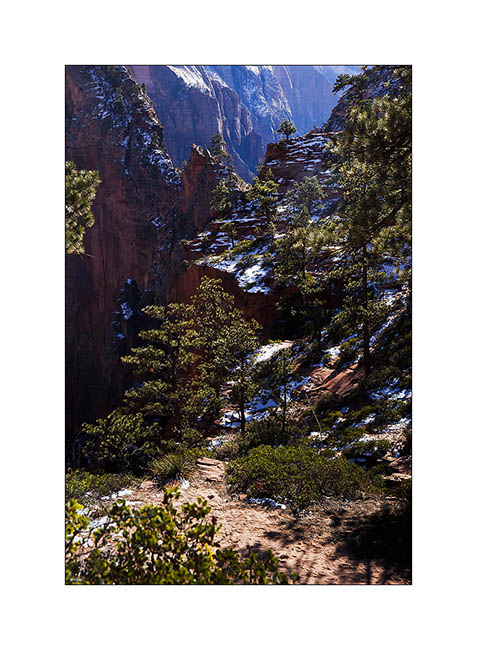 6. Reaching Navajo sandstone in characteristic light color.





7. Toward South…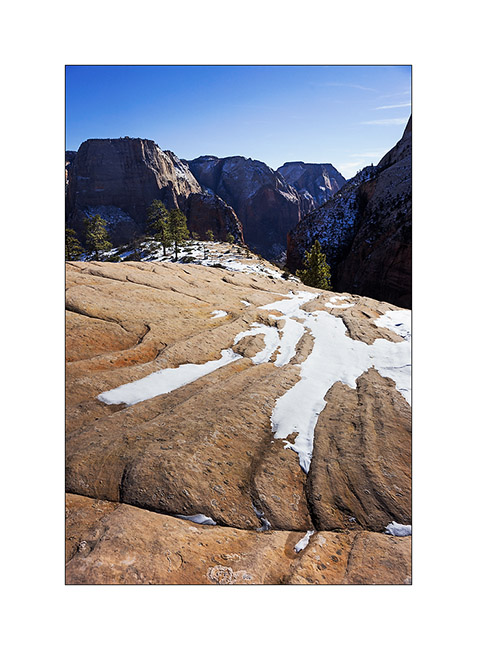 8. Lower Zion Canyon in late afternoon.





9. From my camp… 😀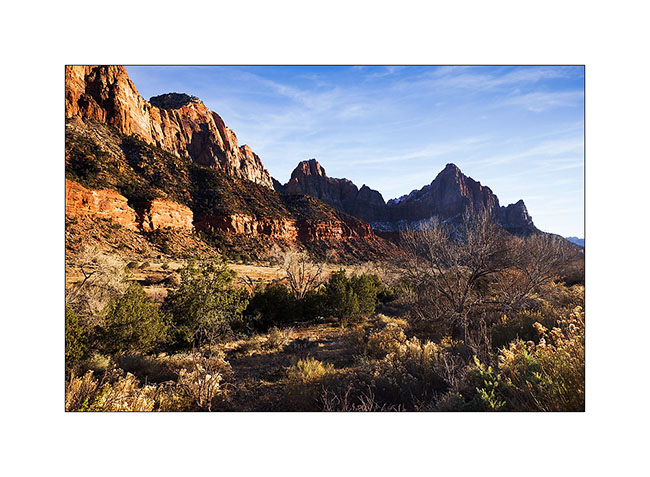 The next morning, after obtaining the required permit because the hike is quite engaged, I went for a long hik of about 14 miles. Rather than hiking, I should say a gymkhana! Except for the first two miles, it's going upstream in a torrent crowling large blocks, constantly going up and down, crossing fifteen times the water at 37F, skating on snow and ice, without any sun… In short, something not to recommend to anyone, especially in this season. Moreover, the ranger looked at me with surprised eyes when I asked him for the permit, saying: "Do you really want to go ther in this season?". 😀
Why this hike you might think. To exploreng a rather exceptional slot canyon, the "Subway" as it's called.


10. While there is still about 2 miles to go, the canyon is still open and small waterfalls jump down rock stairs.





11. The most photographed waterfall, less than 1 mile down the slot canyon.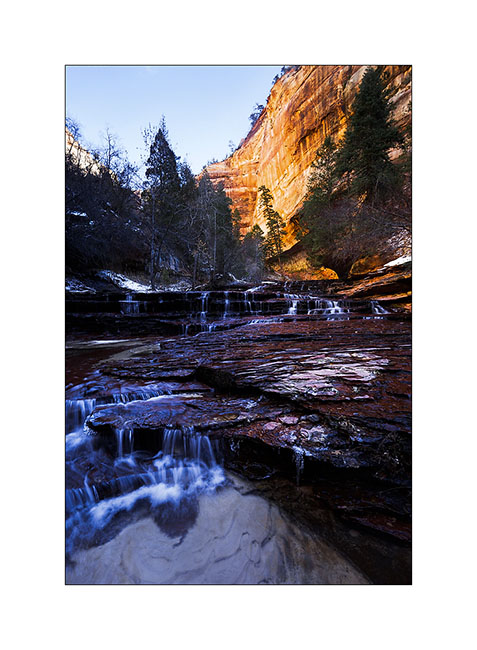 12. Here is the entrance of the slot canyon with its characteristic form that earned it its name.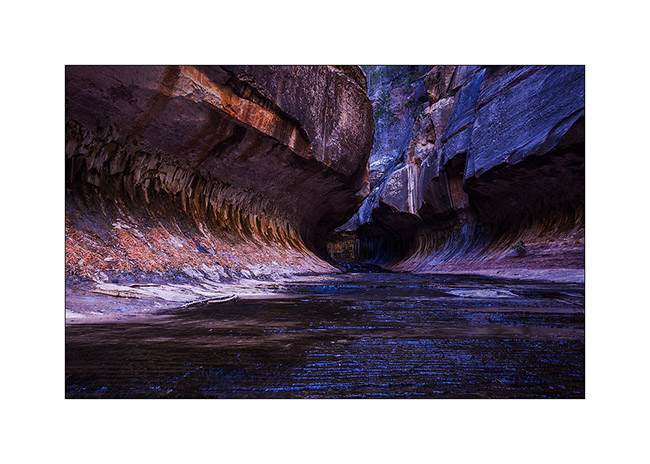 13. Floods of the river dug a kind of tube-shaped hose.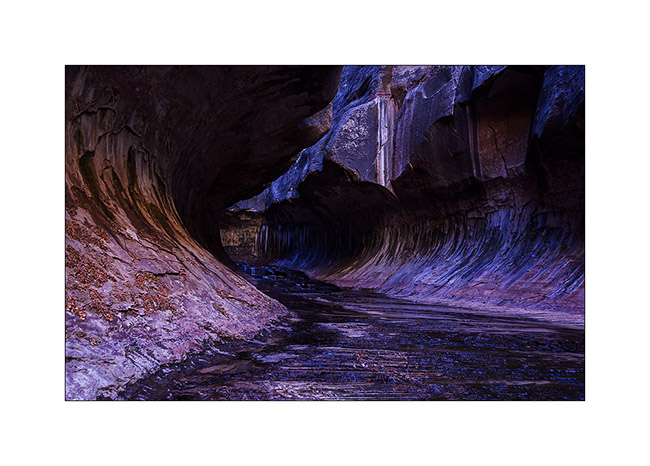 14. The "turning" from downstream.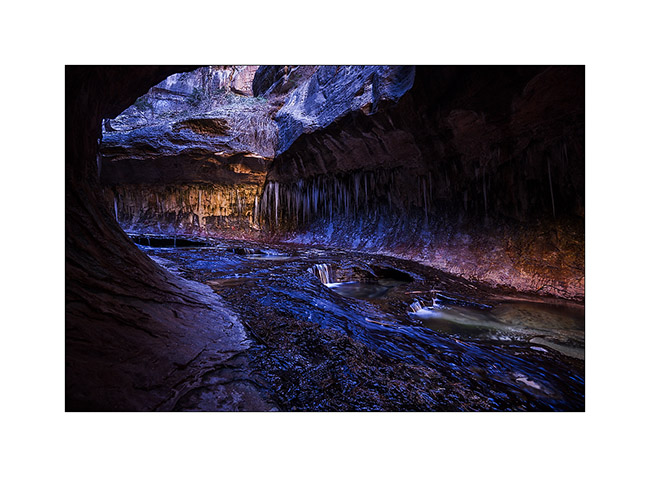 15. Small waterfalls dug a series of pots where the water is emerald.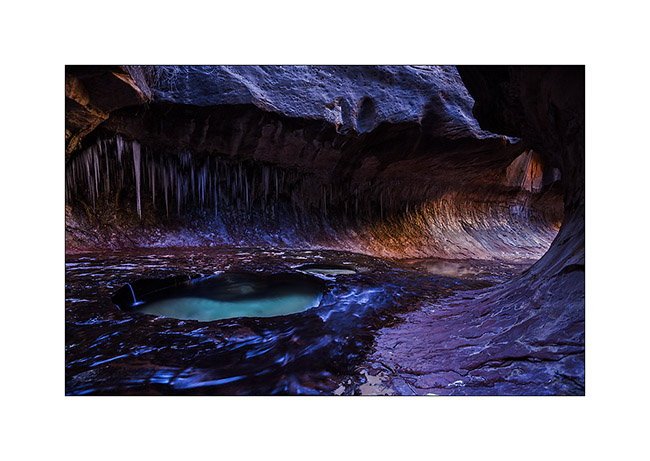 16. Above, the canyon reopens before closing again. It requires climbing equipment to continue.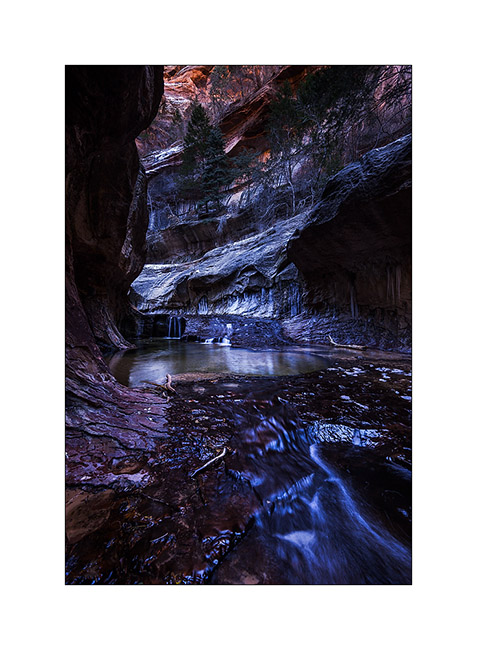 17. Beautiful pots.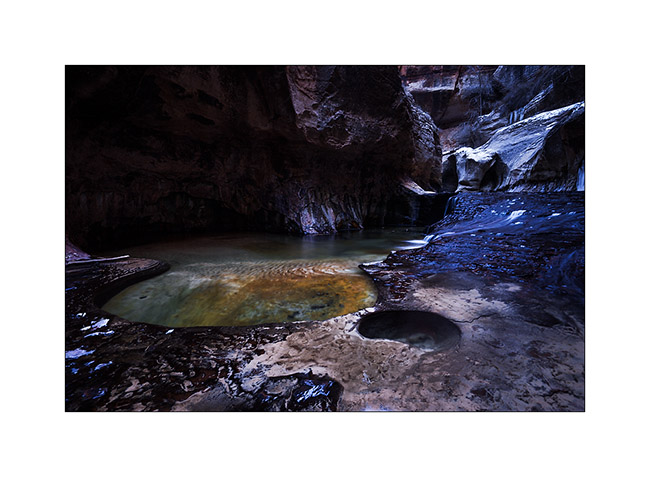 18. The turning from upstream.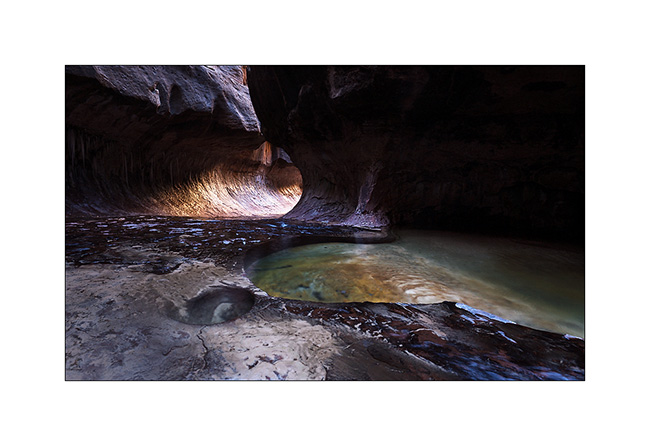 19. Coming out of this incomparable canyon…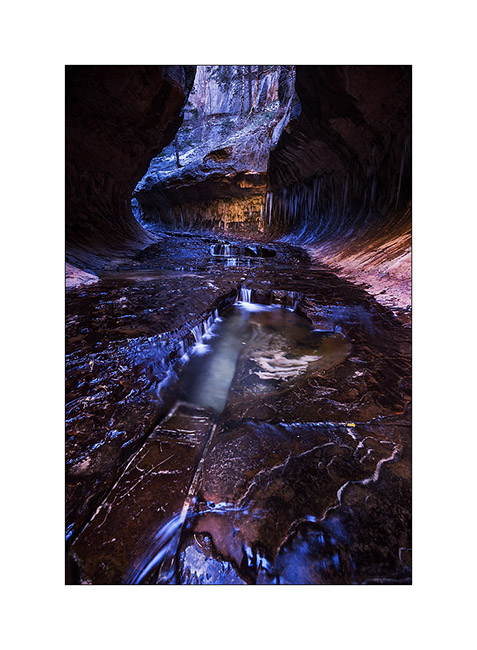 That's it for today! 😉

To be followed in some days…


Finally, not far from Bryce Canyon, snowfall inspired me to go discover it in his winter coat…


1. Start on Christmas Day. Warmer than the night before but snow and blizzard formed small snowdrifts while rocking me all night long… 😉





2. Small lake along a country road, between two flurries…





3. It is large enough to not be completely frozen yet. I saw two great eagles, probably on the lookout for some fish to eat.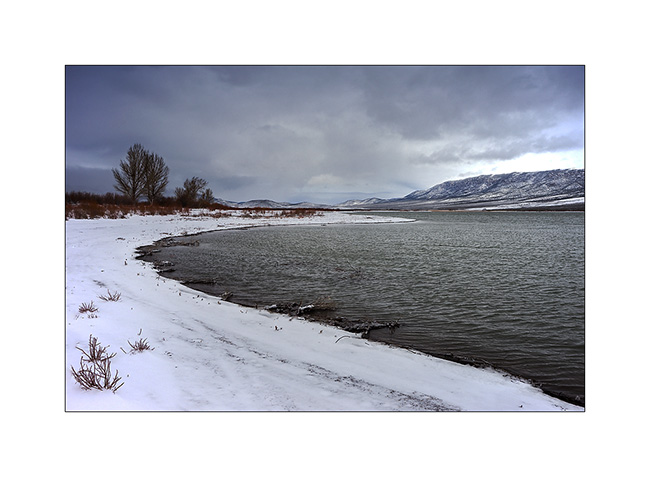 4. Arriving near Bryce, I first discovered a secondary cayon, less known but beautiful too.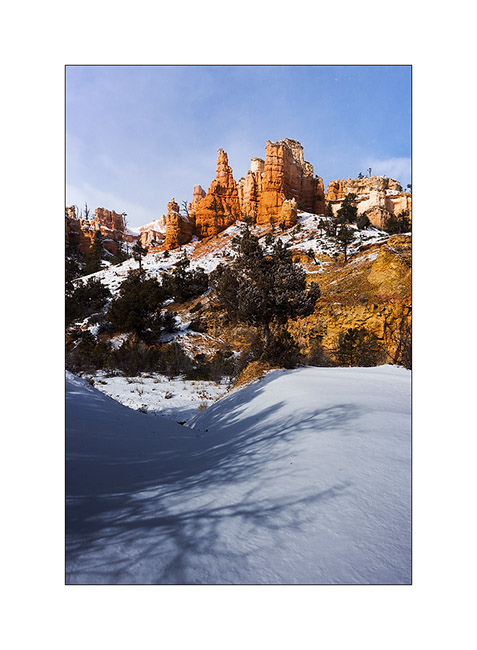 5. It was partly dug by the water of an irrigation canal built upstream by Mormons a hundred years ago.





6. Triple arch on an edge.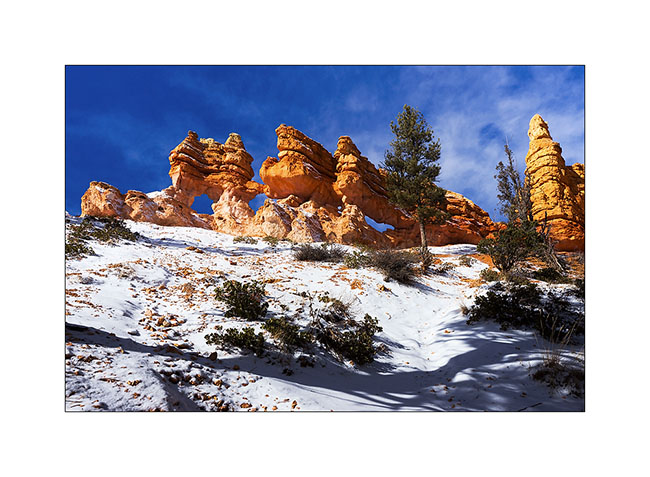 7. A small waterfall almost completely frozen…





8. I arrived on the heights of Bryce Canyon between scathing snow showers and blue sky. It was 15F and for once, there wasn't many people there, only some Japaneses and Hindous.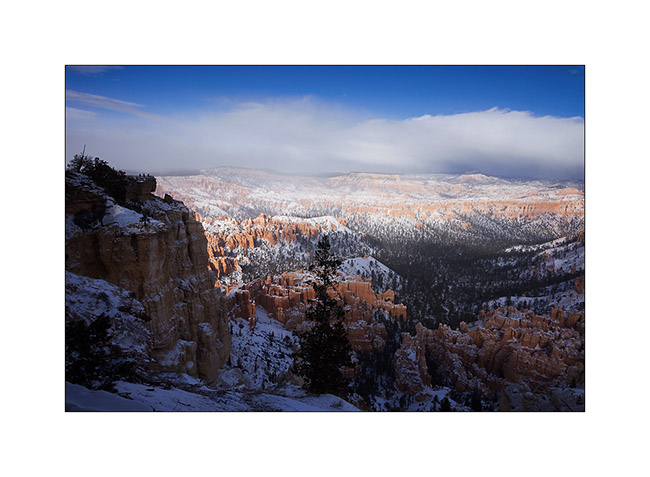 9. While I go down into it, snow showers give a wintry atmosphere…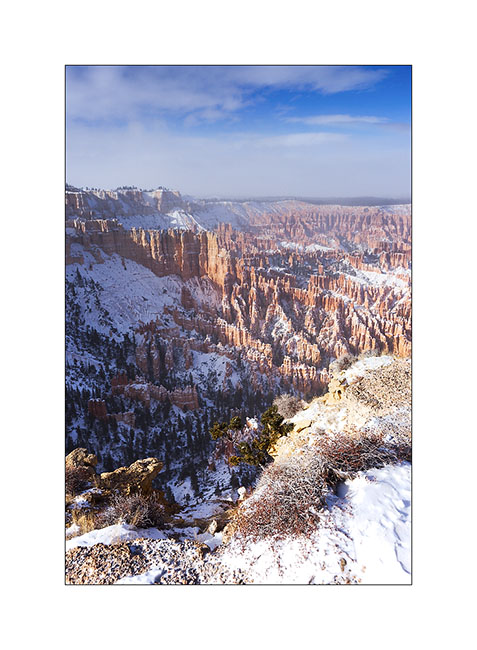 10. Then shower fades…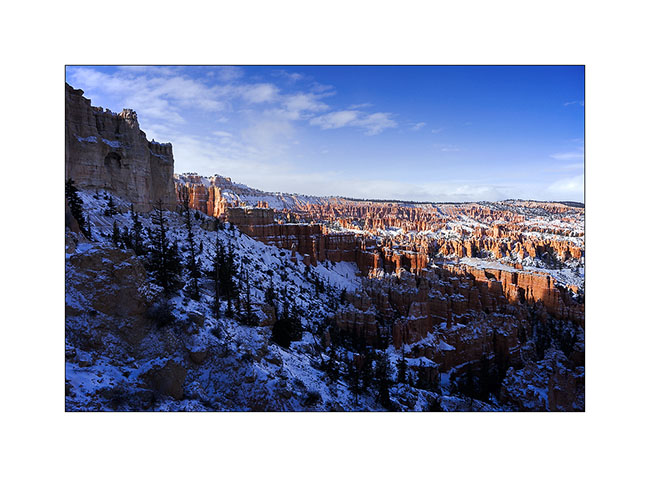 11. The white-red contrasts give a very different face of this exceptional place…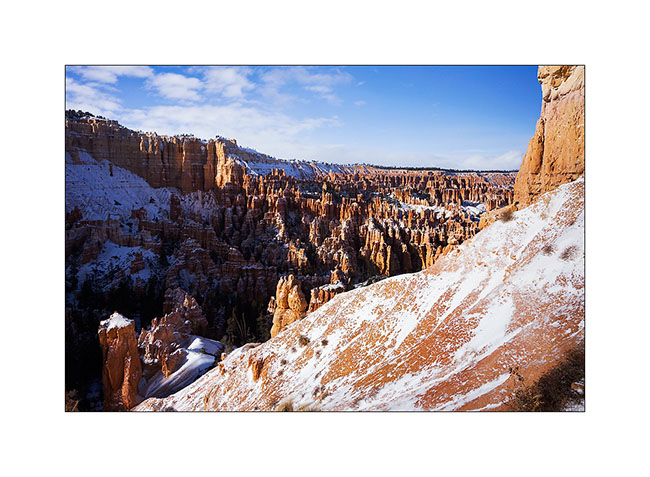 12. The next night was one of the colder than VivaLaVida has had to endure: -10F to her thermometer. Olive oil even froze in the closet… 😉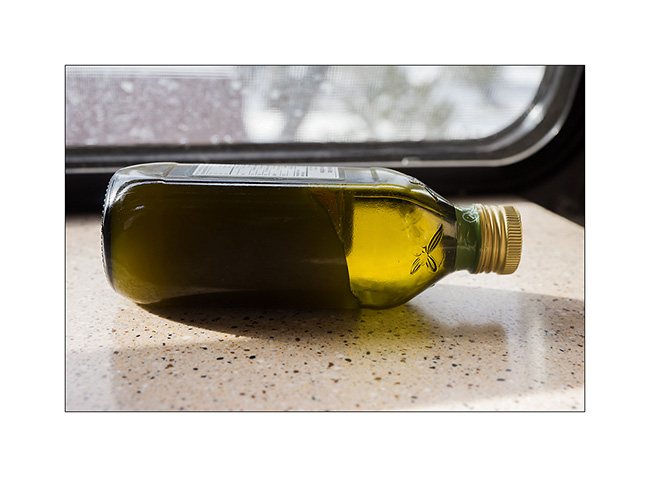 13. Wind creates clouds that cause snowing on the mountains while the rest of the sky his quite blue.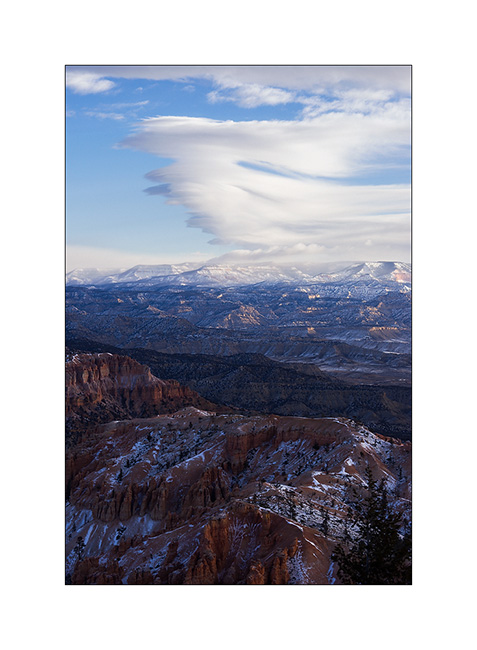 14. I went hiking in an annex canyon of Red Canyon, not far from Bryce and less known but also interesting to me.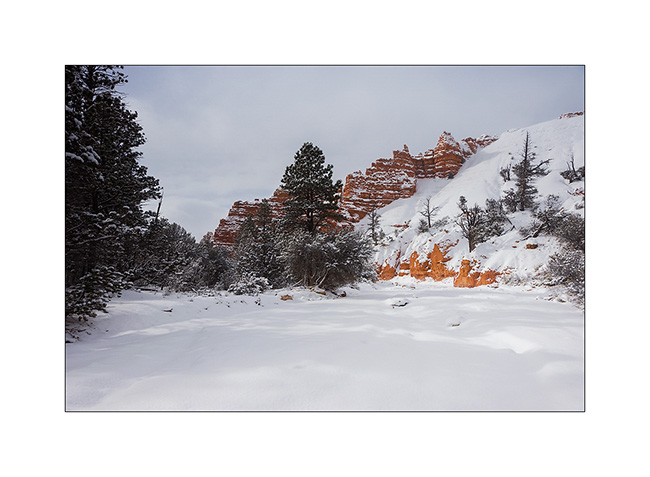 15. Hoodoos are everywhere.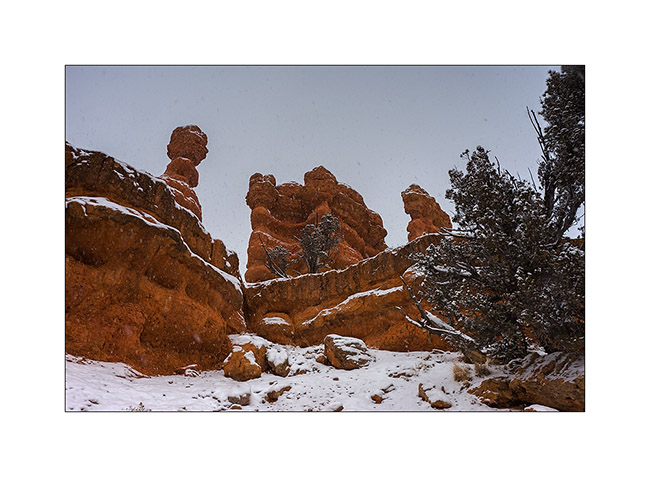 16. I even find that unnamed arch.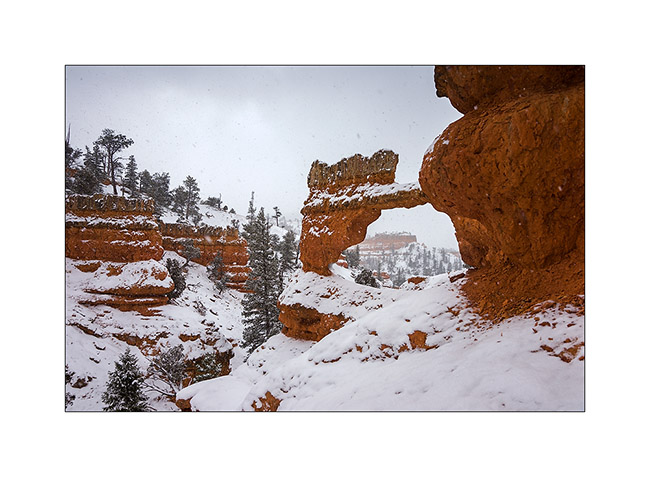 17. Almost ten inches powder snow fell in this wilderness.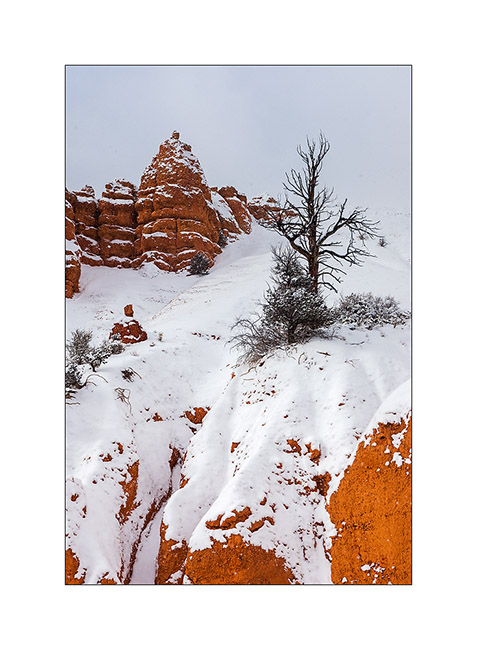 18. And he still snosw under showers while the wind blows almost as a storm.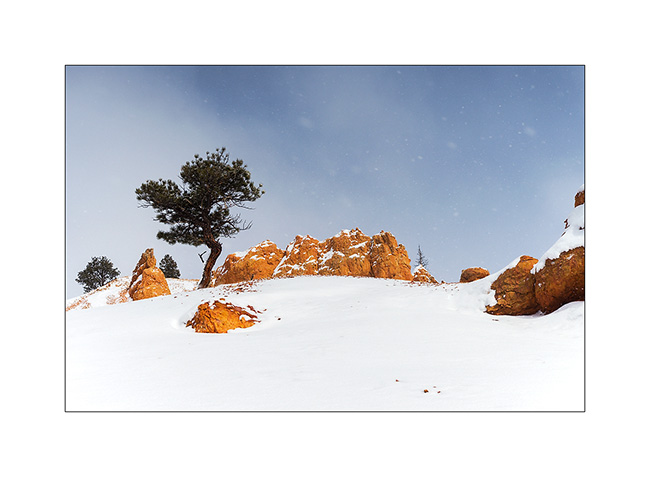 19. Going down to VLV in late afternoon.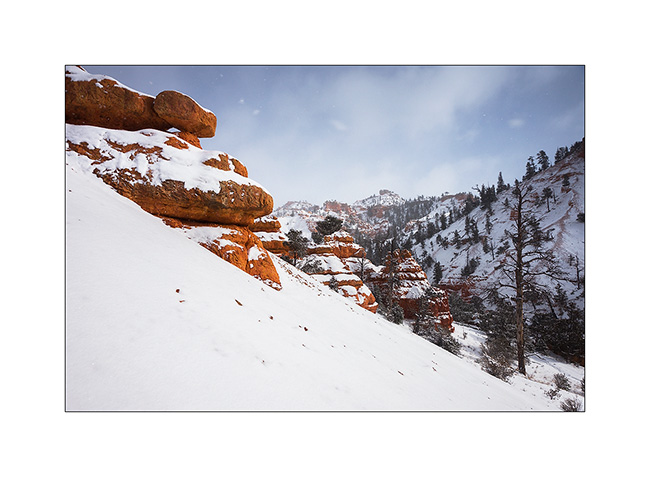 20. That road conditions we had at almost 10,000 feet above sea level, near Cedar Break inaccessible due to snow.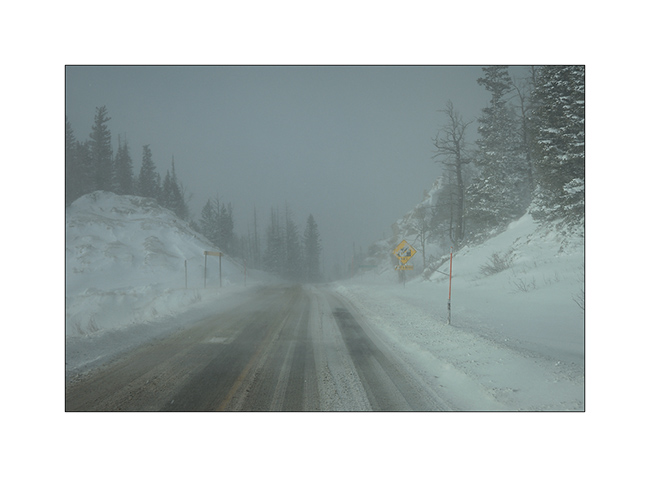 21. Down to warmer altitudes, an example of bright Christmas decoration that you Americans love. 😉





Change of scenery to come in the next update… 😉


As I wrote it in the previous update, VivaLaVida has turned south-west, temperatures from -13 to -22F being announced for the San Rafael Swell.


1. Tremendous panorama of Cathedral Valley and Henry Mountains in the distance.






2. At Hogan Pass at almost 8,000 feet above sea level, it is 8F at noon despite the sun.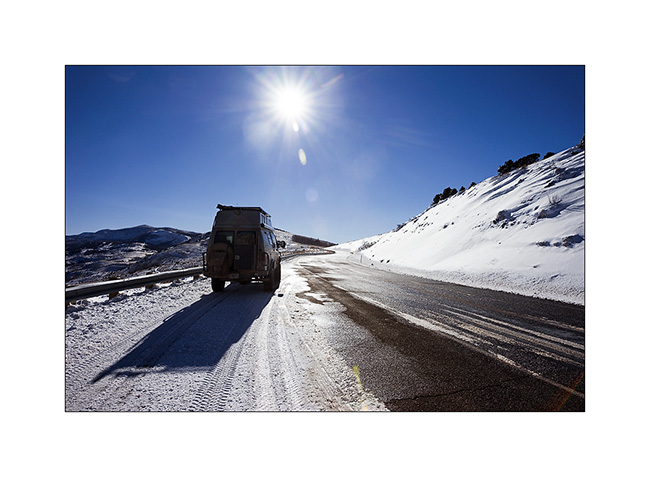 3. And it blows a strong north wind that sculpts the snow.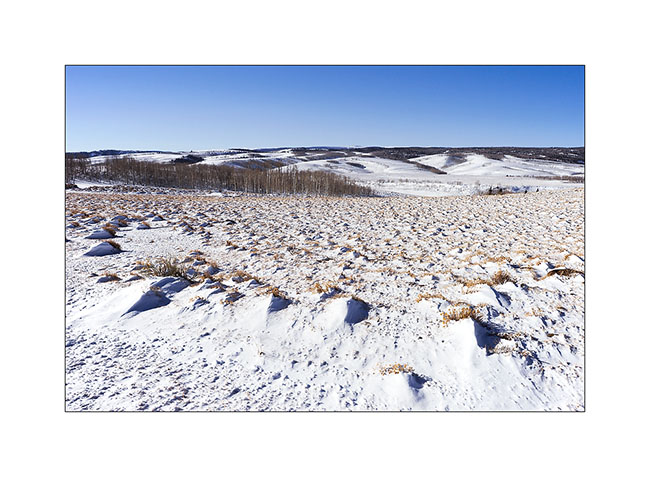 Forsyth Reservoir is frozen, you could almost skate there.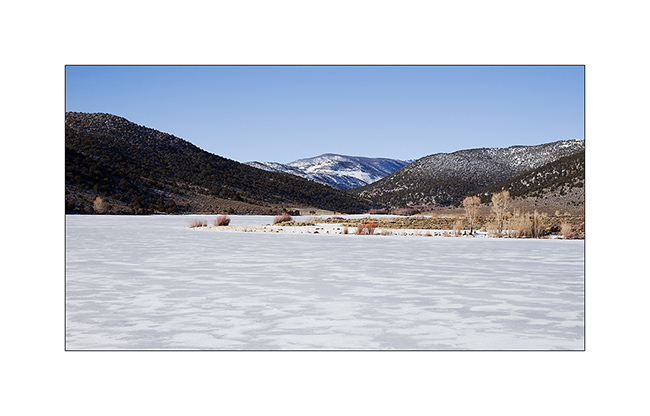 5. VLV almost reached the Rock Lake but had to give up 9,350 feet, too much snow…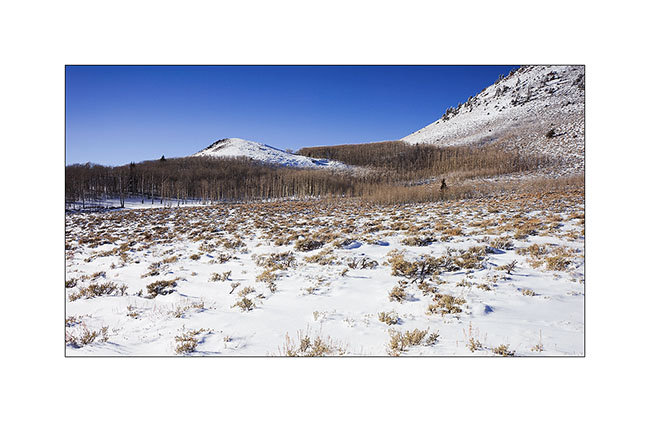 6. So I continued on foot, wrapped up warmly, while they didn't seem to be cold! 😀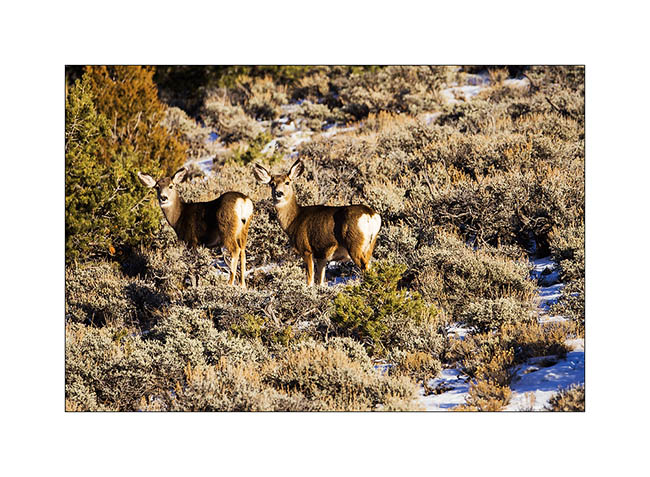 7. Went back down just before night, enjoying a beautiful sunset on highlands.





8. The next day, Christmas Eve, VivaLaVida tried to reach Escalante across the splendid Awapa Plateau, between 7,800 and 9,800 feet elevation.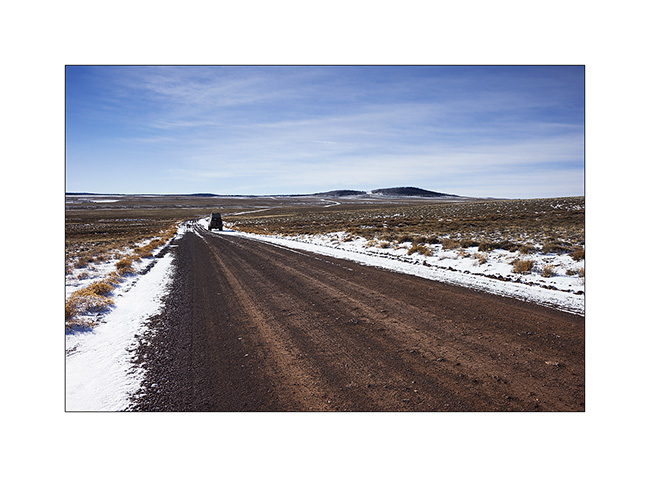 9. Vast stretches of grasslands. I like to imagine herds of bison grazing here 150 years ago before that men exterminated them from these areas…





10. As the altitude increases, the snow becomes more present.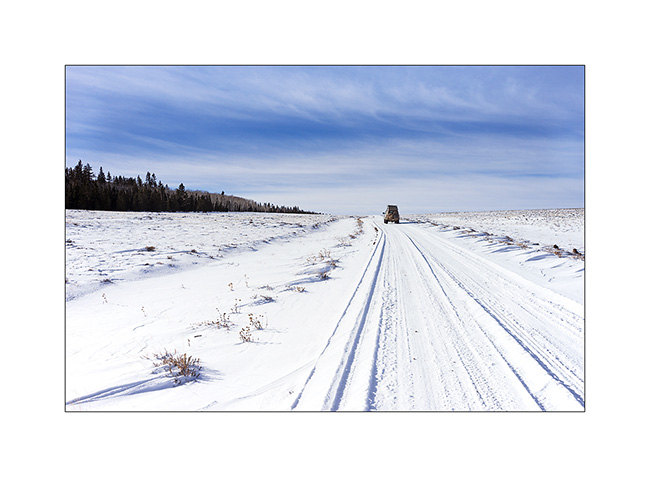 11. It blows an icy wind that makes me think of a blizzard. 10F to the best of the day. But at least I enjoy a Christmas with snow! 😀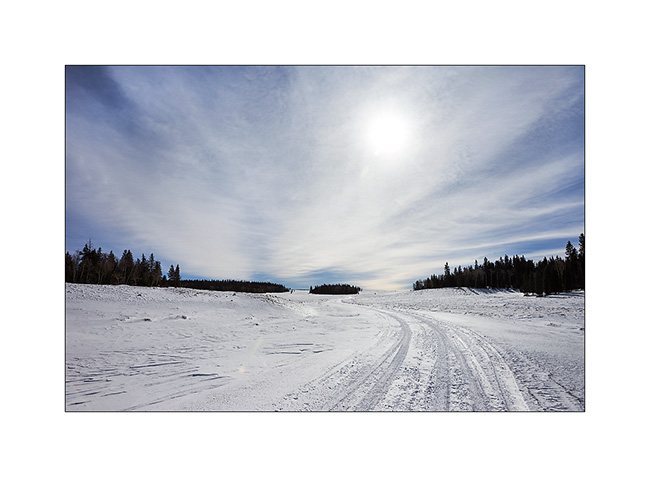 12. VLV had to give up, the amount of blown snow making progress difficult. He tried two other tracks but it ended the same.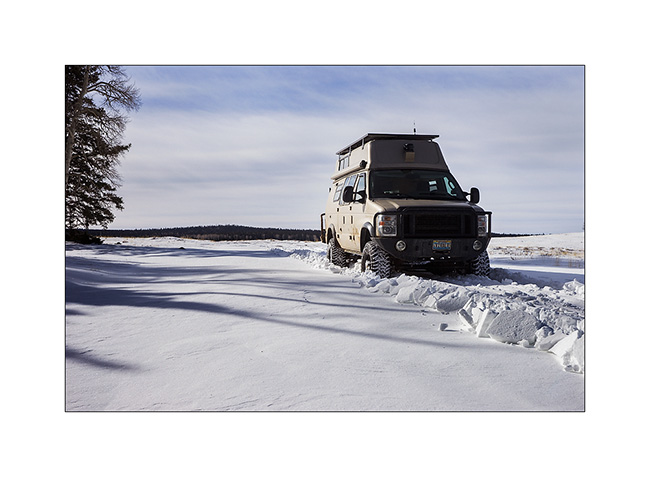 13. Beautiful cirrus sky announcing some snowfall overnight…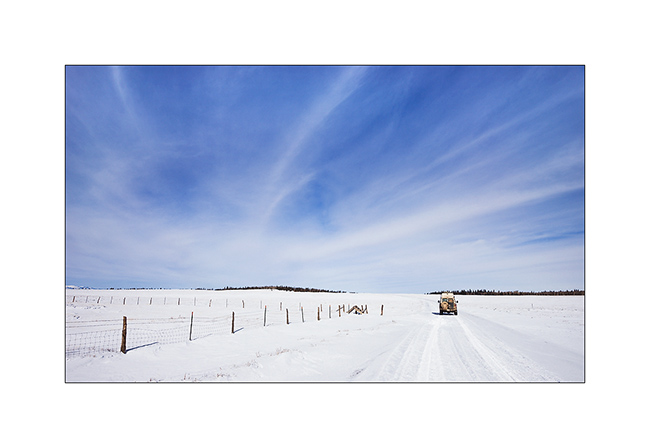 14. These semi-snowy meadows remind me of the tundra of northern Alaska.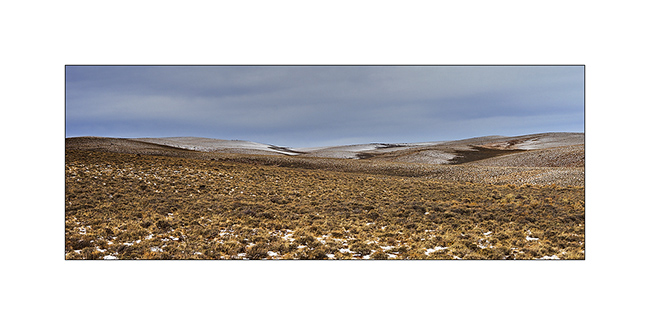 15. The wind has drawn waves, while the sky covers.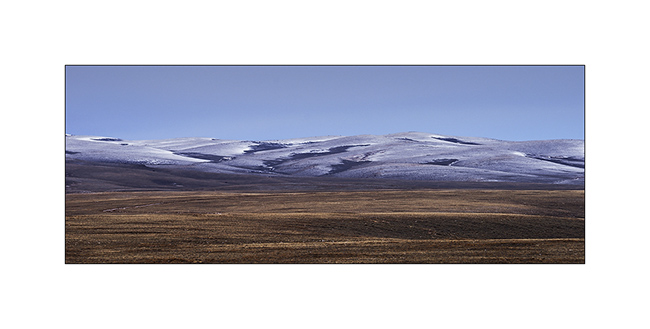 16. I so love this kind of moors landscapes, I decided to spend the night there. And Nature offered me a nice surprise for Christmas: an amazing sunset. It began with soft colors to the north.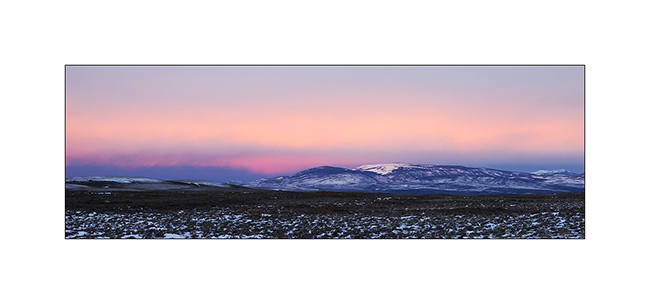 17. Too much wind to light a campfire as I expected and it is already 3F…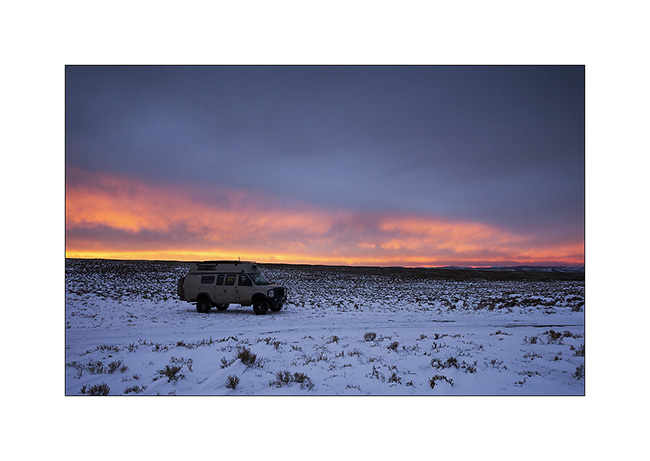 18. Three minutes later, the sky blazes…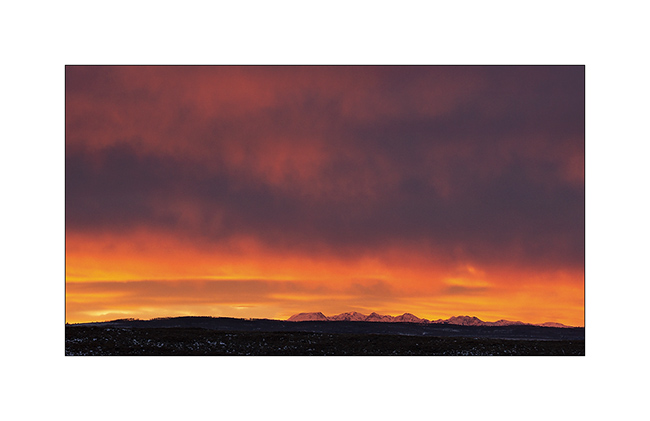 19. Without Christmas tree in her, VivaLaVida is aflamed by the Christmas setting sun! 😉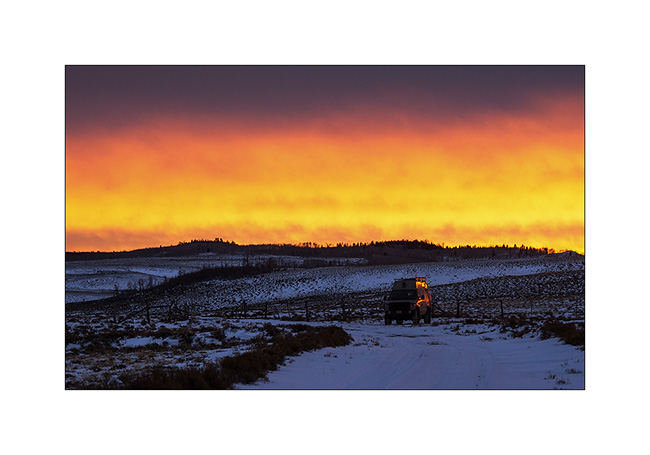 20. Last colors… all lasted only a few moments…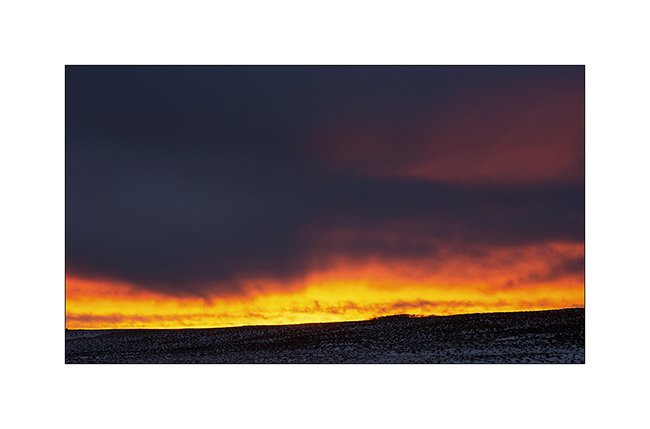 Unable to join Escalante by the way I had imagined because of the winter already installed in altitude, I found another path that led me to discover Bryce Canyon in its winter coat… To come here soon! 😉



So here I am in Black Dragon Canyon where I first discovered conventional petrographs but with quite rare scenes.


1. Principal petrographs panel.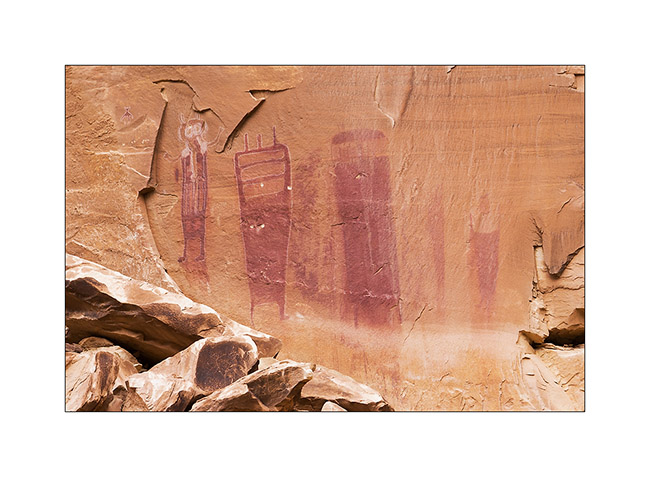 2. Detail of the figure on the left and a kind of small octopus.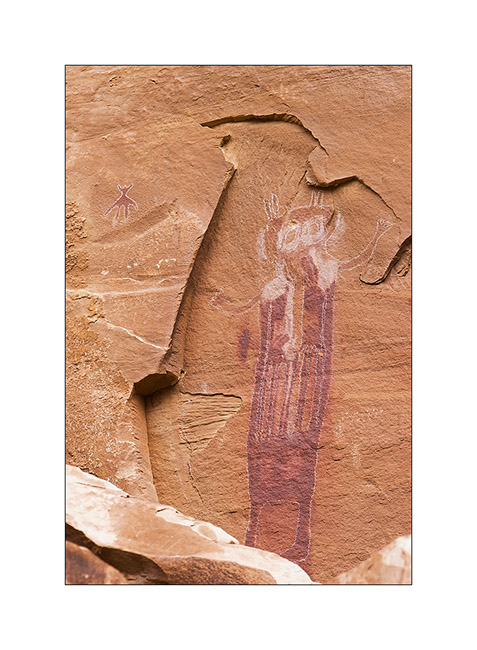 3. A chicken attacked by a snake!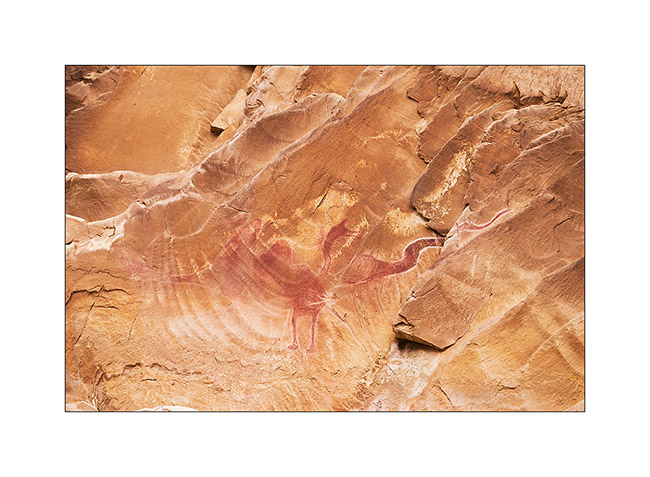 4. And here is another rare representation with that kind of dog.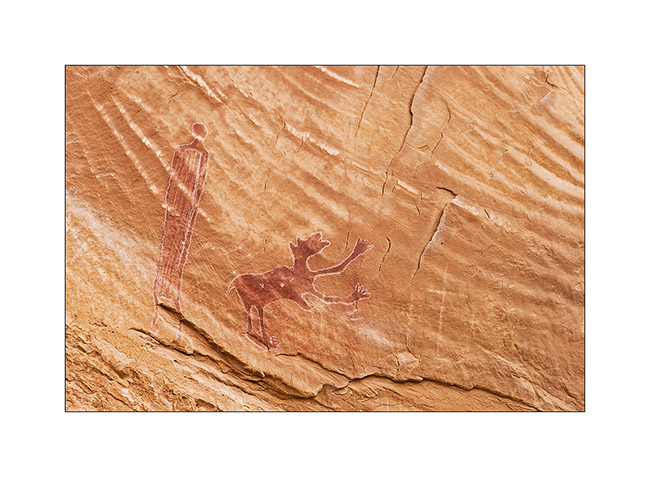 5. Beside, under an overhang, is another type of petroglyphs making the site's reputation. It seems this is the only place where they are such petroglyphs.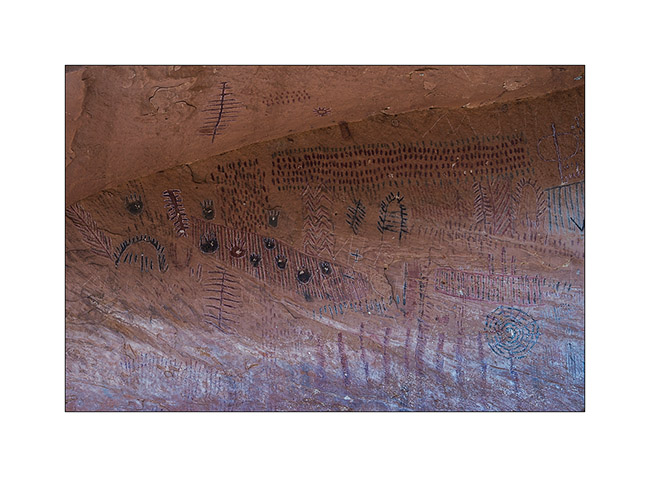 6. They extend over about thirty feet.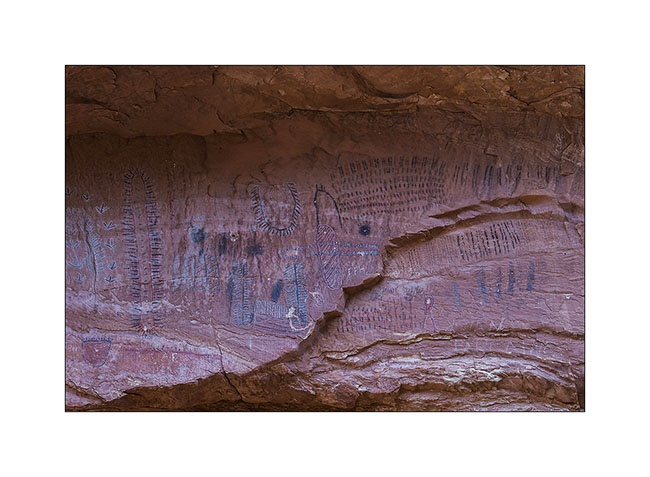 7. I didn't find any information about what they might represent.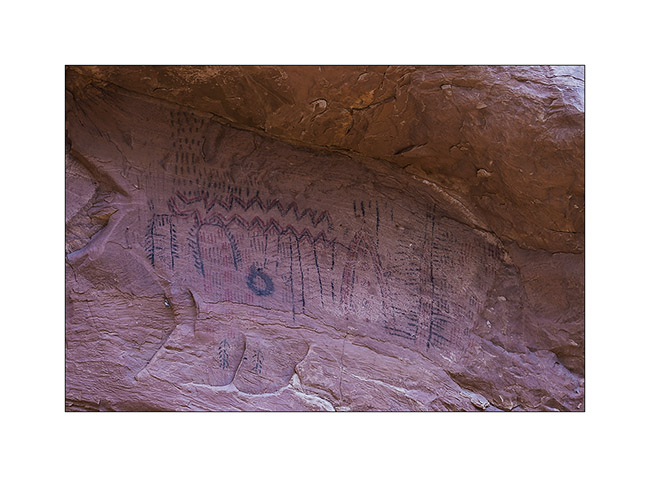 8. I then hiked in another nearby canyon where there are potholes, water points for many animals.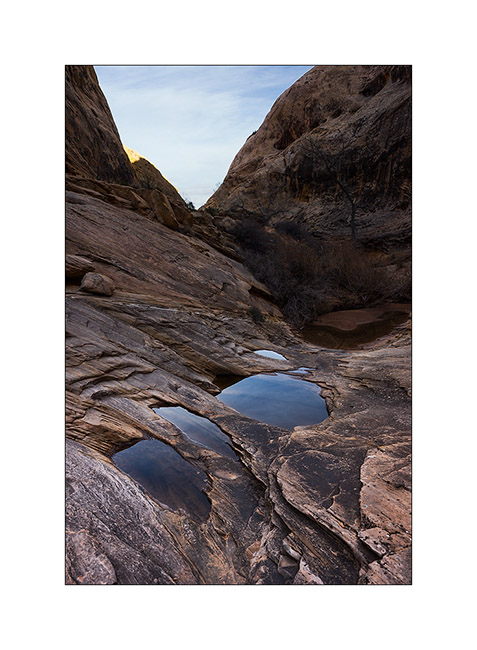 9. Reflection…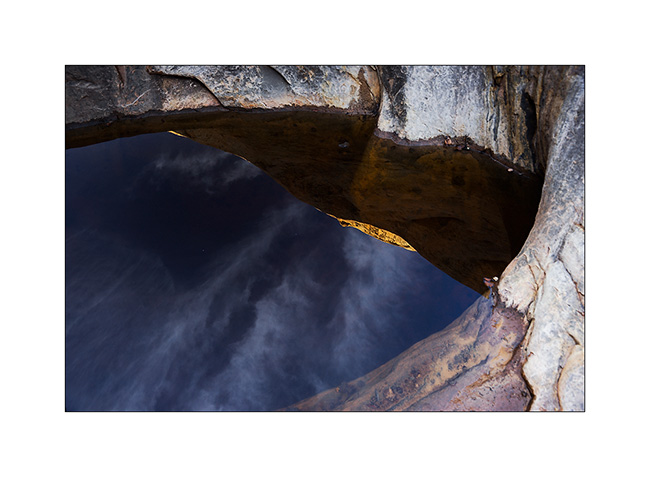 10. Nice place to spend the night while a ray of light finally shines…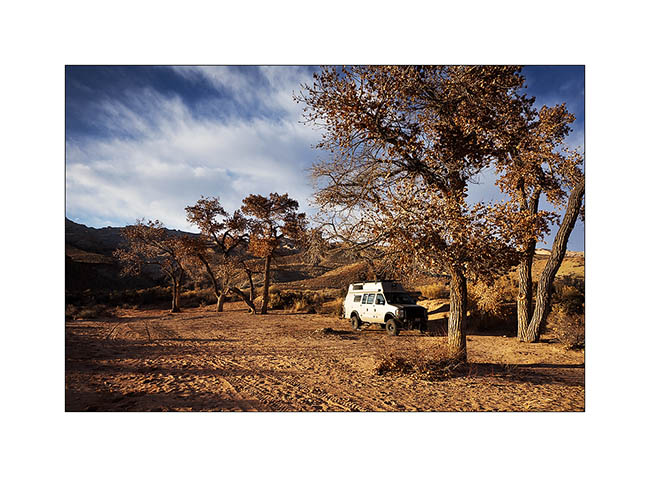 11. The next day, arriving at one of the highlands of the San Rafael Swell in a shower sky and a chill wind.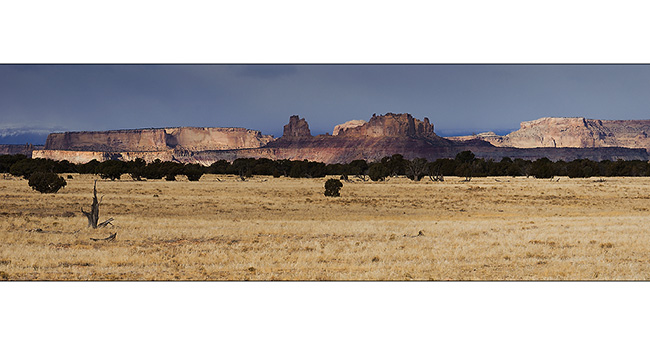 12. VLV advances towards the canyon of the San Rafael River.





13. The place is beautiful, with high cliffs.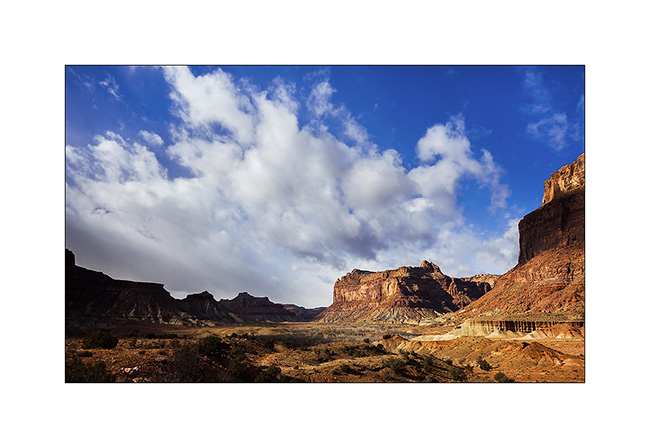 14. Heavy sky…





15. After a good hike in the wind, I reached the slopes of Black Box, a deep chasm of the Sans Rafael River.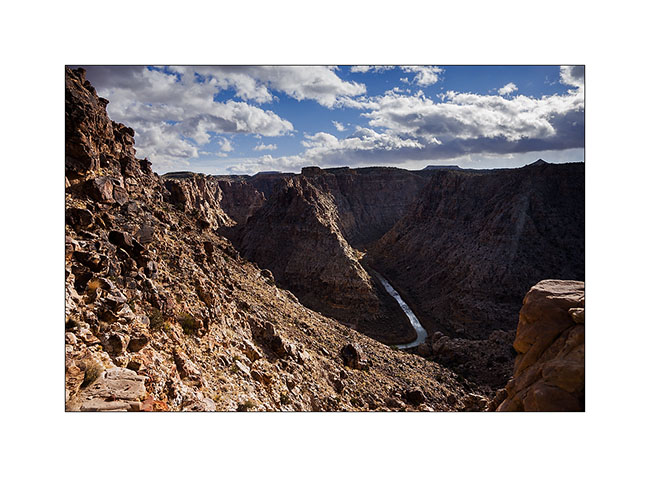 16. Black Box…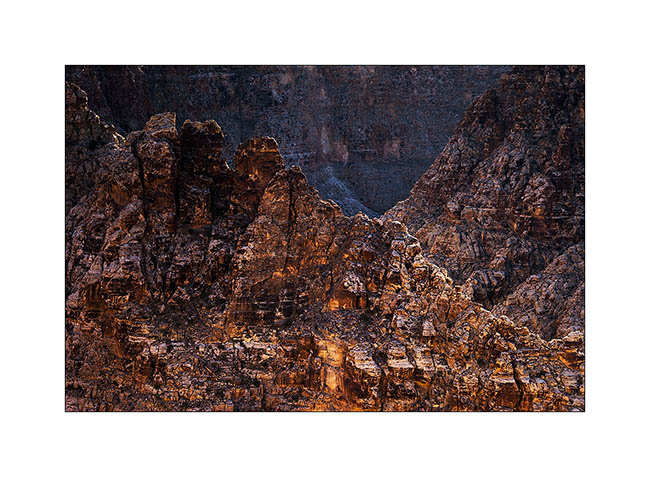 17. While going back to VLV in late afternoon…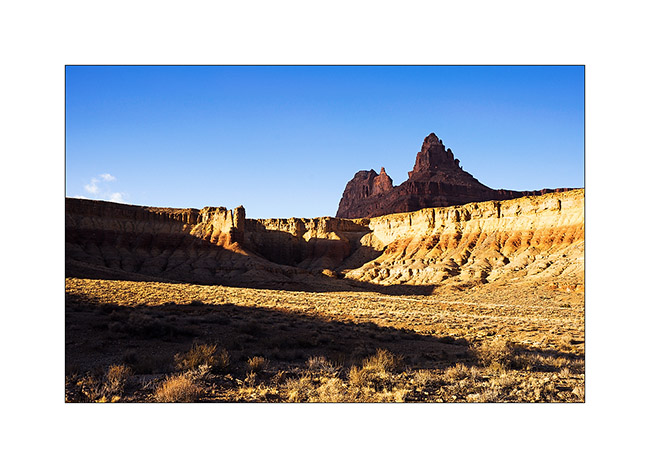 18. Downstream the Buckhorn Wash.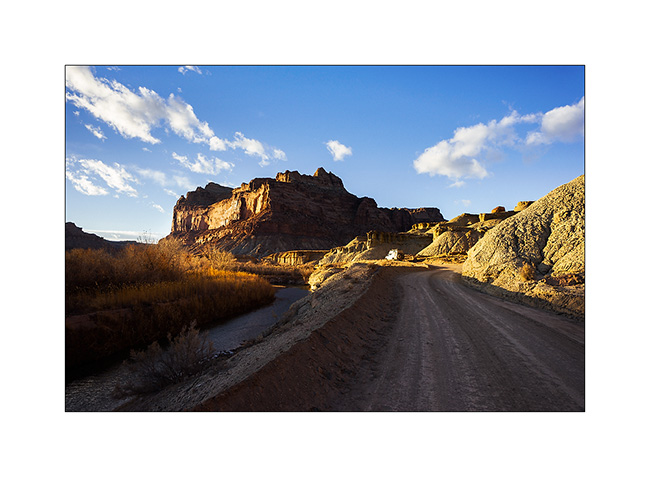 19. Little Grand Canyon, another canyon made by the San Rafael River upstream. The view is superb despite the 15F..!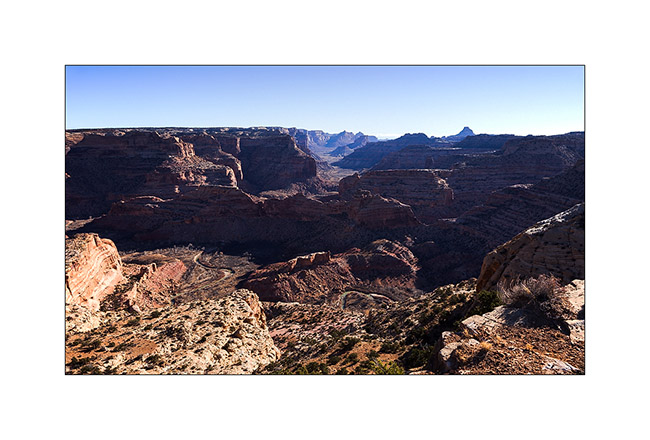 VivaLaVida then turned South-West, in search of little milder temperatures for Christmas. To discover soon… 😉



1. Three days later, I spent the night near a giant mushroom. Believe me, the dawn will reveal it. 😉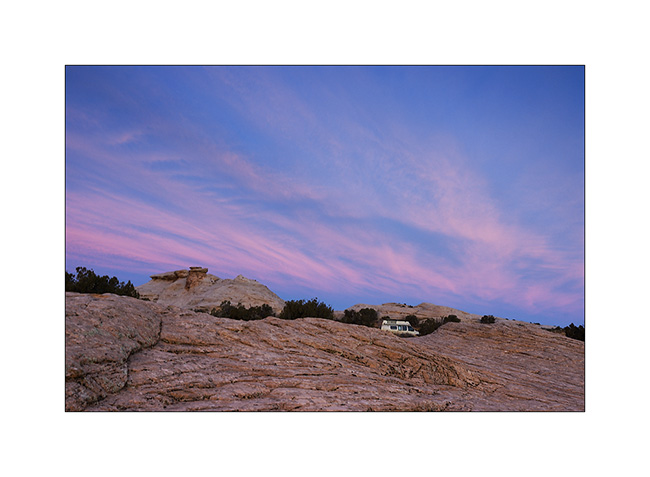 2. Here he appears…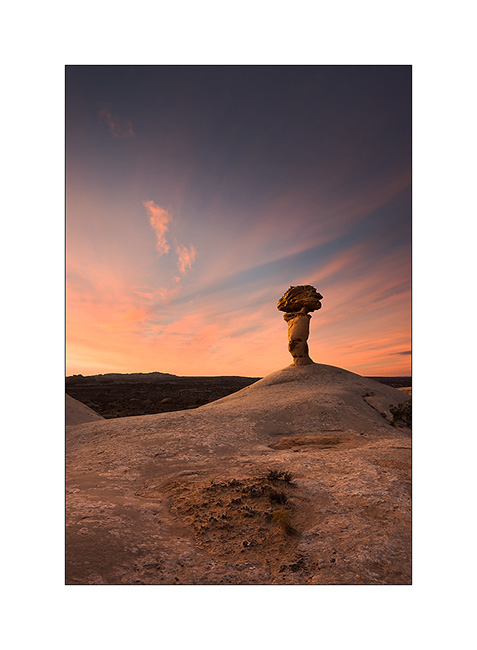 3. Fifteen minutes later, the diverging sky makes me think about the brilliance of a lighthouse…





4. Still waiting for VivaLaVida's door handle to replace the broken one, I did another little journey around Moab… I went to find an arch named Eye of the Wale. And it looks really like one. 😀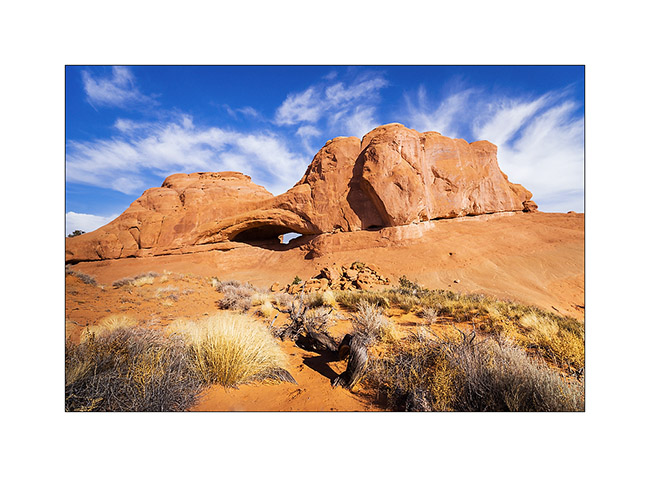 5. In the eye…





6. Farther on the trail, the Marching Men, in the Klondike Bluf.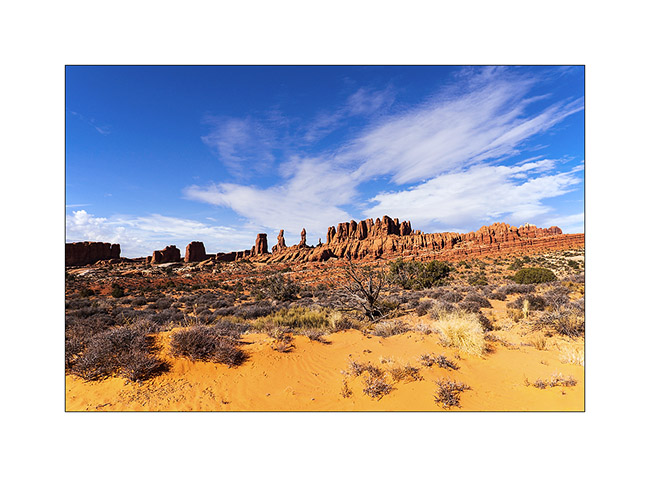 7. I drove that trail in 2011 and it is much more ruff than three years ago, much more than it appears in this image!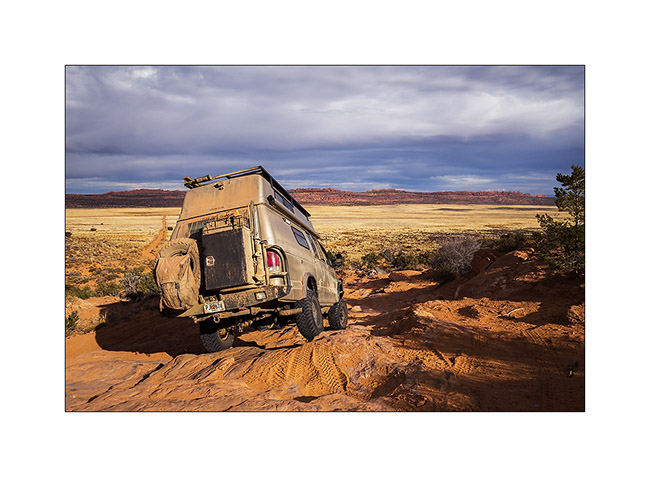 8. Another quick getaway the next day in Canyonlands National Park to discover a ruin located under the overhang of a huge cliff … Not shown on maps of the park, this spot is still unspoiled by mass tourism. A fantastic place with a wonderful view of Candelstick Butte.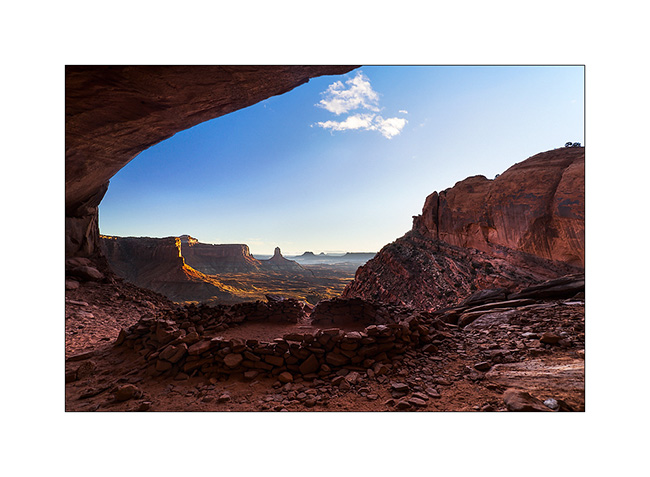 9. Souvenir picture with Madeleine and Hans who welcomed me at their home like a king. I left Moab the Friday before Christmas, VLV's handle finally being fixed. (Picture of another picture, sorry for the quality)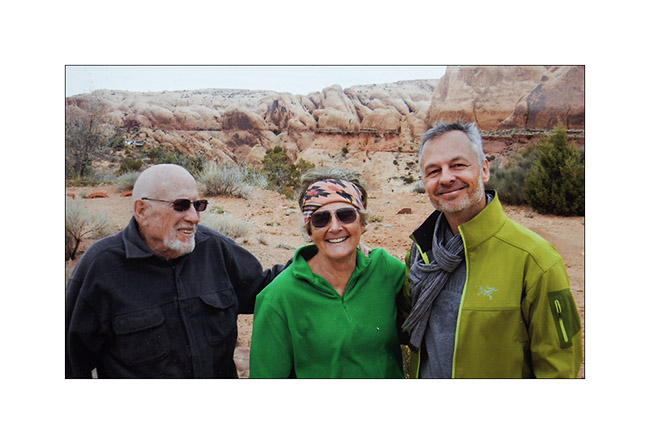 10. I then drove upstream the Green River hoping to see Desert Big Horn Sheep which live in cliffs of mesas. Late afternoon light in the entrance of Gray Canyon.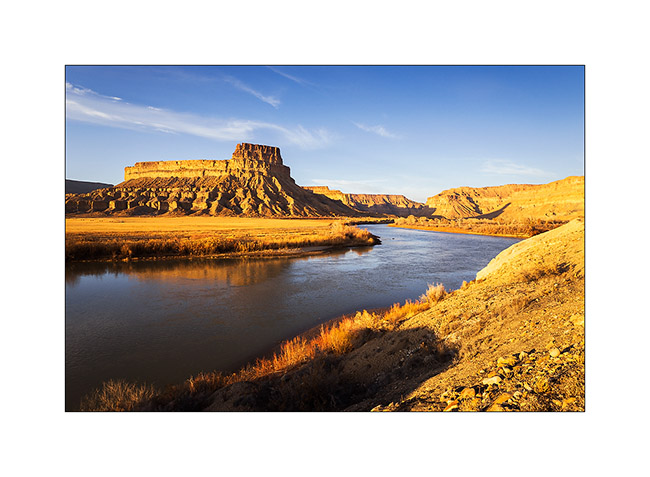 11. The next day it's really gray over the Gray Canyon. I didn't see any Big Horn… :-/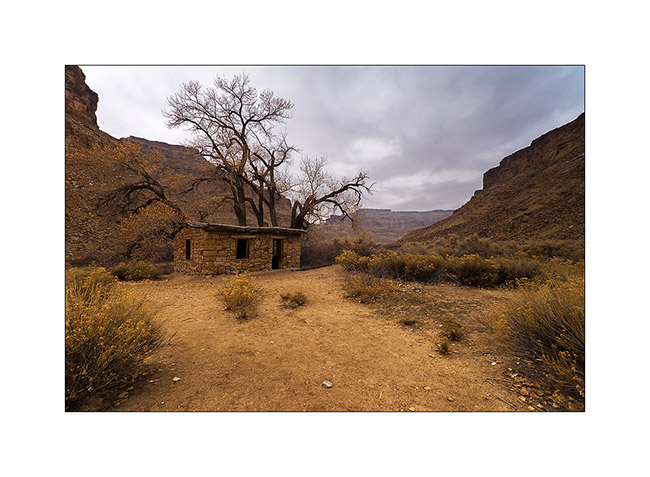 12. Returning to the San Rafael Swell, I made a detour to discover a rather unique triple arch. Along the track, when the water meets the bentonite…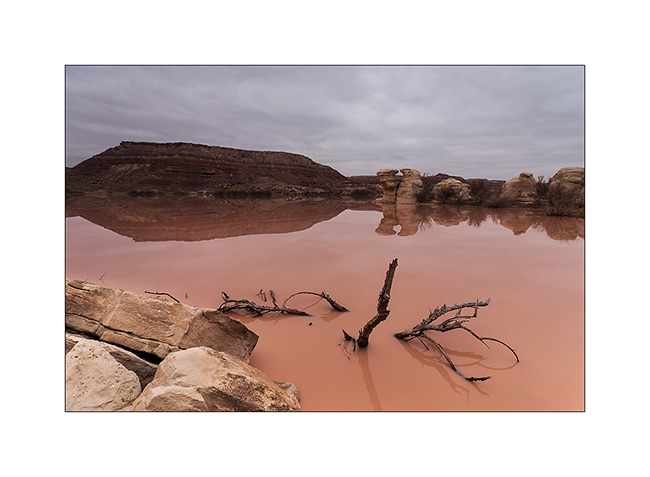 13. Natural arabesques of some lichen on sandstone.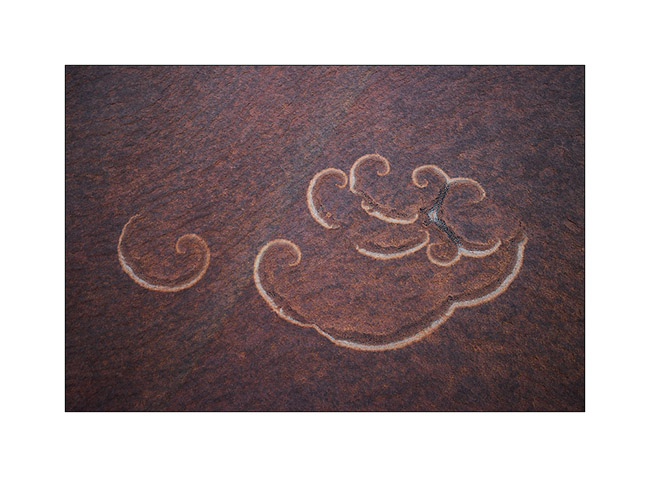 14. Here is Colonnade Arch, above the canyon of the Green River.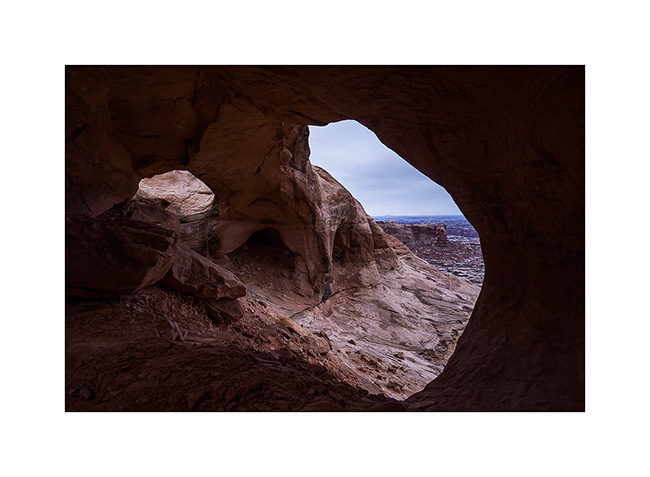 15. Almost a cathedral, unfortunately without light that evening…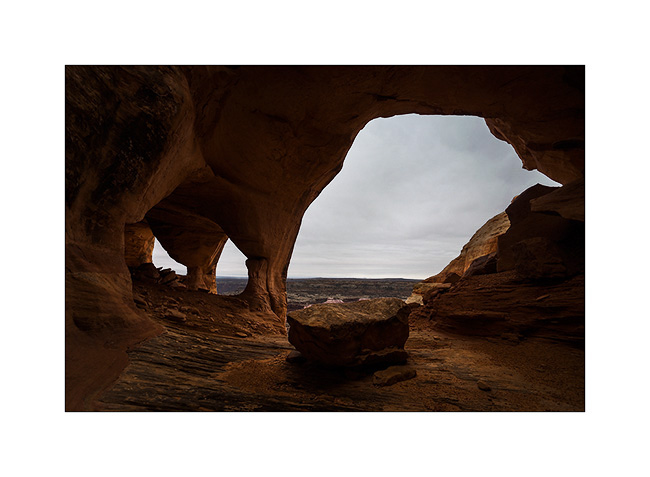 16. While going back to VivaLaVida, I spoted by chance these sandstone stalagmites at nightfall.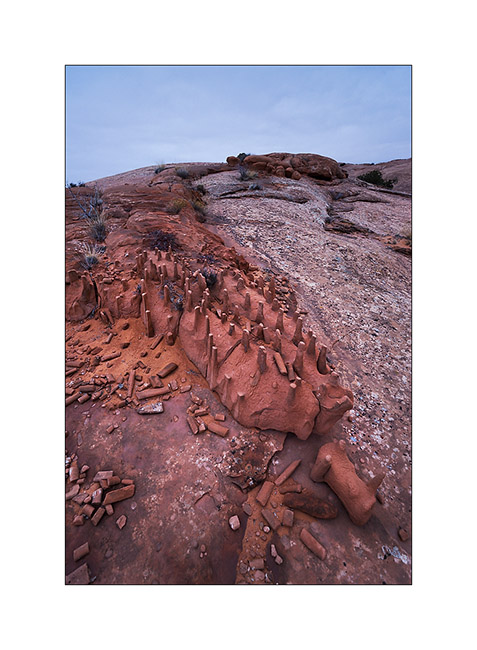 The next day, the weather was still very gray, so I took over the direction of the San Rafael Swell to discover petrographs in Dark Dragon Canyon.


17. Small dune area where snow remains in place.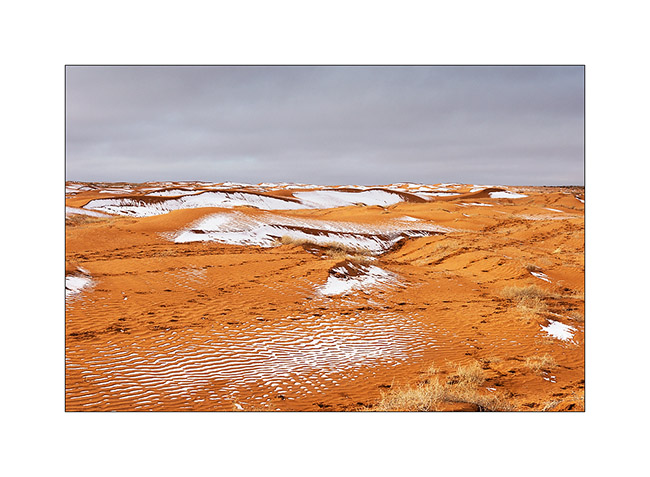 18. The contrast between orange dunes and white snow is beautiful.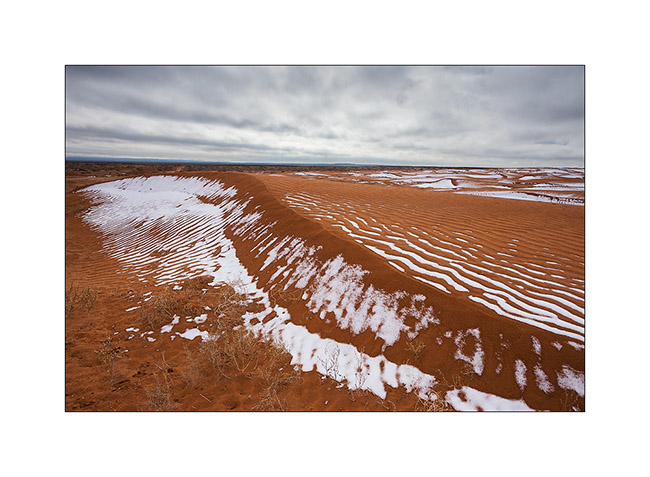 19. I pass close to Goblin Valley and discovered almost similar concretions.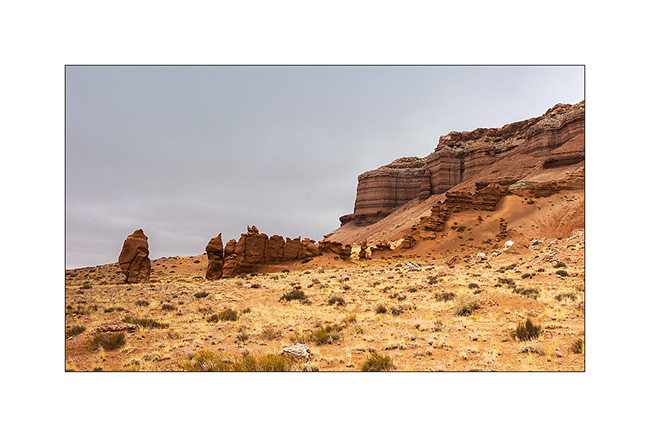 20. Ray of light on the reef of San Rafael Swell.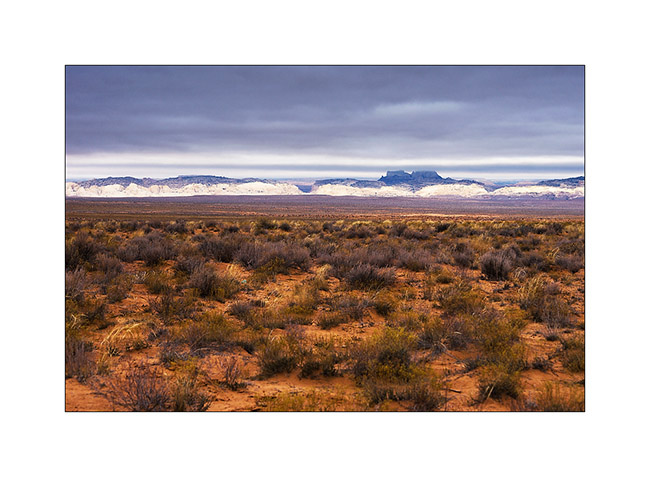 21. VivaLaVida runs along the spectacular reef.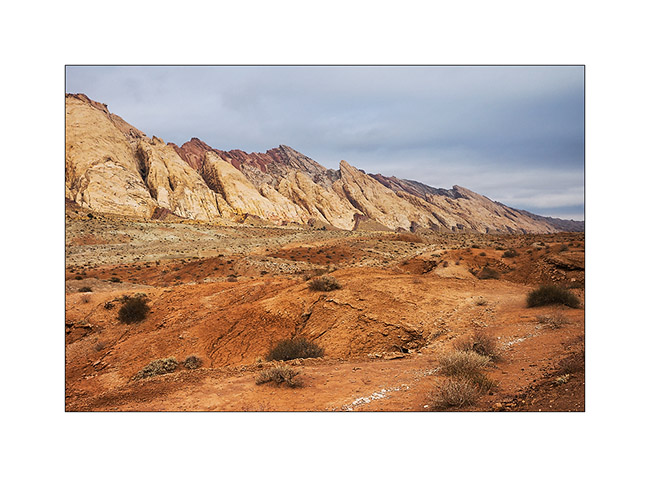 22. Path Under I-70 ; there is one inch margin with suspensions maximum lowered and tires deflated for trail! 😀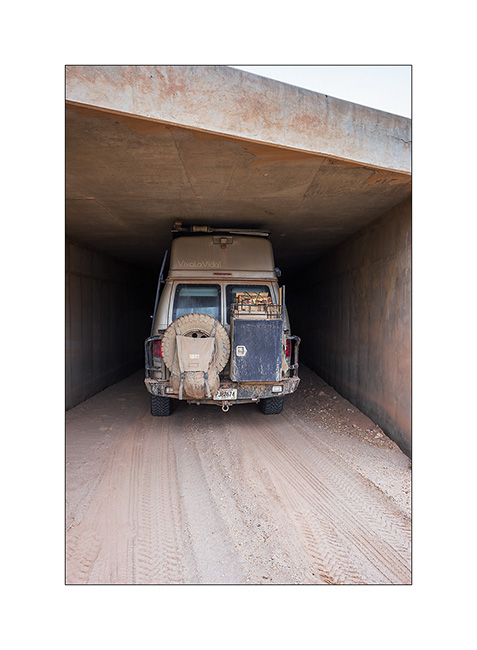 Discovery of petrographs in the next update.



1. The night was clear and at this altitude, the frost covers everything including VivaLaVida.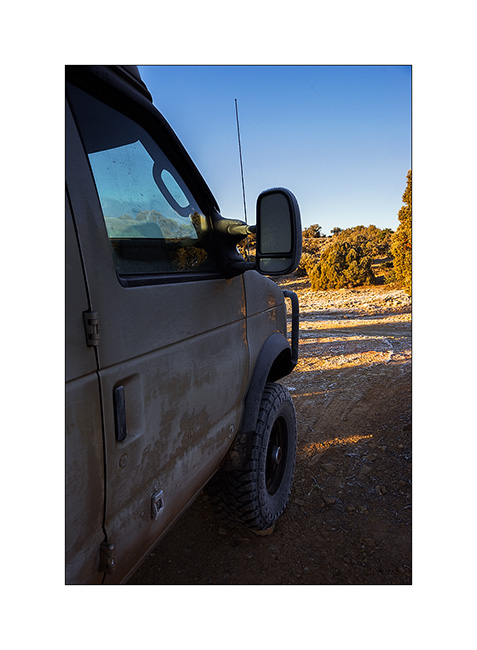 2. In exposed areas, ice crystals are huge!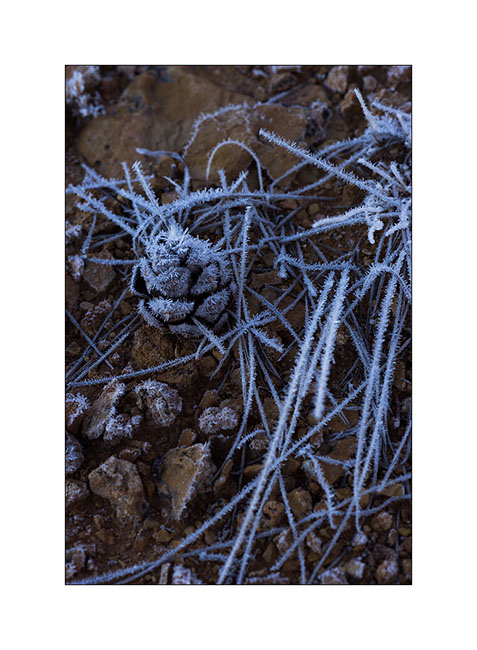 3. Even cactus appear to wear Christmas dress… 😉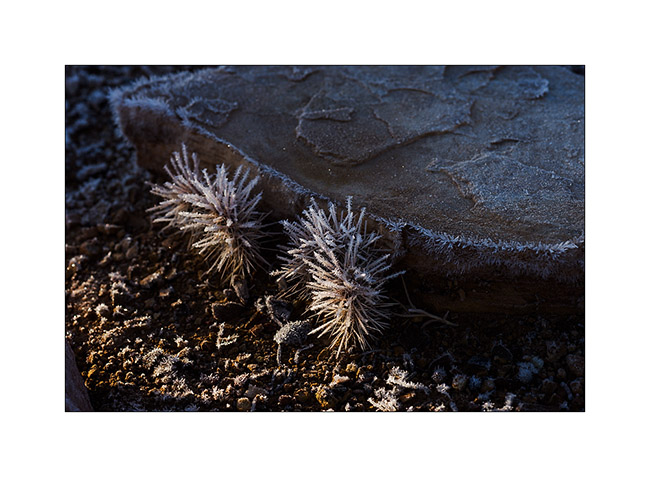 4. This old juniper trunk looks almost like antlers.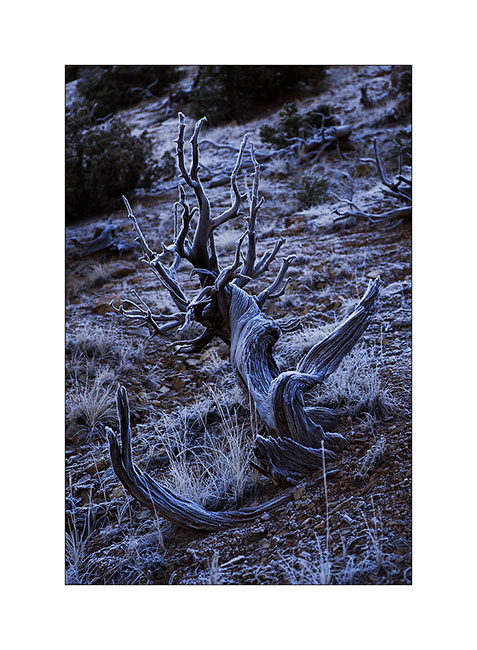 5. This anthill is an evident good insulation.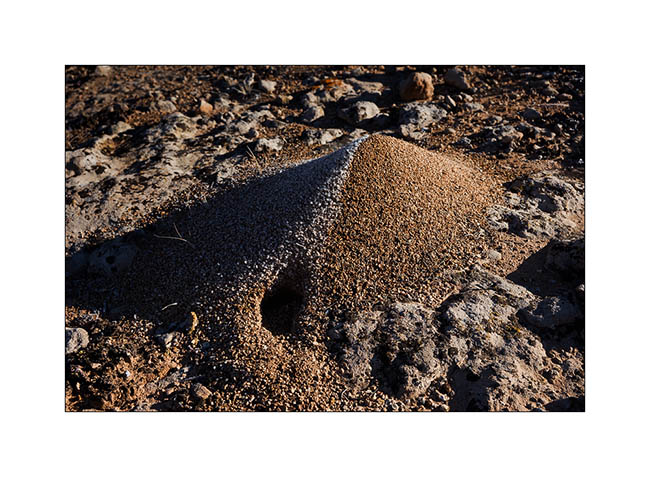 6. After two hours hiking, I arrived at the entrance of Baptist Draw, a little-known slot canyon. While above it is an open canyon, it suddenly changes in this thin crack…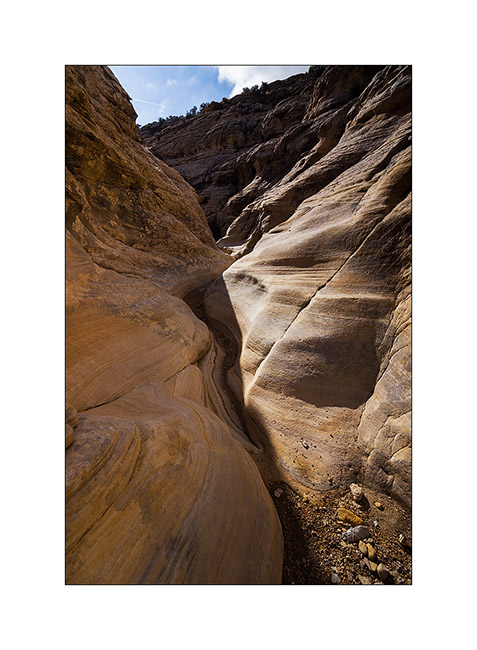 7. … that sinks ever deeper…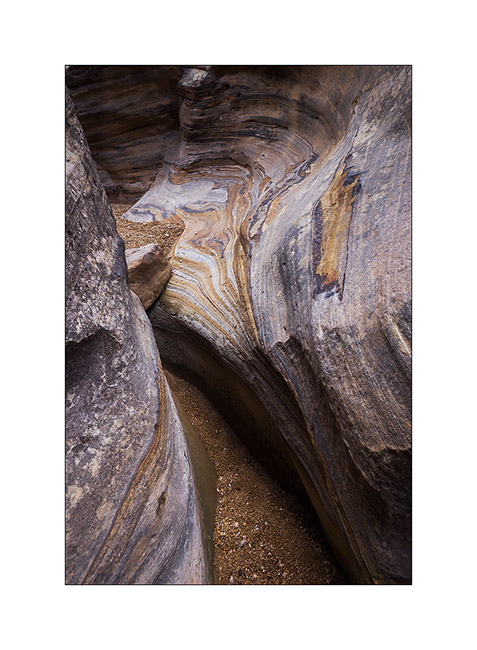 8. … sometimes with a larger pot…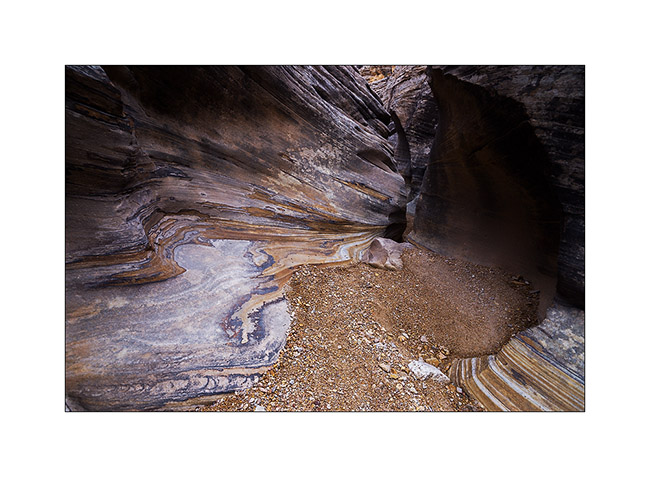 9. … and again some jumps and small waterfalls.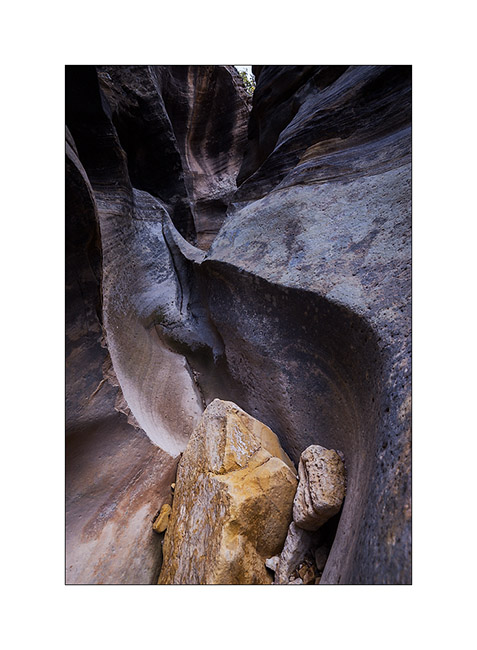 10. It's a special atmosphere to be alone, isolated in such a corridor, I recommend it! 😀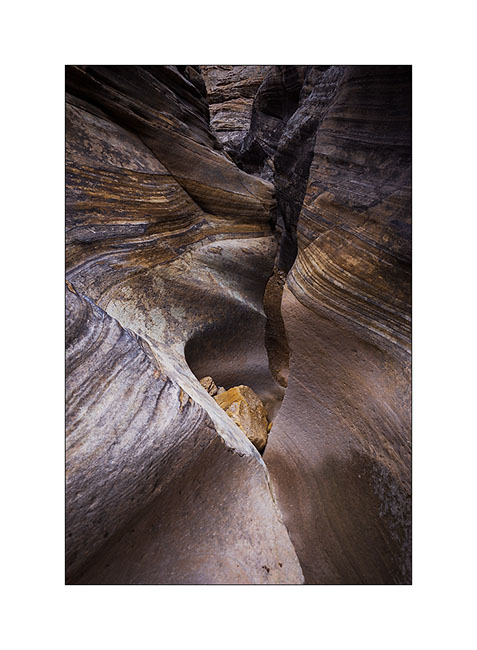 11. Intrigued by the heights of Reds Canyon I had spotted the previous day, I continued south for exploring this little known canyon too. Dug by the Muddy Creek, it is huge canyon, comparable to Canyonsland by the height of the cliffs.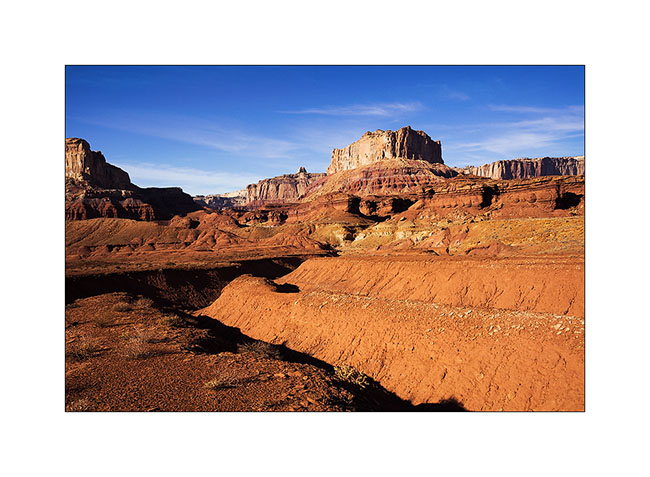 12. At Tomsich Butte, there are several uranium mines that have been oparated until the mid 50s.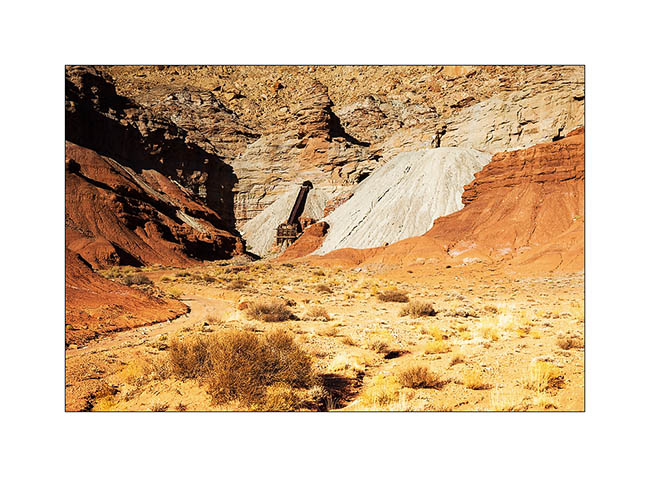 13. I even discovered that curious shelter. I learned afterwards that it was the dynamite deposit of the mine!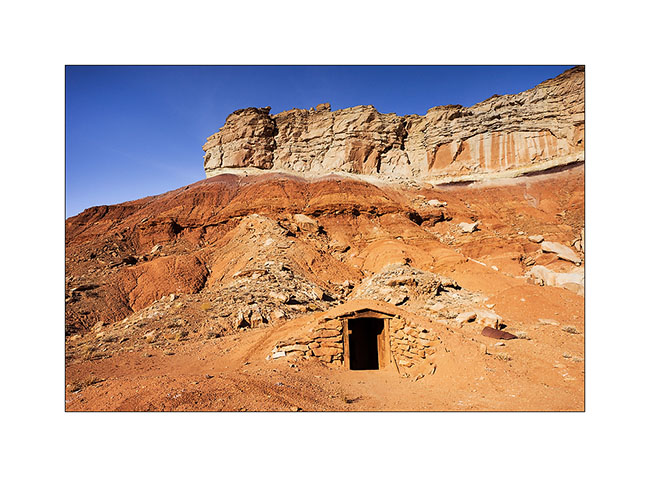 Taking a look at the front axle, I discovered that the right wheel was again quite backward. In fact, everything moved and the axle was misaligned. Blame it on the right suspension of which the centering pin broke.





I couldn't ride like that, so I had to mechanic for more than three hours under VLV, separating the axle of the spring with two jacks for inserting a bolt as temporary guide. Over one and a half hour to loosen four seized bolts, pulling on the handle of the hi-lift jack lever to achieve this; I so hurted my back …: – / But finaly, VLV was able to continue his way and hang gently until a more serious repair by replacing the broken pin. I then also removed the other side and I did well: the pin was also about to break.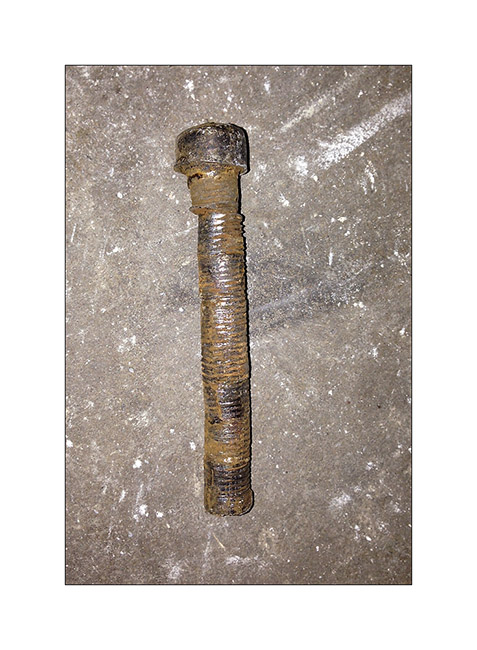 It's crazy what dirt raods hurts all running gear..!


14. Going up Reds Canyon, the scenery is gorgeous. Don't they look like cathedrals porches carved in these huge cliffs?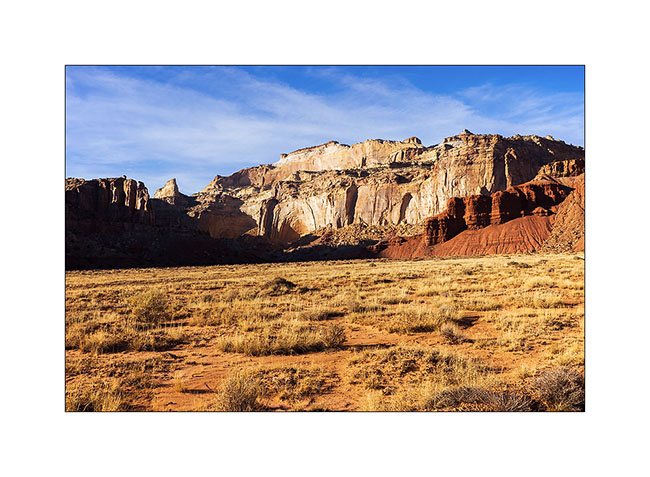 15. In the upper canyon, about twenty miles away, they are some spectacular buttes.





16. Last look before returning to Moab to fix my broken suspension…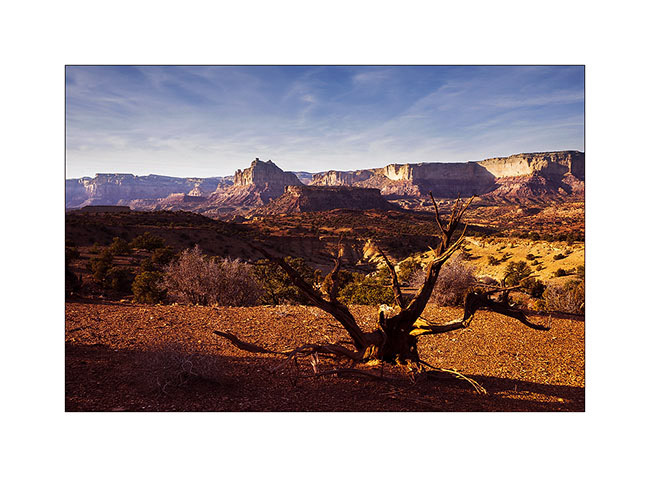 So much for today, hoping you're not getting too bored with all these canyons! Thanks again for your loyalty. 😉