trail
now browsing by tag

After Colle Agnello, we continue to discover high altitude trail.


1. Ascent in the rain…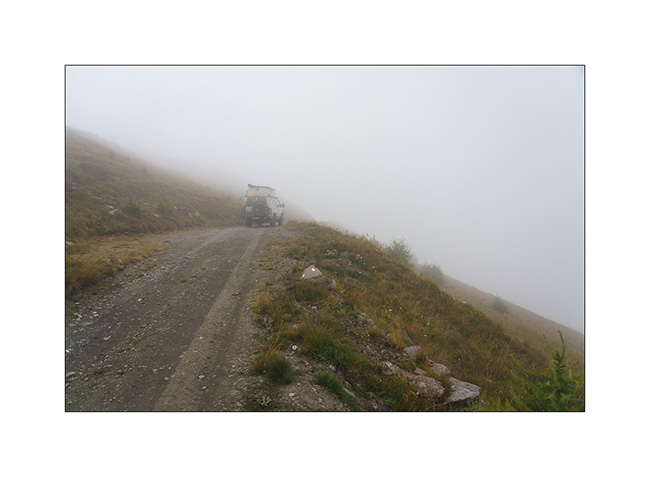 2. Fortunately, after lunch, the sky starts to open.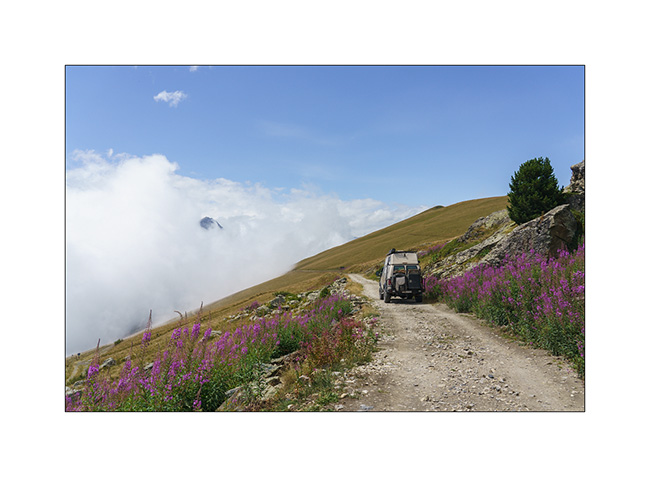 3. We are again at more than 6,500 feet elevation.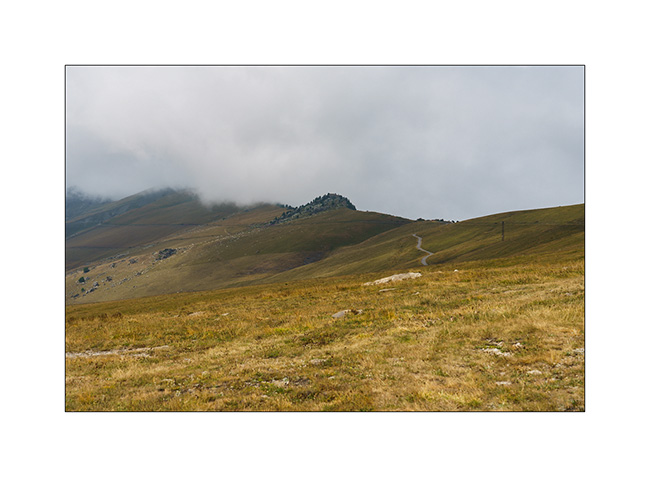 4. And the sun returns in late afternoon.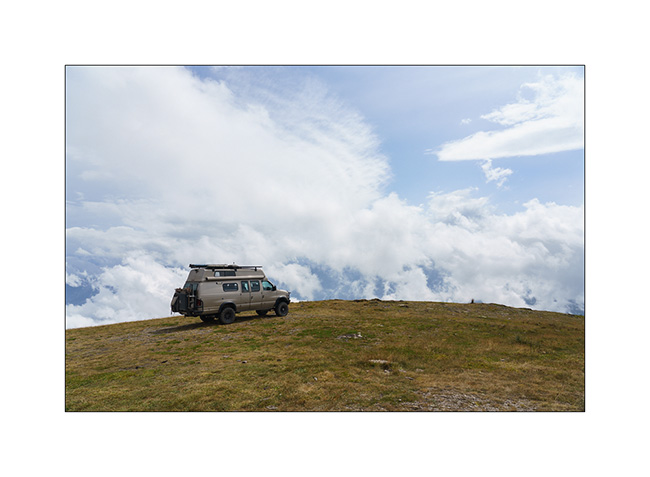 5. The clouds still cling to the north.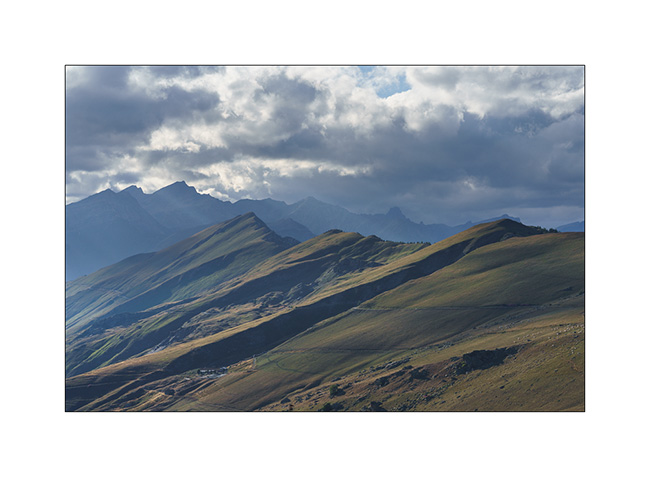 6. Emile trains on his bike.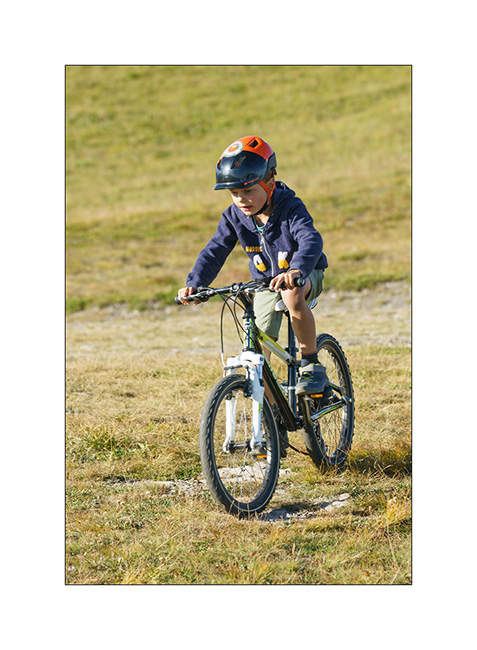 7. View from above…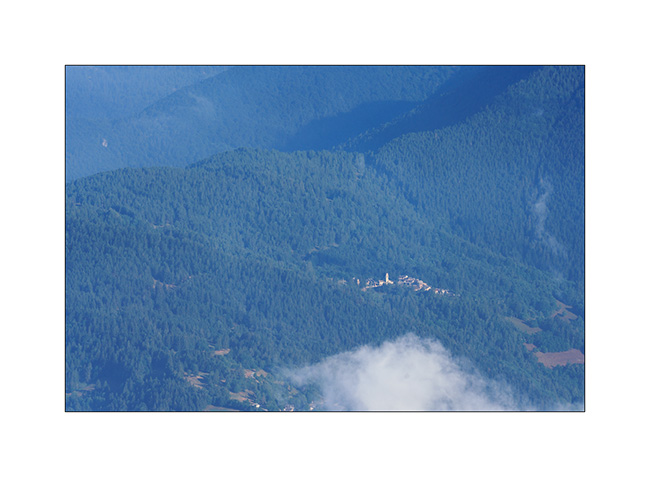 8. In the distance, the Maira mountains that we will discover later.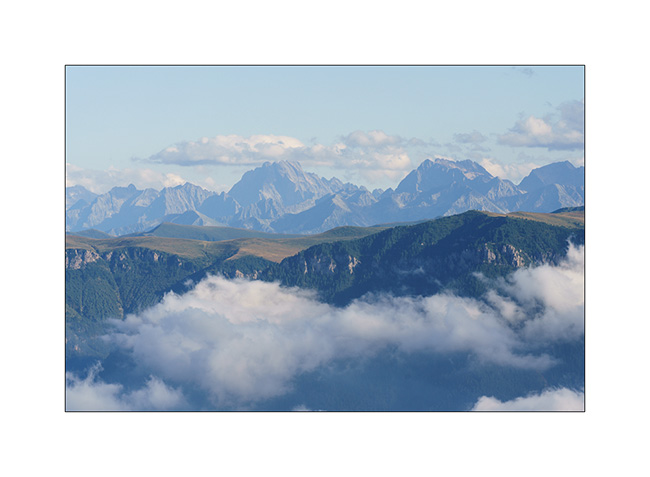 9. In the morning, blue sky is back.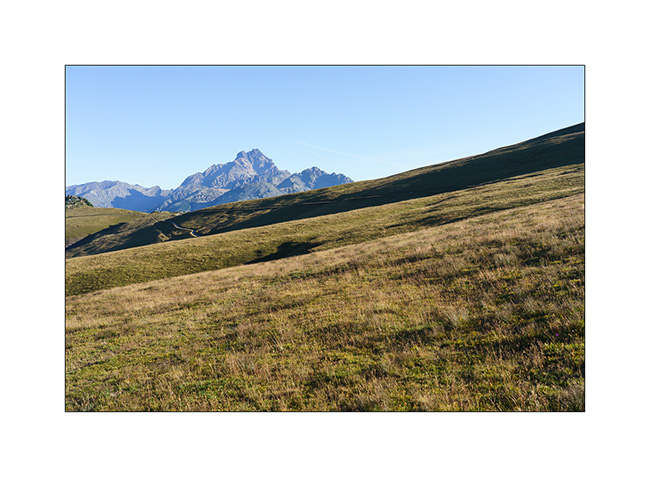 10. On the Strada del Canoni trail.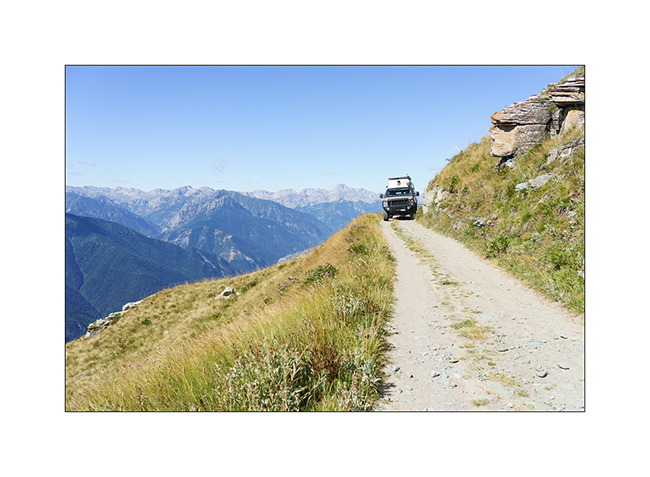 11. Distant view…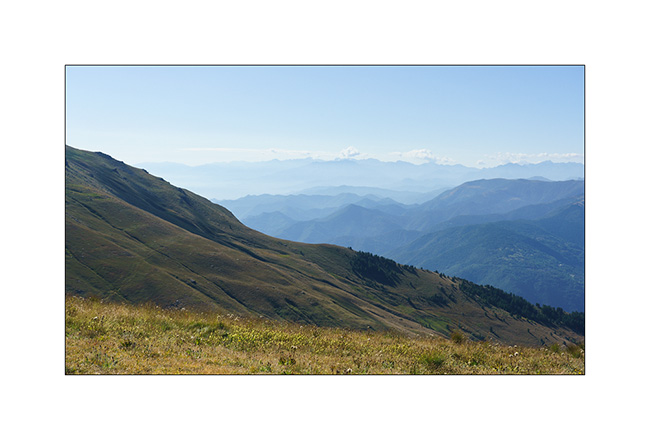 12. After having tried to reach the Maira by the Meja valley which we discover closed by a gate, we climb there by the Colle Fauniera.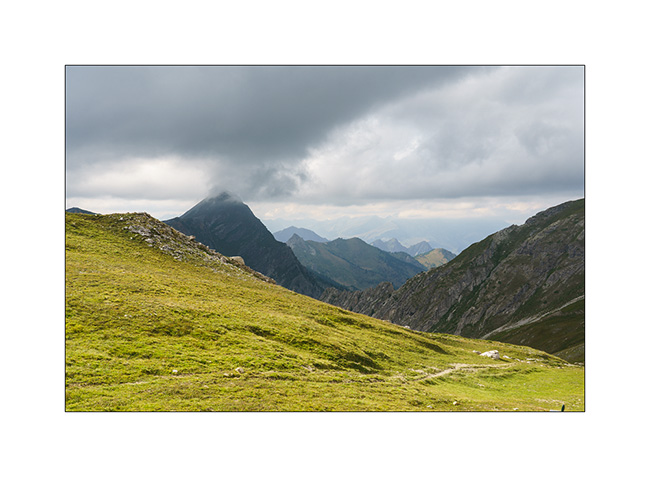 13. It is a pass visited by the Giro and a sculpture recalls it.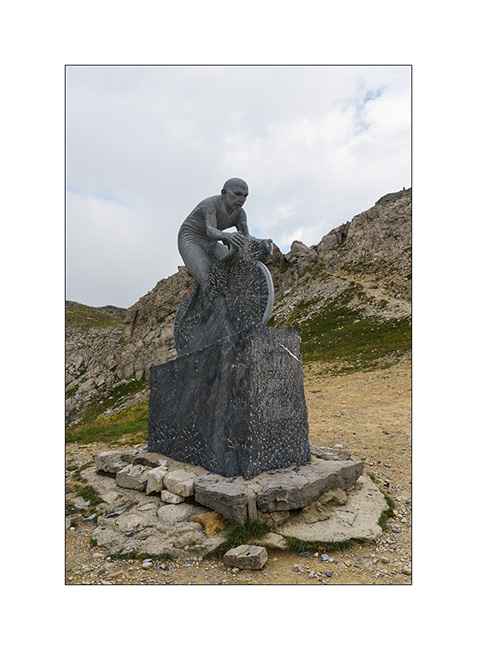 14. We discover the trail of the Maira Stura from the East side, looking for a boondocking place.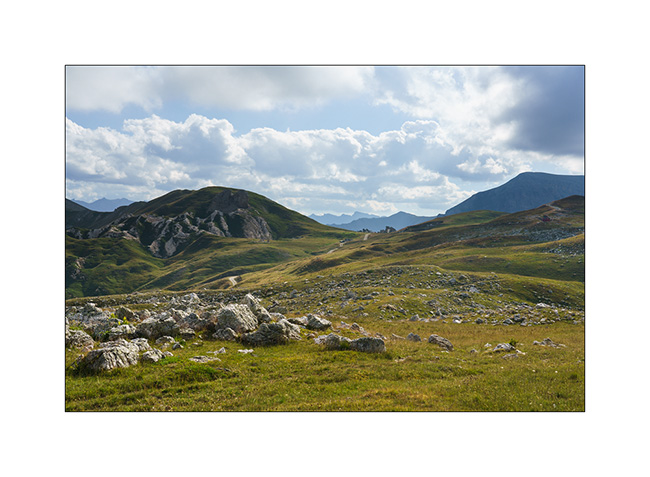 15. The massif is spectacular, alternating limestone walls and high meadows.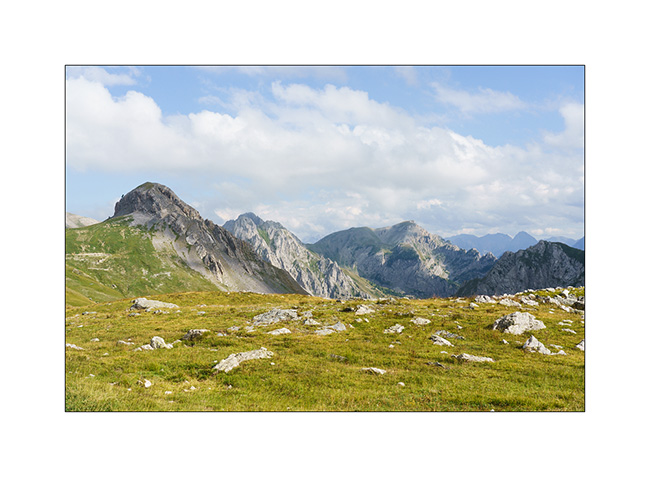 16. …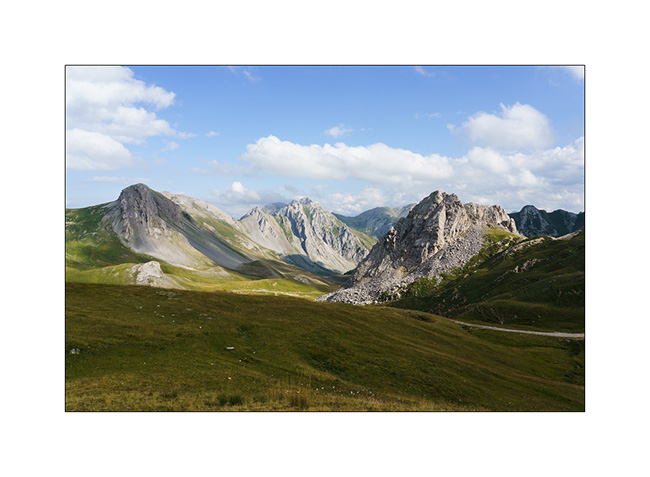 17. VivaLaVida on the trail.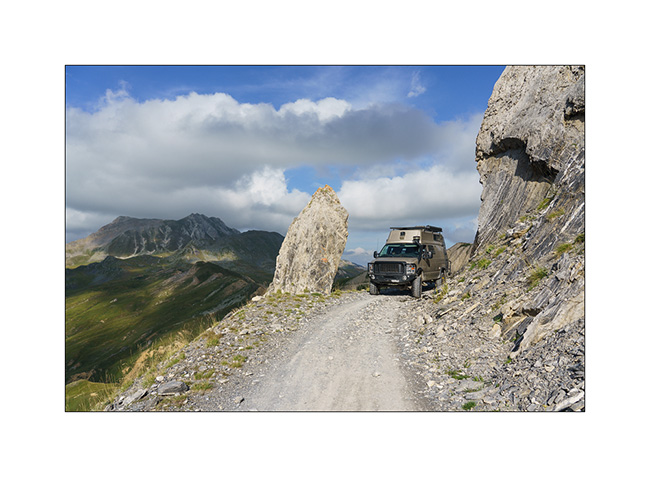 18. Val Meja from above.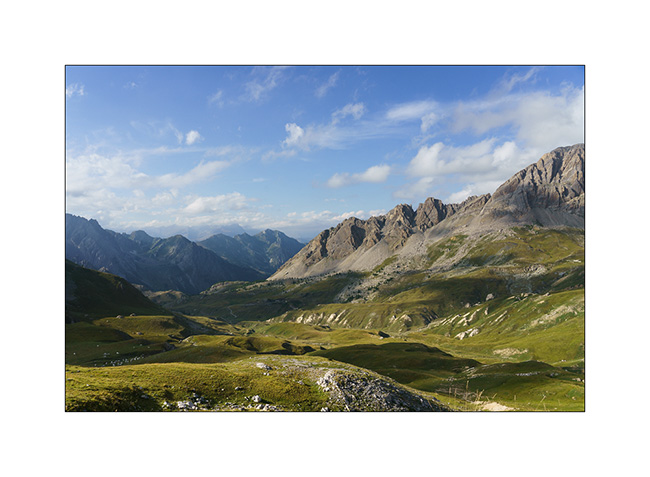 19. Sunset from our camp.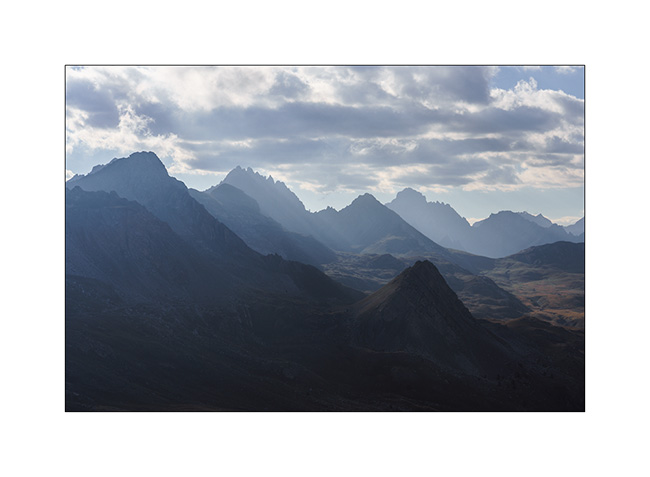 The trail being closed to motorized vehicles on Sunday, we spend a full there day enjoying this beautiful panorama. We'll tell you that soon. 🙂



After these two days around the Colle del Nivolet, we move a few miles South along the first alpine foothills which border the Piedmontese plain..


1. Short stop at Pont-Canavese to refurnish us with various groceries.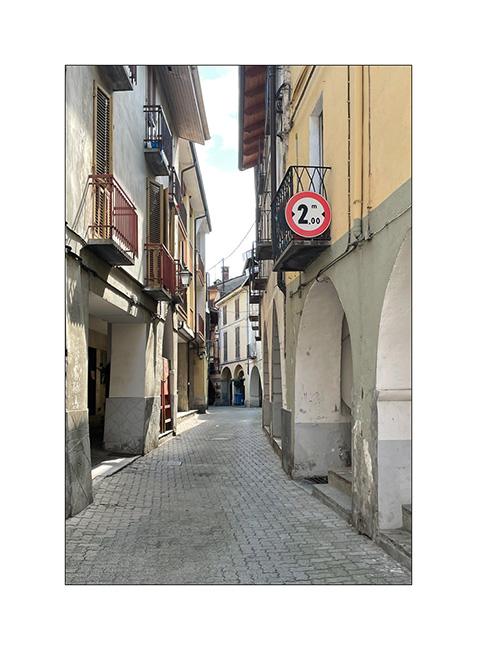 2. This village offers the typical architecture of the region with narrow streets and houses build over the sidewalks and stalls thus shaded.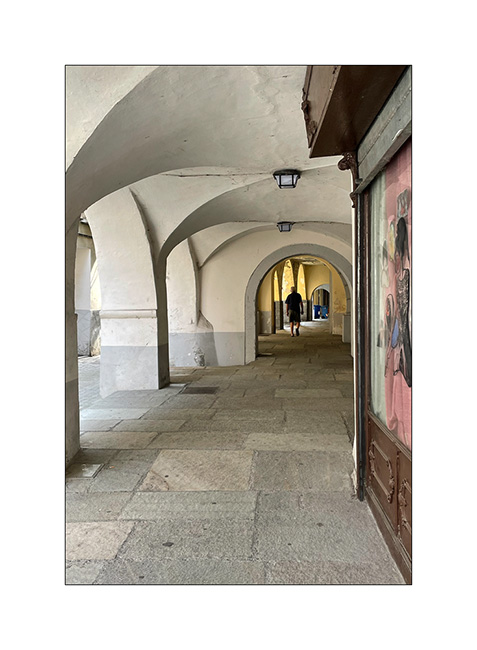 3. Then, a nice climb on the trail that leads to Colle del Colombardo and its imposing sanctuary overlooking Turin.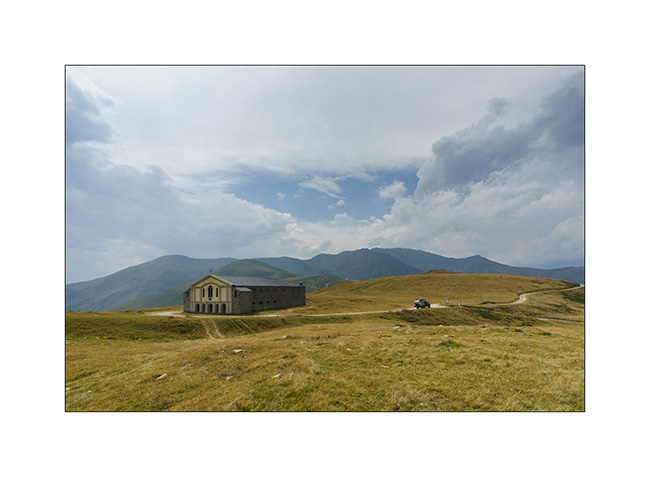 4. A few storms are brewing, which will however avoid our camp.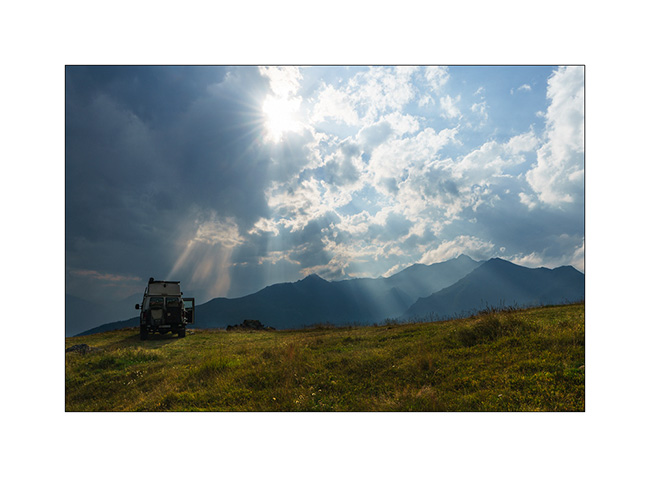 5. We sleep on a hill, along the descent on the south side.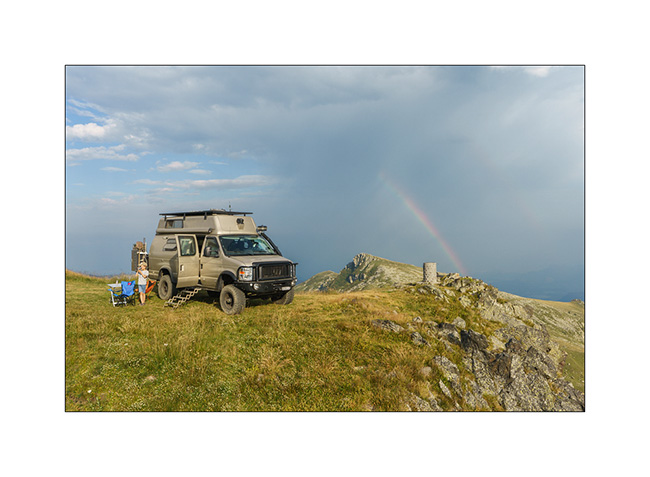 6. Sheepfold…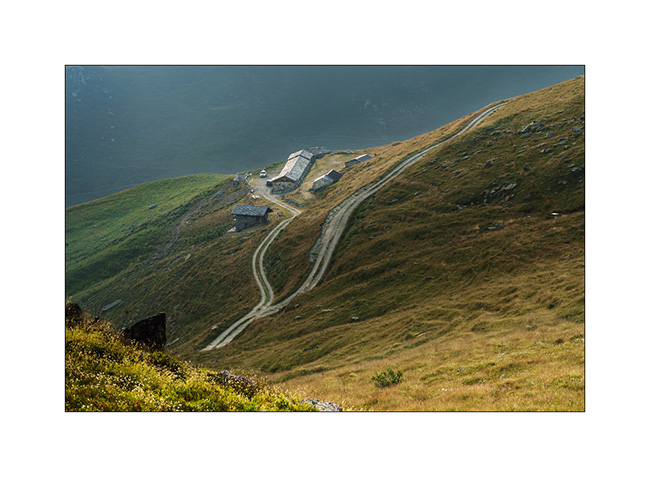 7. Quiet end of the day…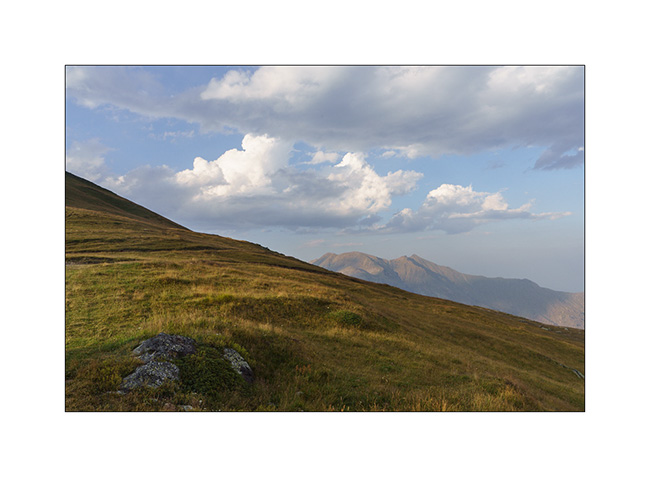 8. The next day, we go back to the Colle del Finestre that we discovered last year in order to access the Strada del Assietta which was closed during our previous visit. Souvenir at Colle del Assietta.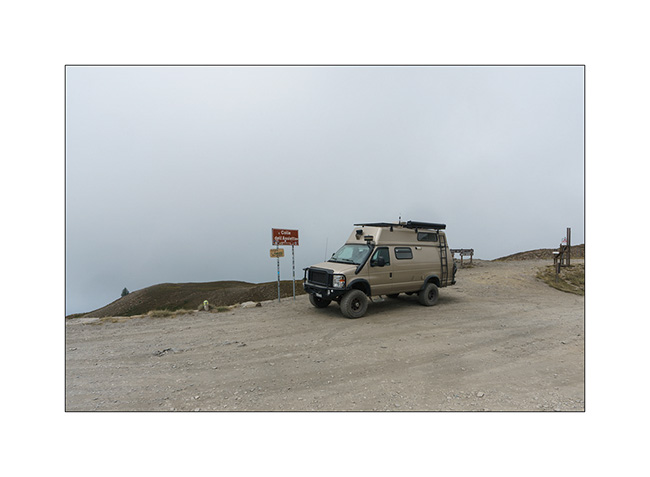 9. This old military road winds for about twenty miles between 6,000 and 7,500 feet above sea level, connecting Colle del Finestre to Sestriere. However, German tour operators specialized in 4×4 trips have almost transformed it into a motorway, rushing there every day in dozens of convoys of 10 to 15 vehicles each, to such a point that it is now closed on certain days of the week to preserve some peace for pedestrians and cyclists.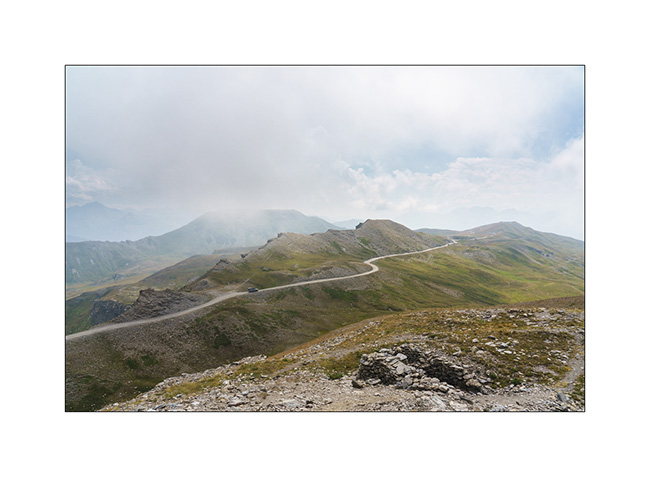 10. We take a secondary track to find us a nice boondocking place…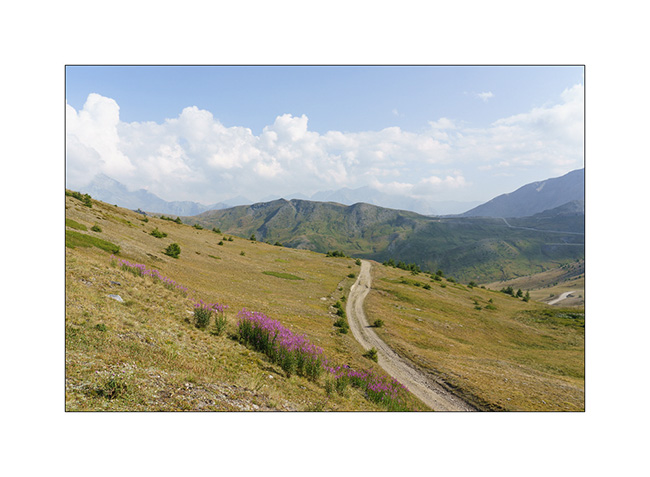 11. … on the ridge, above the Sauze d'Oulx.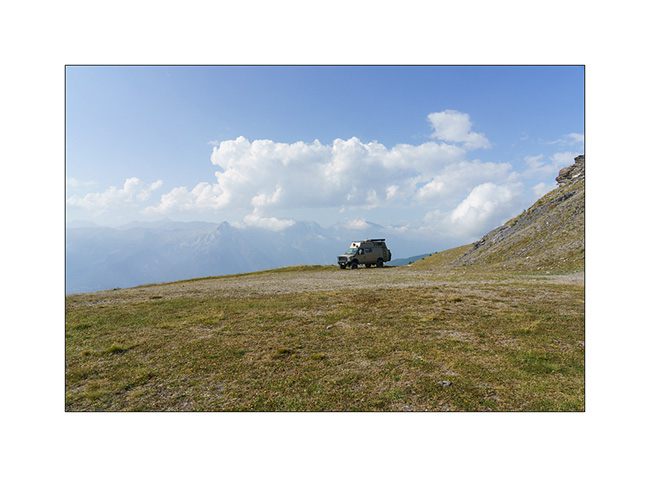 12. Assietta trail from our camp.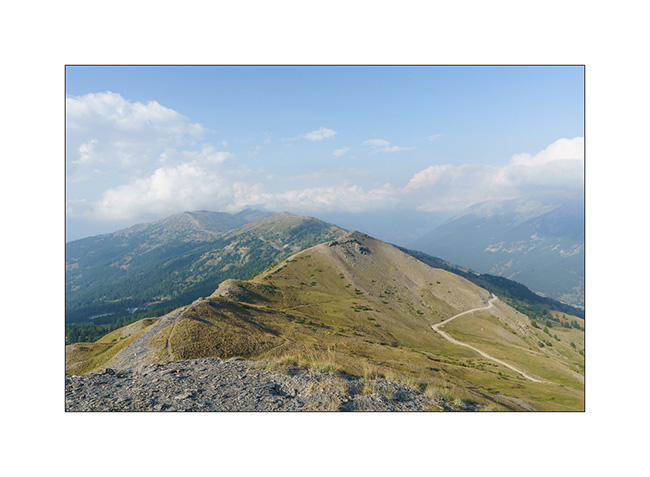 After filling the fridge in Sestriere, we go up the superb Valley Argentera which we had already enjoyed last year. We stay there for two days to enjoy its tranquility and its beautiful river, alone in its upper part which is difficult to access without 4WD.

13. VivaLaVida's camp along the river.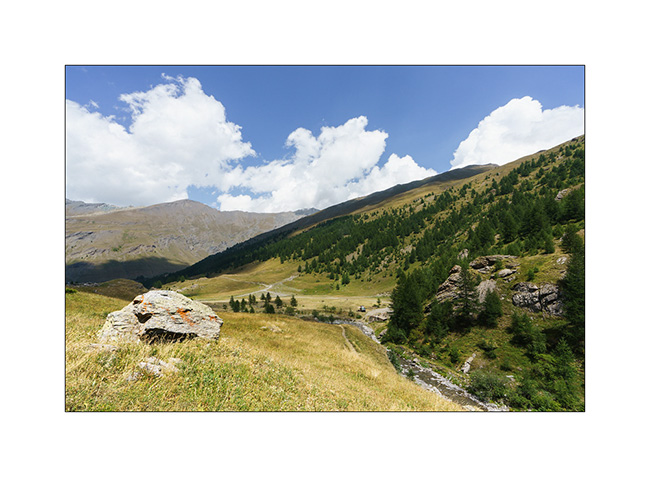 14. Emile enjoys a few lazy mornings… 😉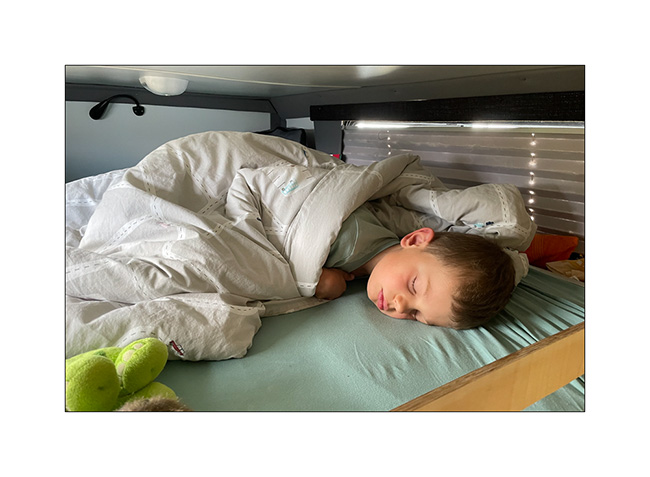 15. Lichens on a rock in the upper Argentera valley.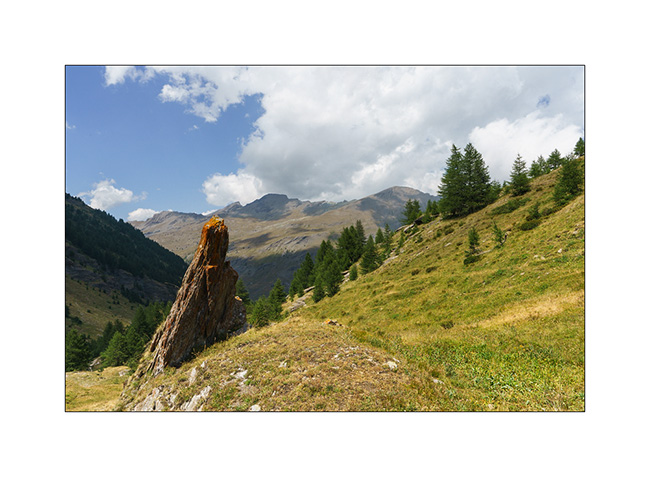 16. Emile is over the moon!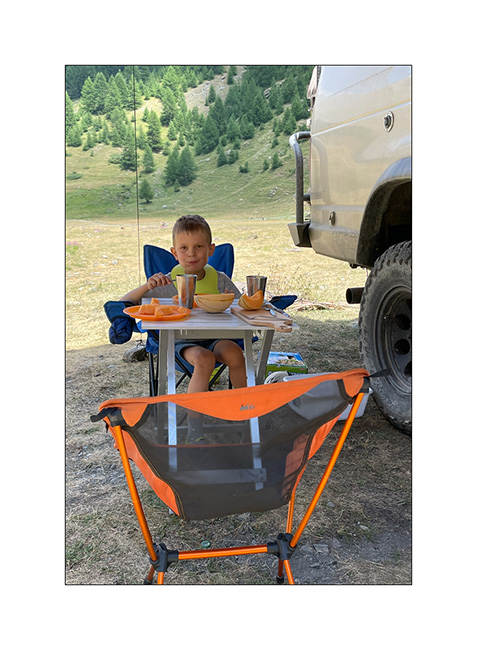 17. Upper Argentera valley.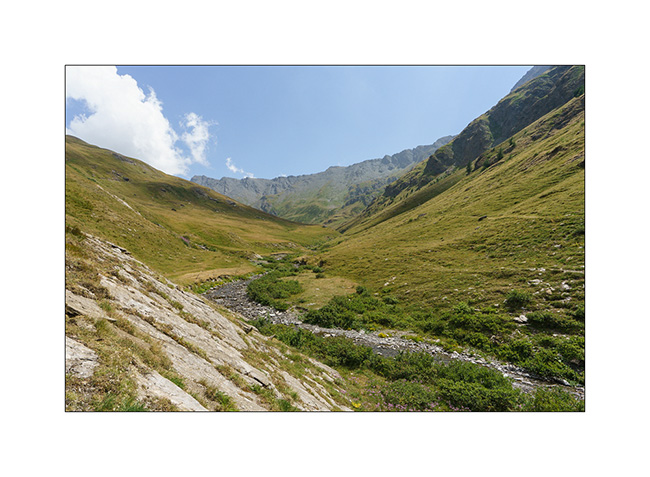 Other of our discoveries in a few days… 😀




1. Wake up at 8,500 feet elevation under Fort Jafferau and the full moon.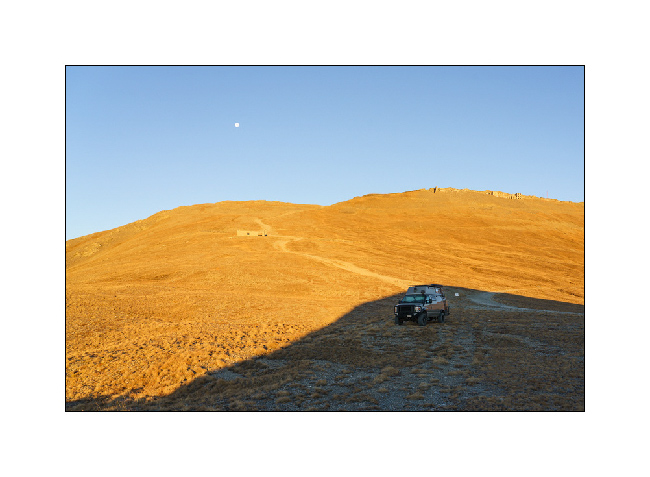 2. Mineral universe in the warm light of the rising sun…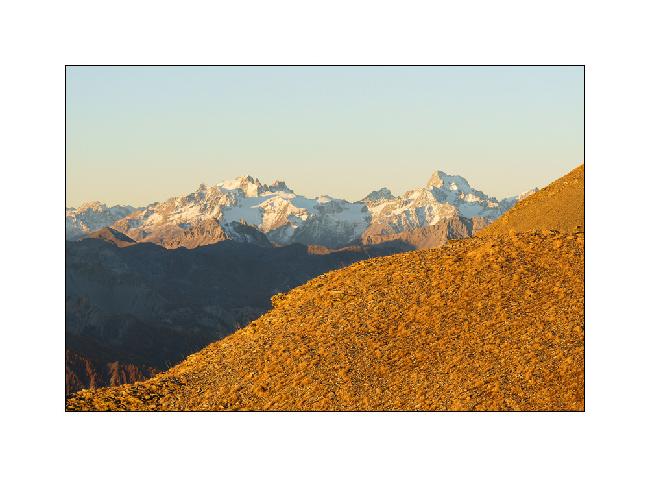 3. Another fort, Föens fortress, much lower in the mountain.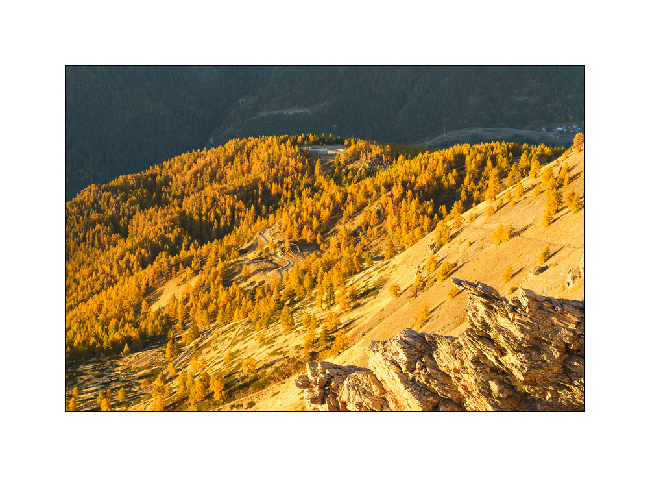 4. I love these high altitude tundra.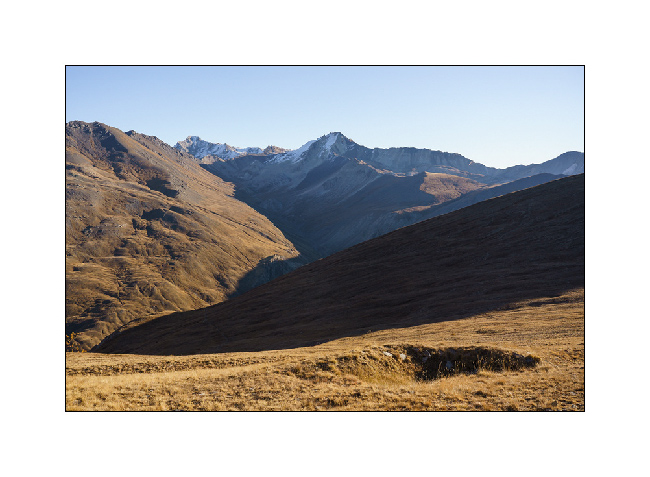 5. Another abandoned fort, just beside our bivouac.





6. It's time to break camp.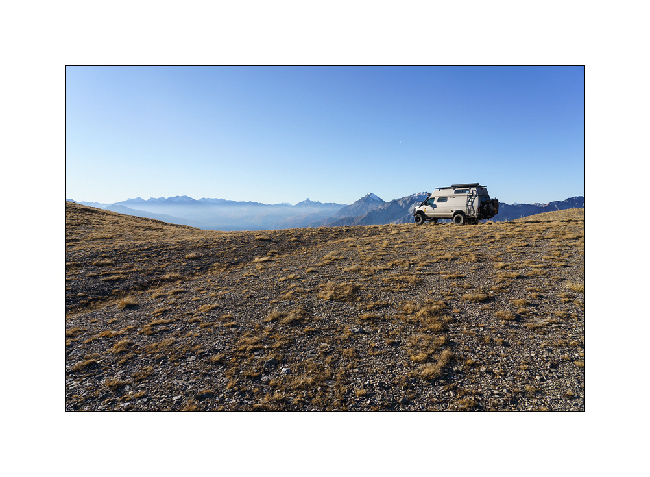 7. Going down, we find other golden larches…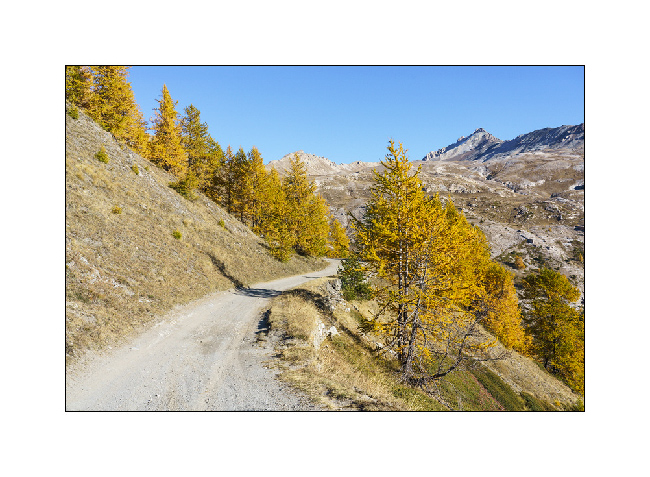 8. … and a much smoother trail on this side.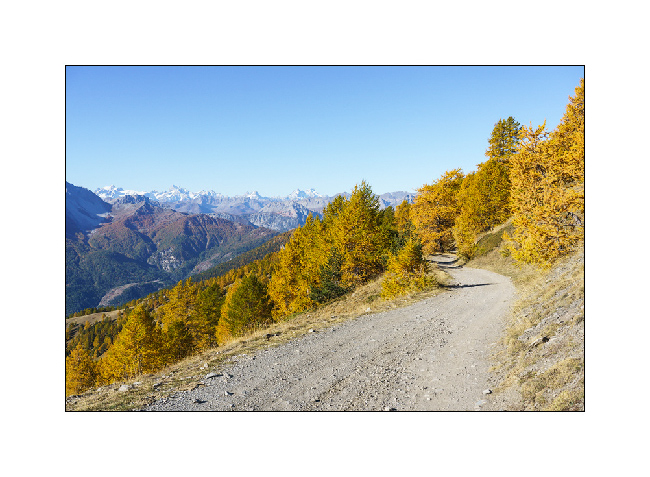 9. Föens fortress…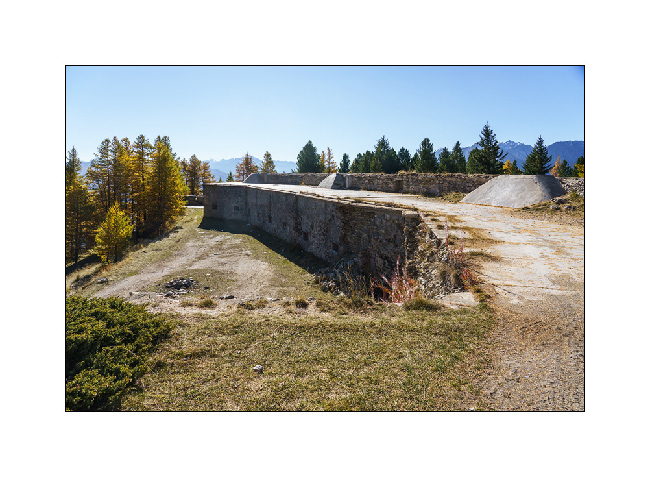 10. … of which we discover part of interior.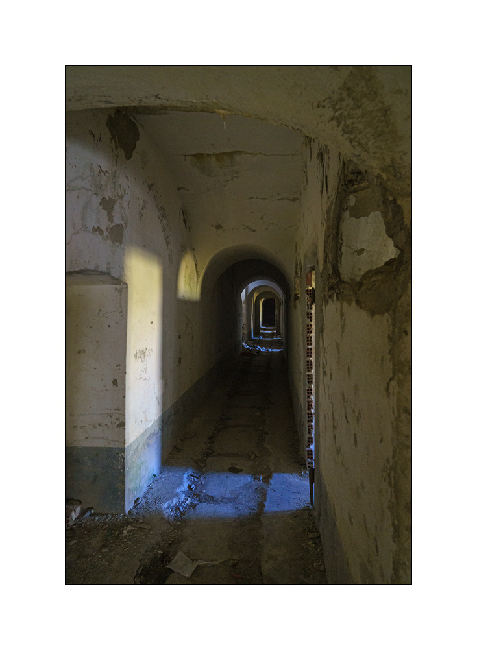 11. It's already time to go home as it's the end of holidays. Last boondocking under the Galibier Pass. Despite the negative temps, Emile plays with his small cars. 🙂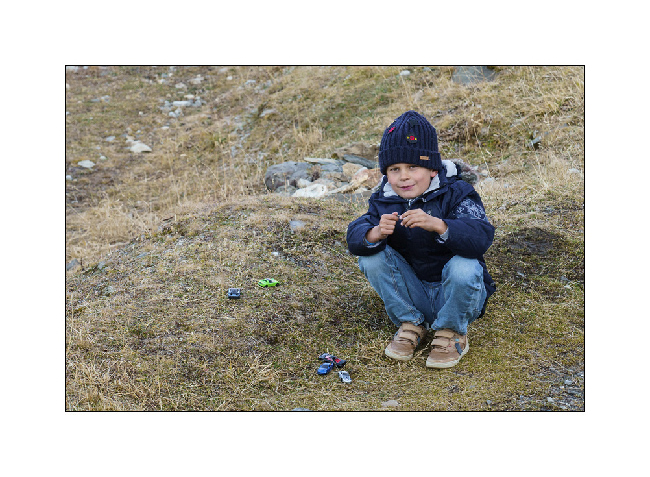 12. Last sunrays on the surrounding peaks and last image of the season for VivaLaVida.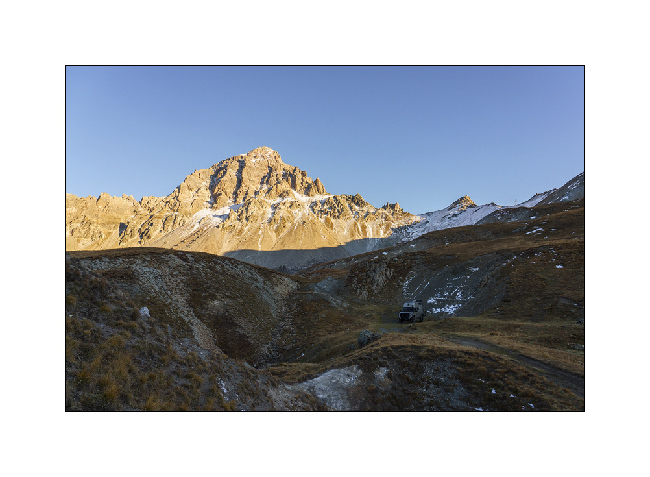 Thank you for following our few 2021 peregrinations.

It is time for Emile and I to wish you a Happy Christmas! See you next year for new adventures!! 🙂




Continuation of these few days of relaxation and discovery…


1. To descend from Mont-Cenis to Italy, VivaLaVida discovers a trail, an old border road, some passages of which are spectacular.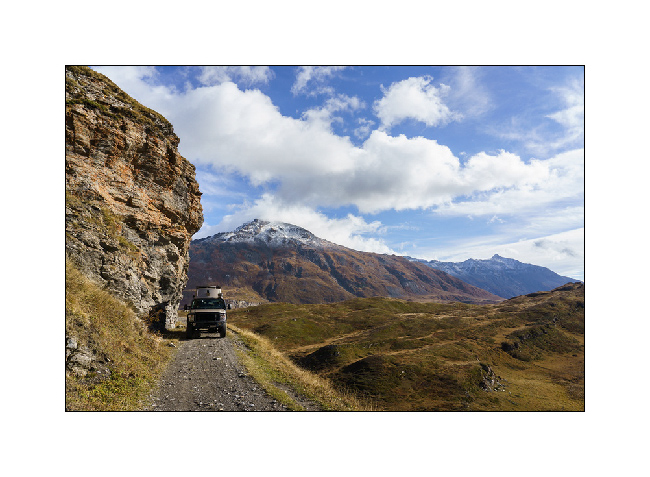 2. Passage near the pretty little lake of Roterel…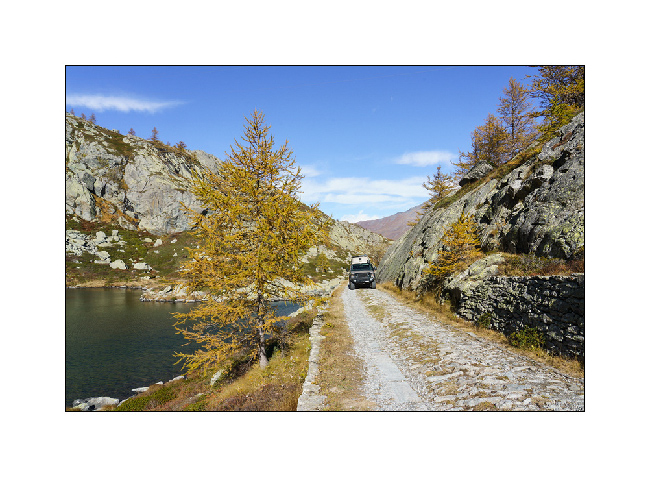 3. … as the sky clears.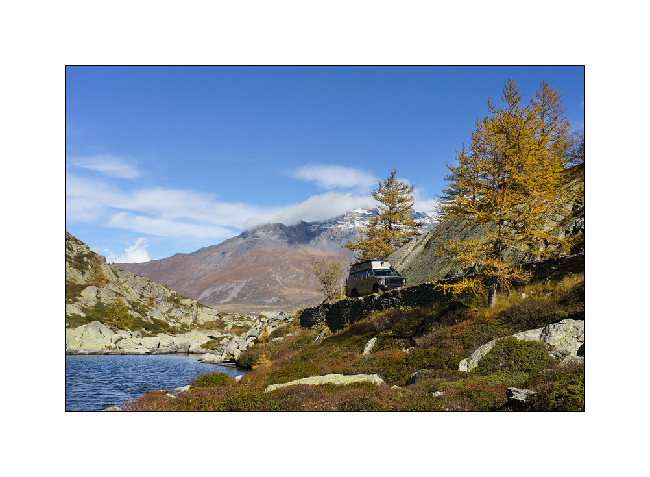 4. The larches are already gorgeous with their yellow-orange hue…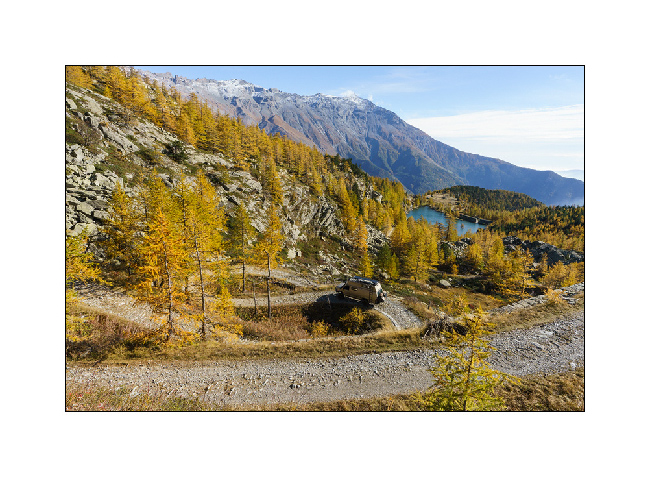 5. Turns…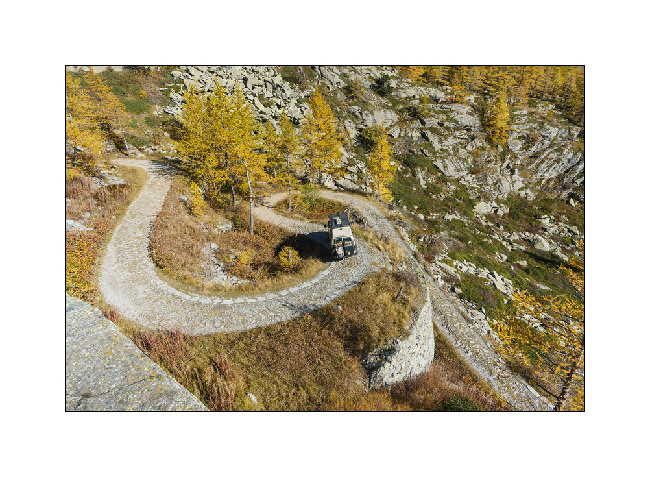 6. Another small lake, Arpon Lake, just after the Italian border.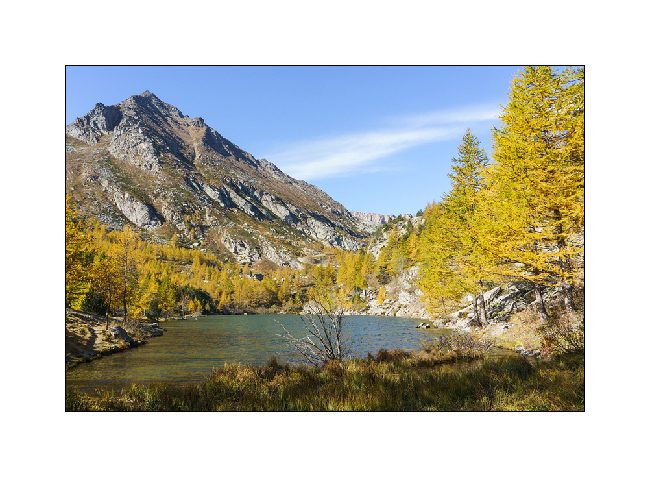 7. We make a little stop for the lunch…





8. … near a pretty mountain pasture already closed this season.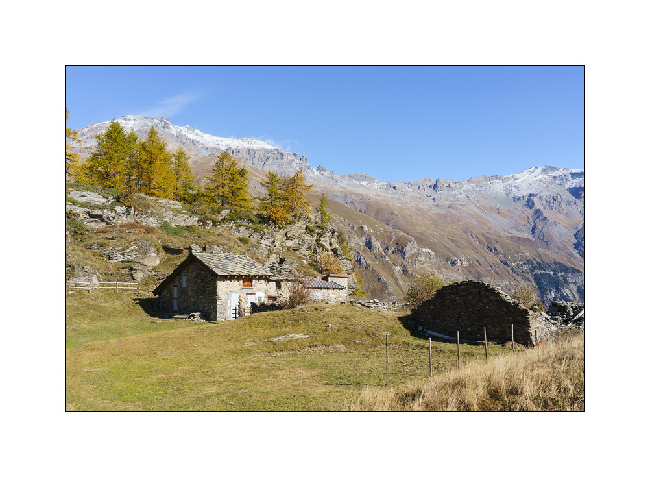 9. While waiting for the grocery store to open – it is closed at nap time – Emile improves his cycling technique! 🙂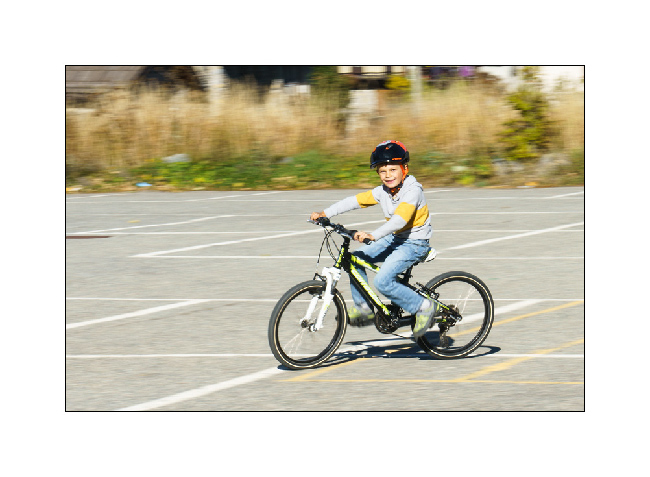 10. We take the direction of the upper valley of the Claree via the Col de l'Echelle (Ladder Pass).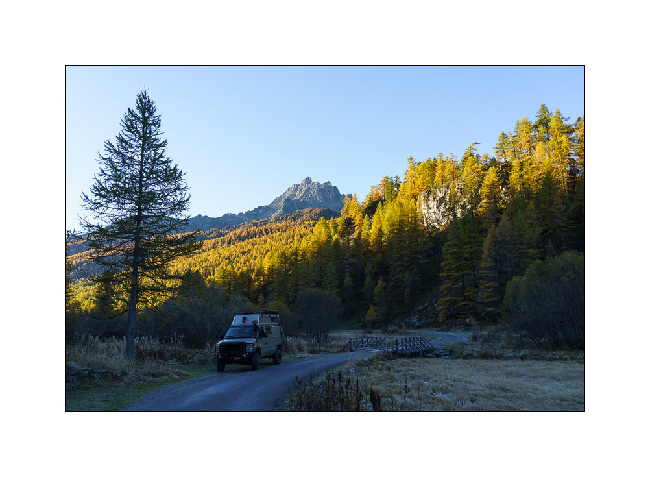 11. Wake up at the end of the road on a beautiful fall day ideal for a mountain walk.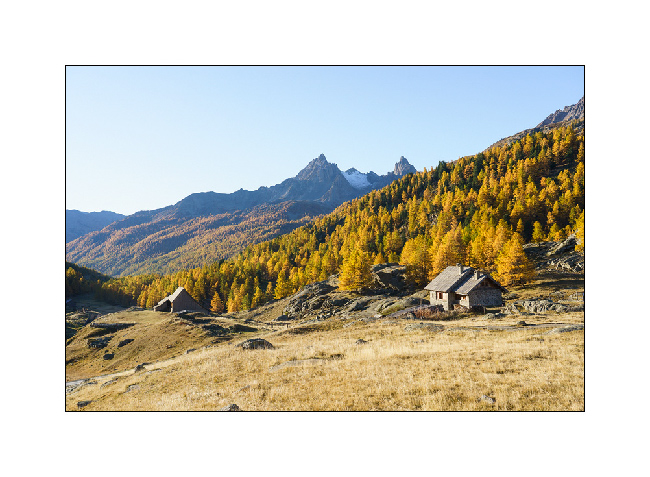 12. At 5 years old, Emile is a good walker, 5 or 10 miles uphill doesn't frighten him!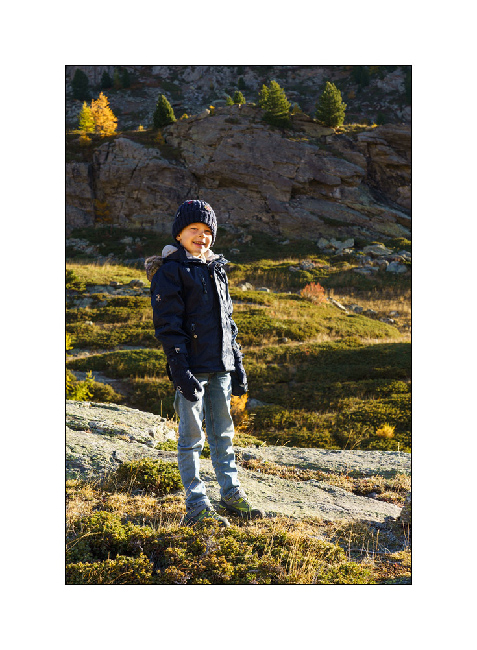 13. Climb to Long Lake in the midst of the fall colors.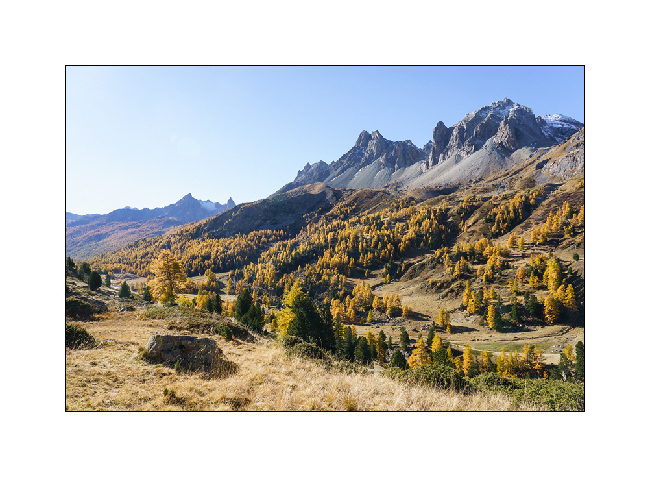 14. Arrival at the lake where the temperature hardly exceeds 32°F.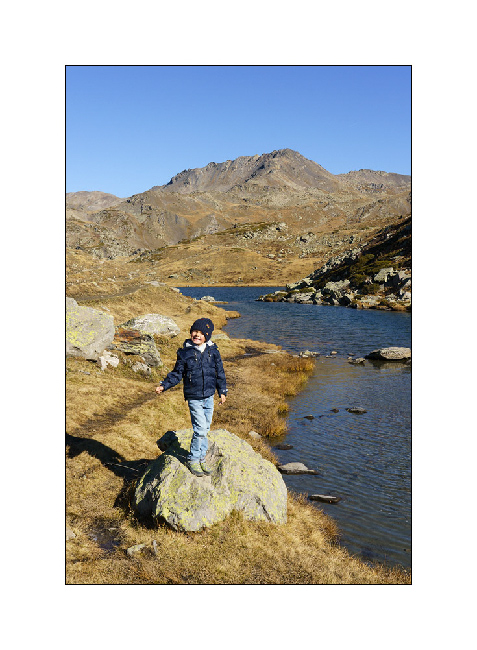 15. Immaculate tranquility…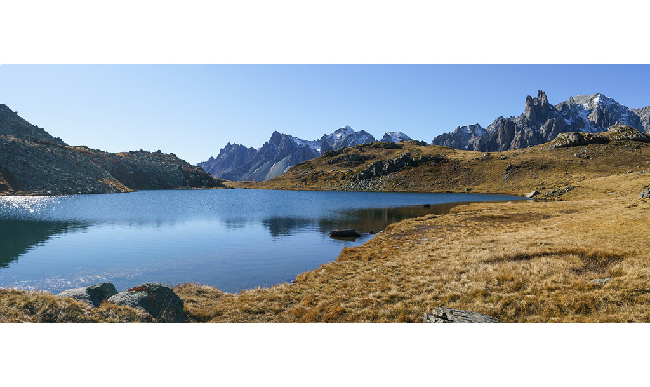 16. Break sheltered from the strong North wind.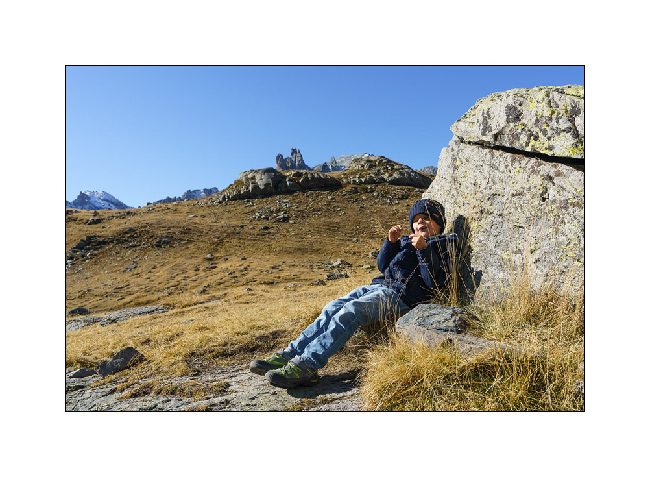 17. Lac Long in a setting of blueberries reddened by autumn.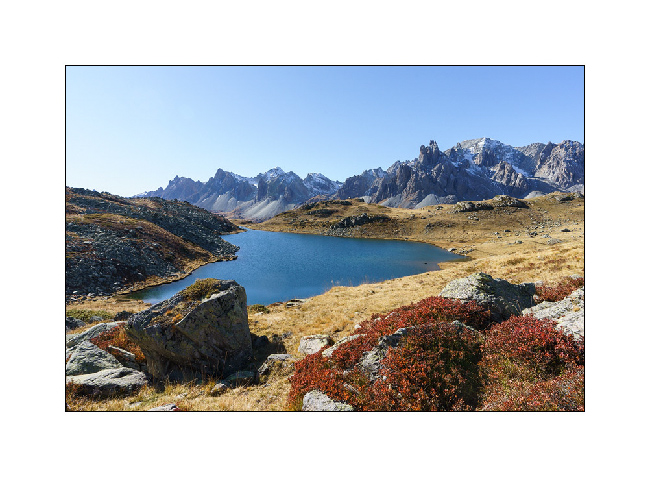 18. Meeting with a beautiful cricket a little numb by the cold.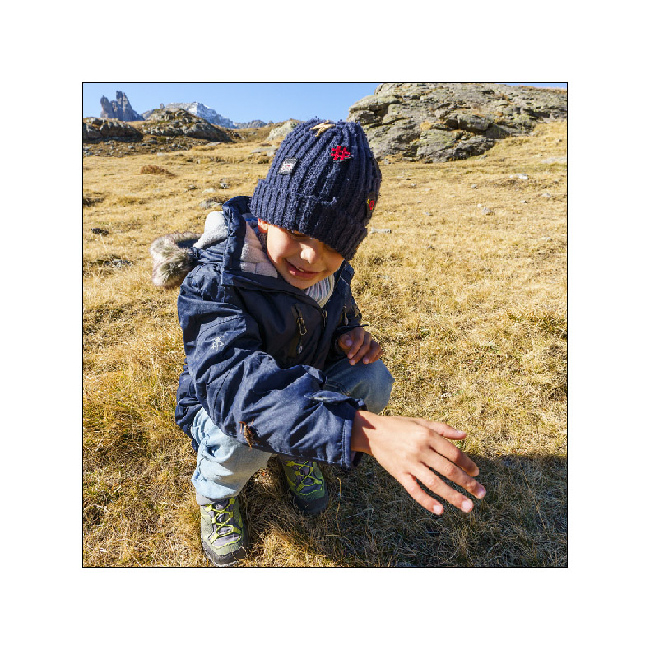 19. Going back down to VivaLaVida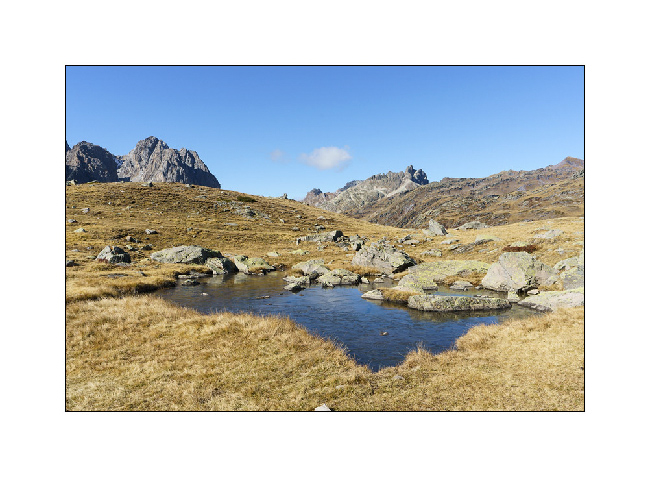 More soon… 🙂



Today, we continue the road towards the Pyrenees.

After about fourty miles, I take VivaLaVida on the A6 motorway north of Orange. I take its cruising speed – about 65 mph – and I don't have done 3 miles that a thudding noise intensifies quickly. No doubt, something is wrong with the chassis. I slow down immediately and pull over to the emergency lane. We are less than one mile away from a rest area and I slowly let VLV flow until there at 25 mph. As I go out to try to identify the source of the problem, amazement: 4 of the 8 studs on the left rear wheel are broken, the nuts having obviously disappeared! I take out the 21 socket and see that the 4 remaining nuts are really loose. As I tighten them, a fifth stud breaks. We really almost lost a wheel and I dare not imagine what the consequences could have been, as much for VLV as for other motorway users with an crazy wheel of three feet in diameter and approx. 100 pounds launched at 65 mph..!

This wheel tightened again, we drag ourselves to the next motorway exit 3 miles further. We go to a truck workshop and order a set of 32 studs and 32 nuts from the United States since they are specific to VLV's 4wd conversion. Chris will send them to us the next morning by Express mail and they will finally arrive on Friday at 4 pm. In the meantime, we reach the "Manon" campgroung in Orang, where we will spend these 5 days of waiting. The swimming pool and the nearby town will somewhat entertain the crew stopped in its trip..!


1. Dinner in the campground…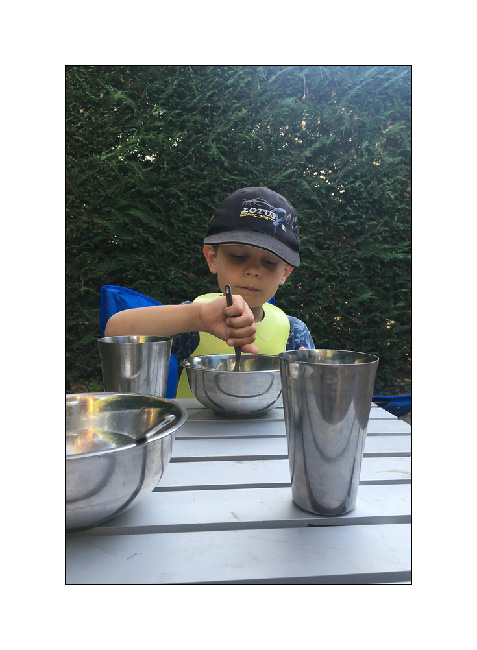 2. Small compensation. 😉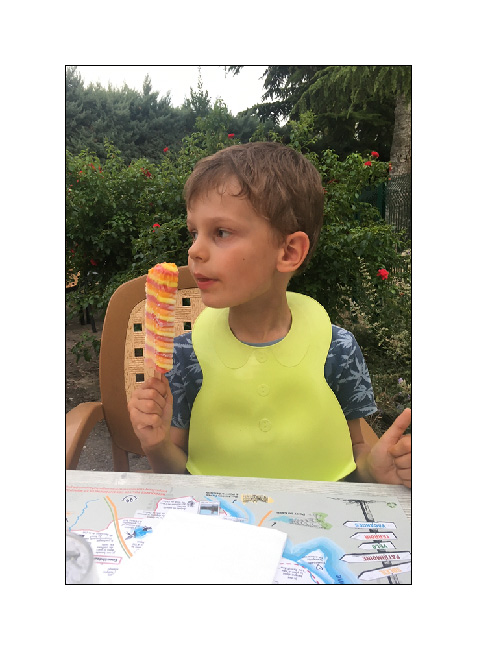 3. The famous Orange roman theater and its stands.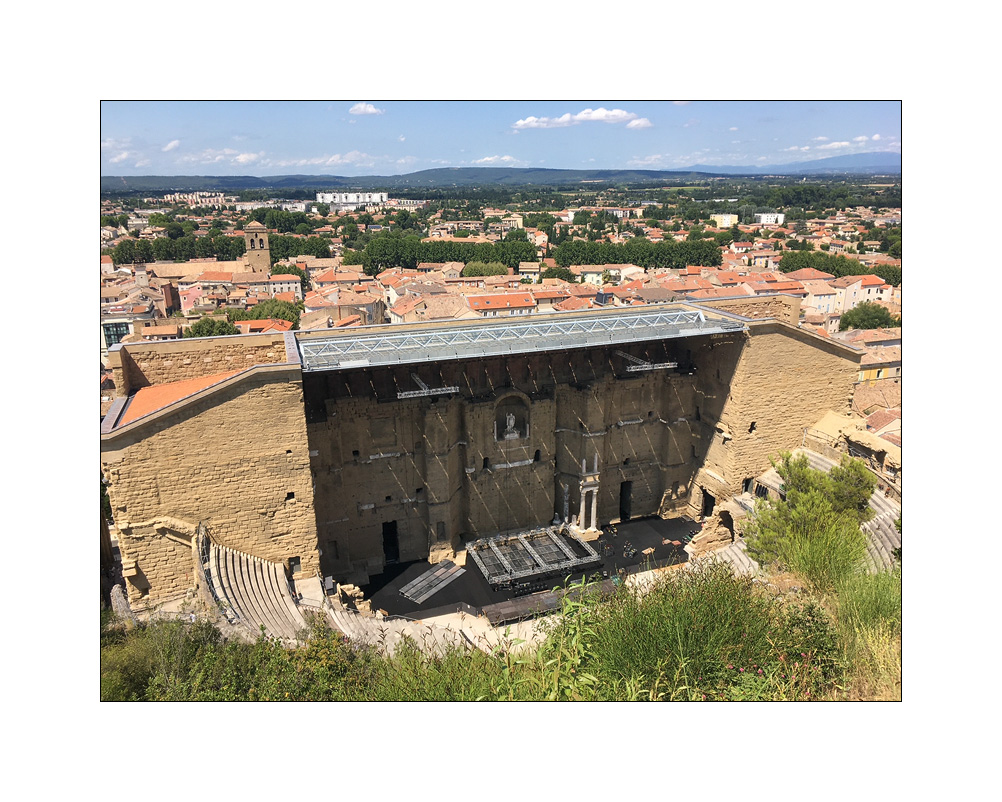 4. We enjoy the swimming pool.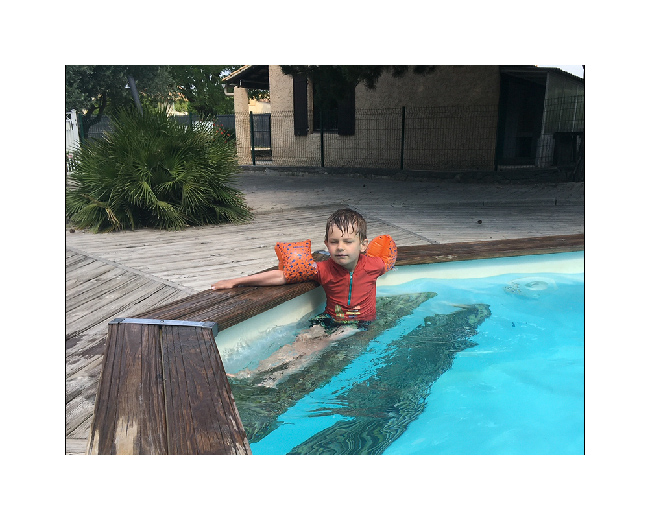 5. Distractions…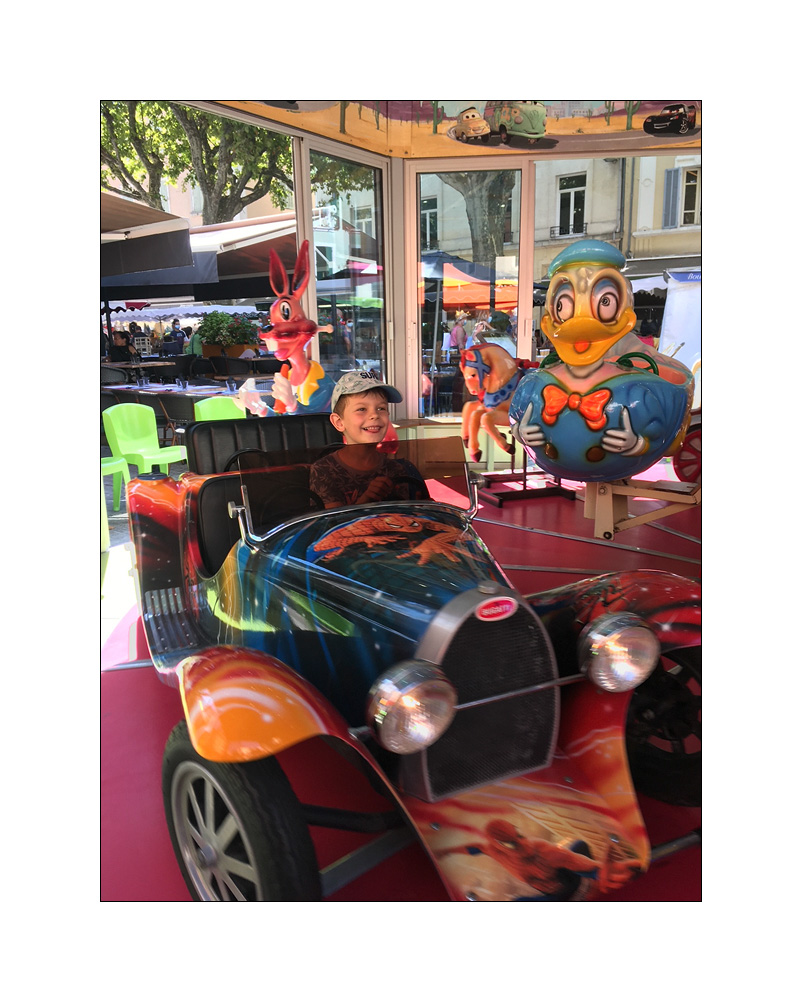 Once VivaLaVida has been repaired, we resume the trip to the Spanish Pyrenees. We get there at the end of the day on a Saturdayand it rains heavily. We stop at the trail that we will drive the next day when it is already almost dark.

6. Colored sunrise while Emile is still sleeping.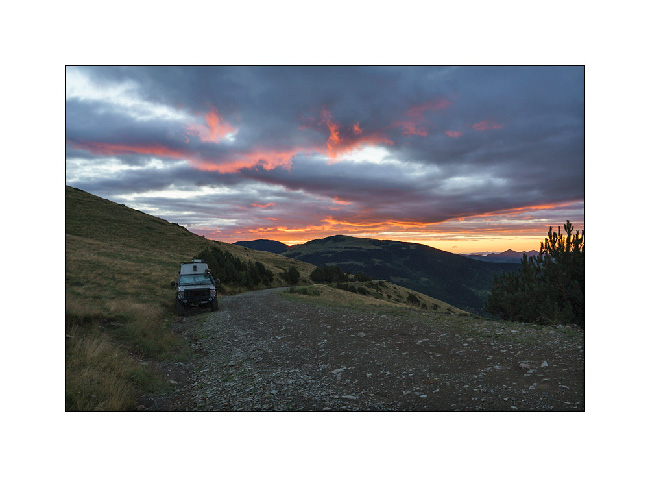 7. The trail which oscillates at about 6000 feet above sea level is gorgeous.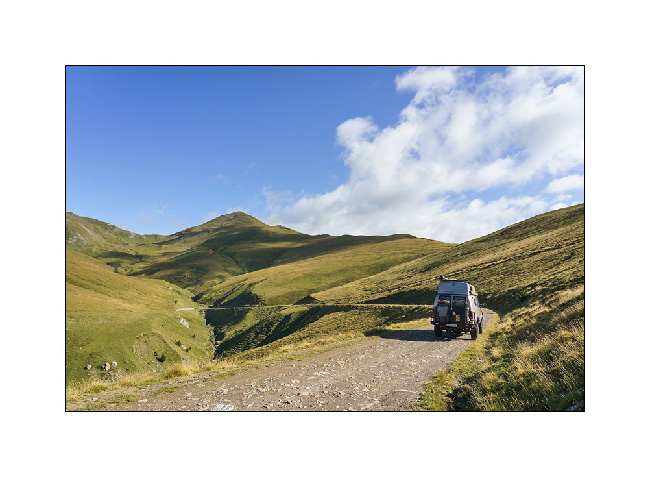 8. This is the opportunity to test the Isofix adapter that I made to install Emile's seat in the front. He is in heaven! 😀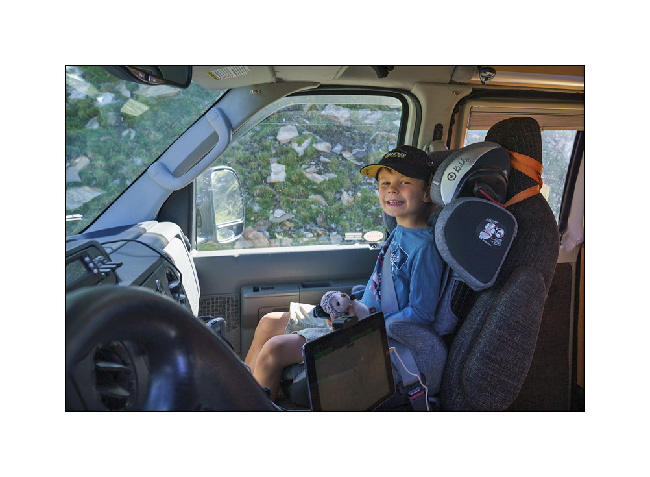 9. View of the plain, far South.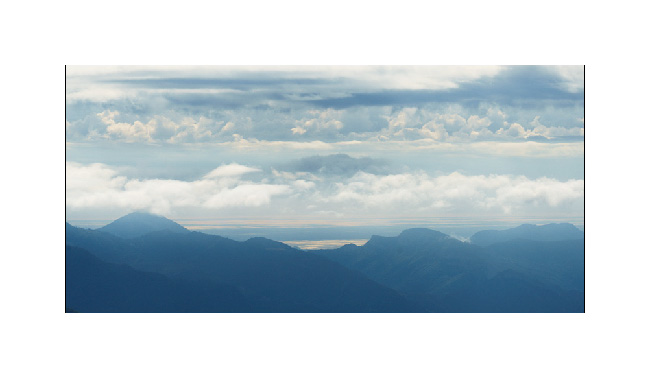 10. VLV is happy to be back on the trail.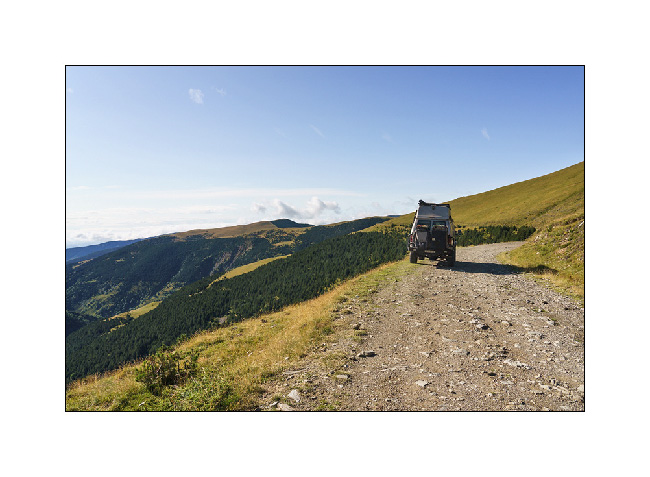 11. We discover pretty villages…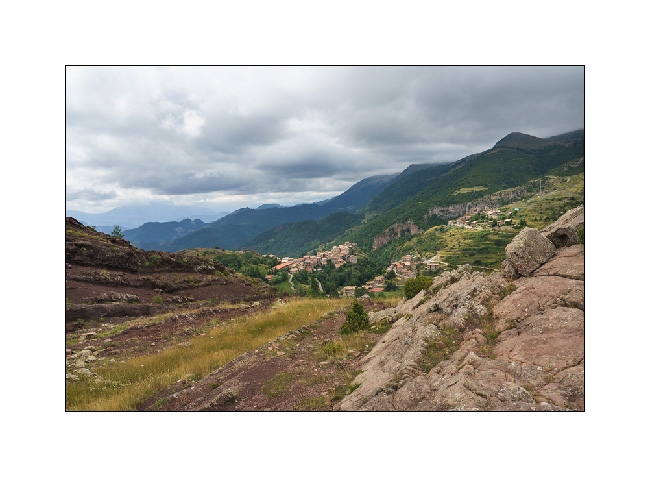 12. …and a varied geology.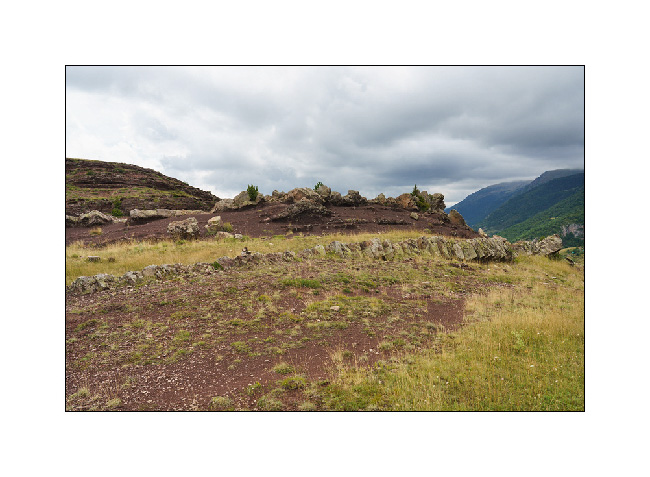 13. Another of these Pyrenean villages.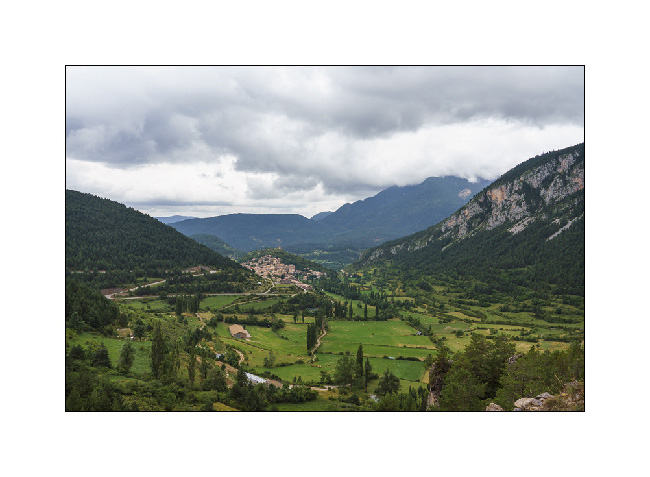 14. We reach a high plateau, the Pedró dels Quatre Batlles, after a climb where the 4×4 transmission have been very useful!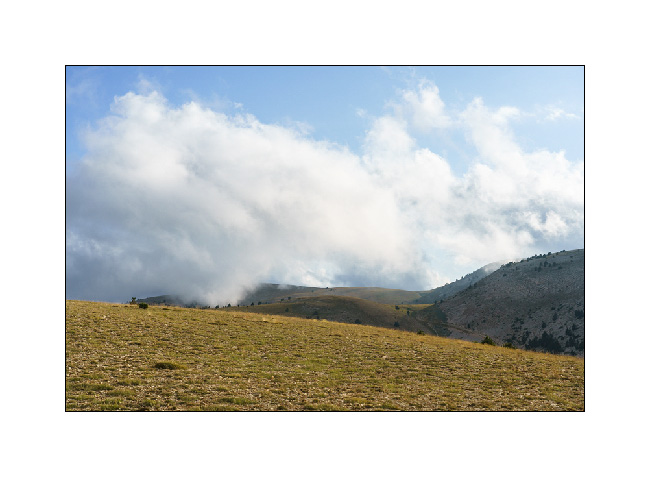 15. It blows a very strong wind. Is this why the vegetation takes the form of barkanes ?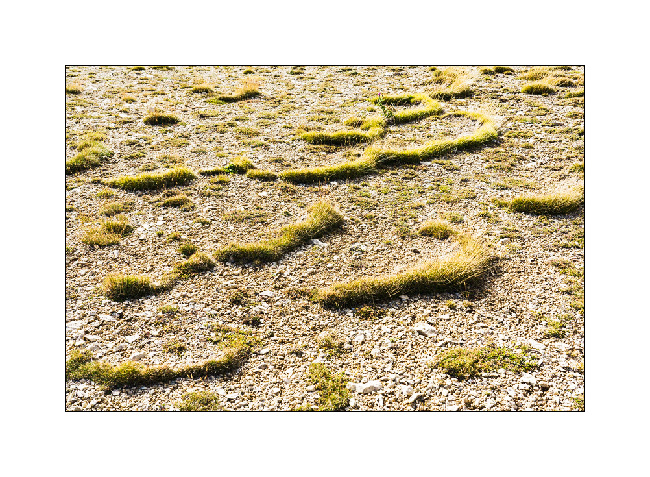 16. The mood is beautiful as the sun goes down.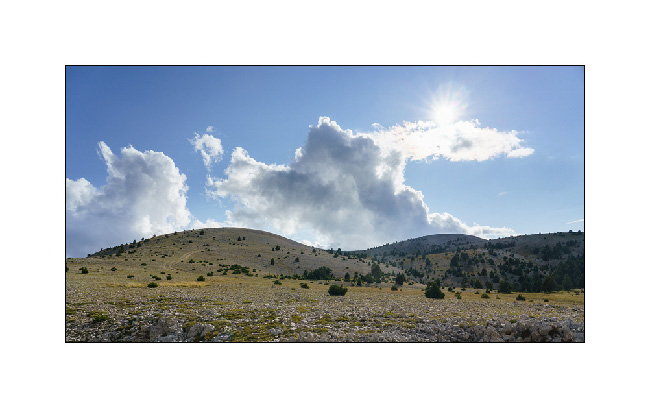 17. Last rays before sunset. The wind will shake us a good part of the night and it will only be 38 F in the morning.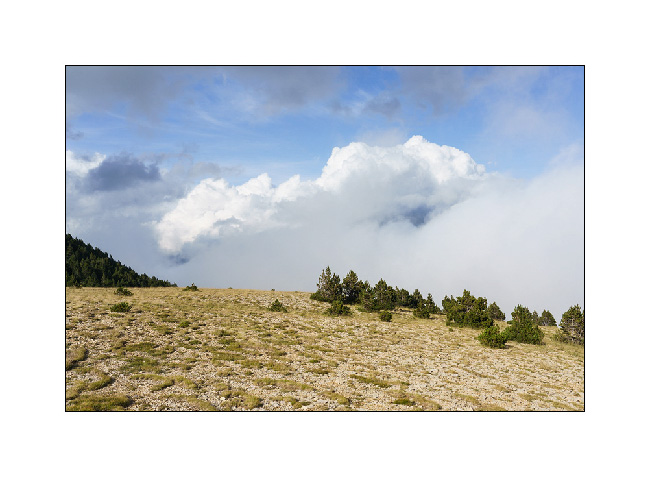 See you soon for the rest.




1. After the Sommeillier, we reached the Pass delle Finestre. Arrived in late afternoon in a thick fog, we decide to sleep there in the hope of better weather the next day.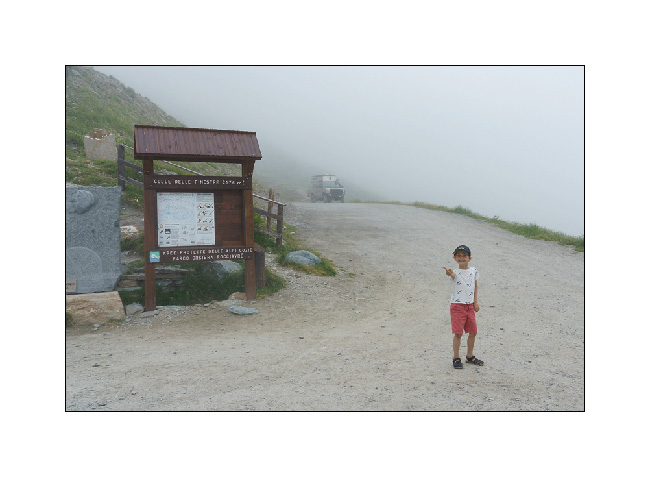 2. Early next morning, the fog fell slightly.





3. It gradually dissipates, giving a glimpse of the trail driven the day before.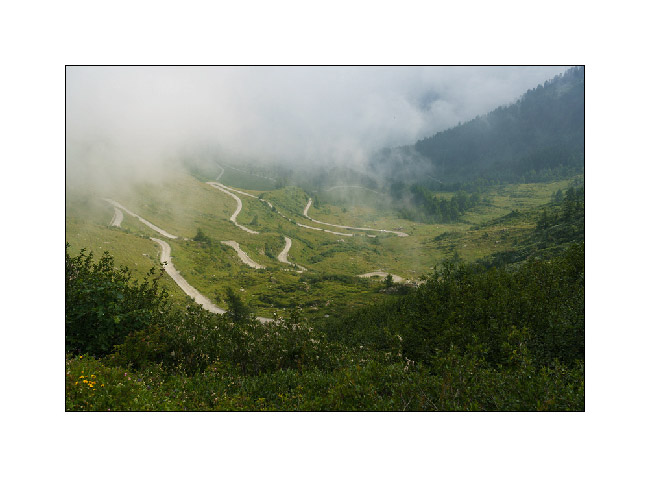 4. Last switchbacks before the pass.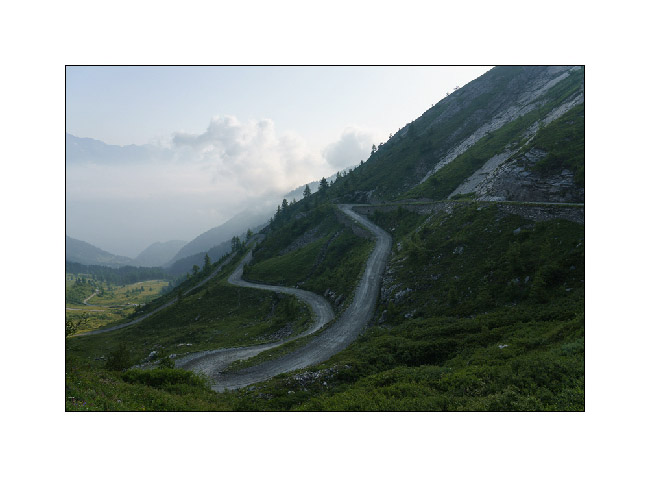 5. North side.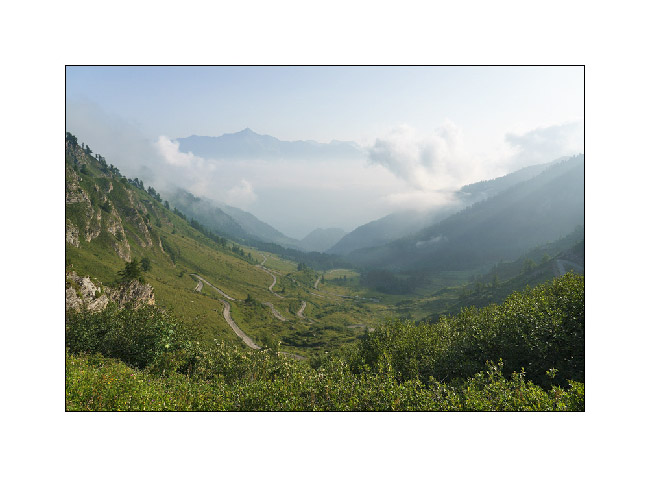 6. South side.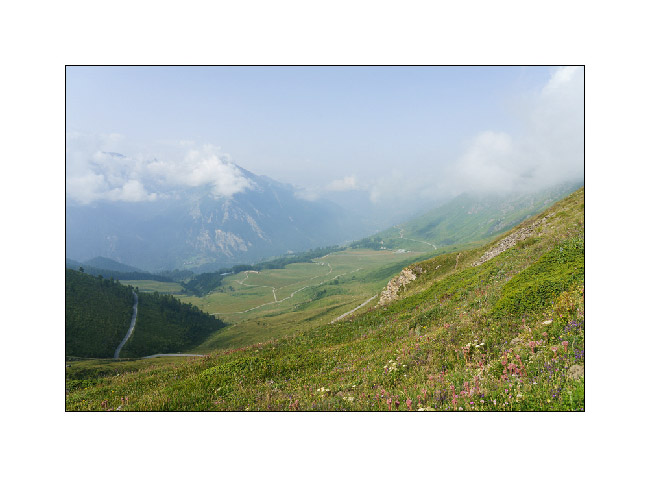 7. Backlight…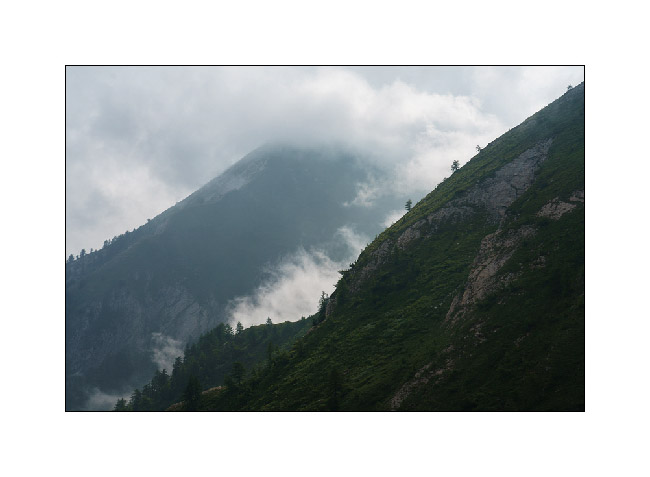 I wanted to continue by the Pass dell Assietta track but a municipal decree forbids access to vehicles from mid-June to mid-September. Undoubtedly the result of intensive attendance in recent years by groups of 10 to 20 4×4 mainly from Germany (these organized tours have become very popular with Germans who don't have such mountains in their country). Therefore, we descent the southern side of the pass and do to Sestriere where we do some shopping to fill the fridge. Emile chose a succulent sheep's cheese there after tasting it in the grocery shop!

We go then discover the superb Argentera Valley, still wild on its upper part since a 4×4 is needed to access there.


8. We find a great boondocking spot next to the river.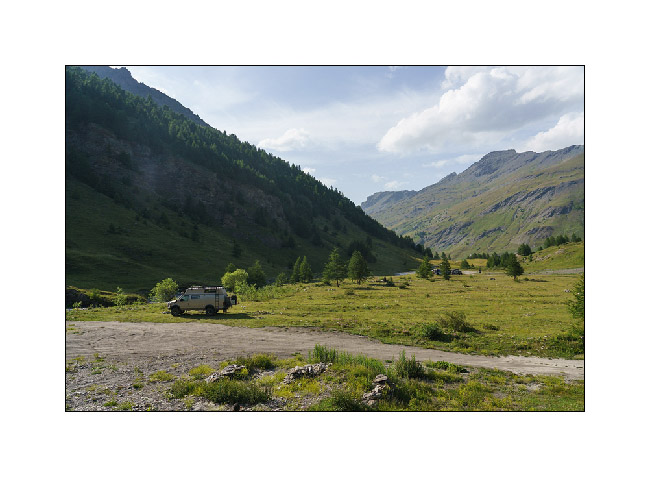 9. VivaLaVida in the distance.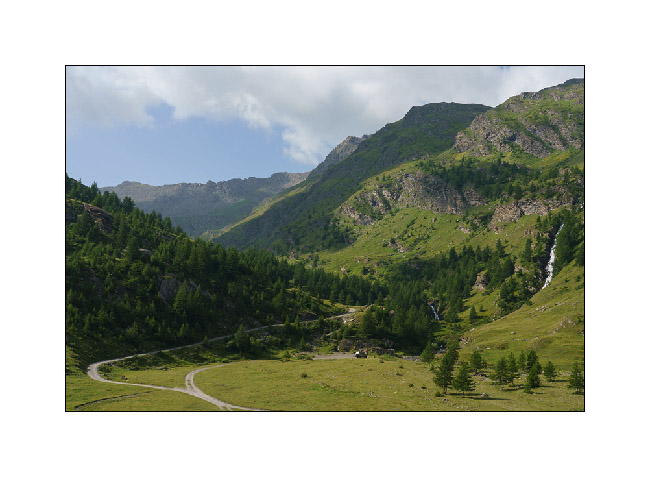 10. Upper Argentera Valley.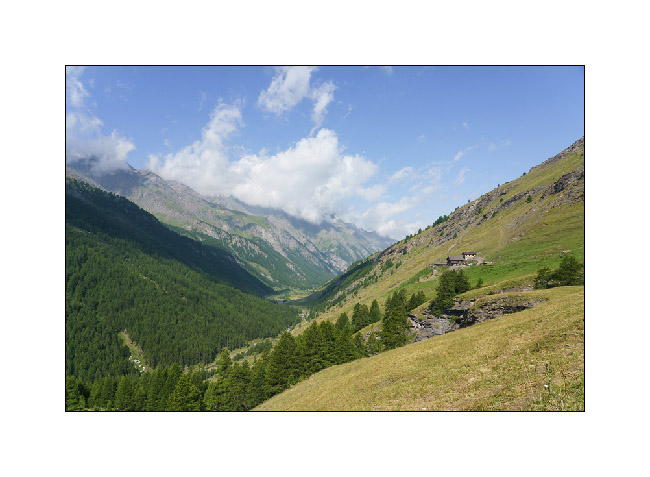 It is already Friday and I decide to cross toward the Pyrenees to enjoy these other mountains, knowing that I will land Emile in Corrèze for the rest of his vacation in two weeks.


11. After half a day on the road, another boondocking spot in la Drôme.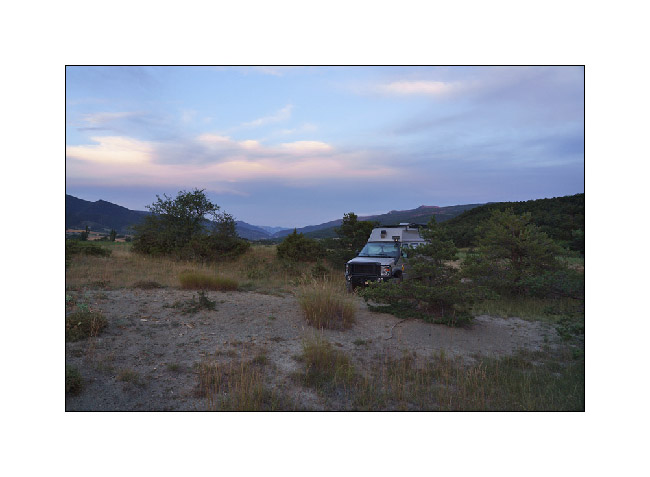 12. Calm sunset atmosphere.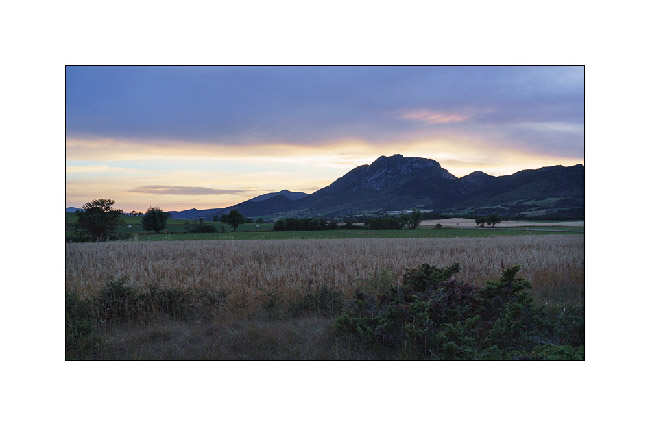 To be followed in the next article. 😉



We are Tuesday, the ferry leaves tomorrow, so I have to end the route to the East.


1. A farm and its small church in the plain.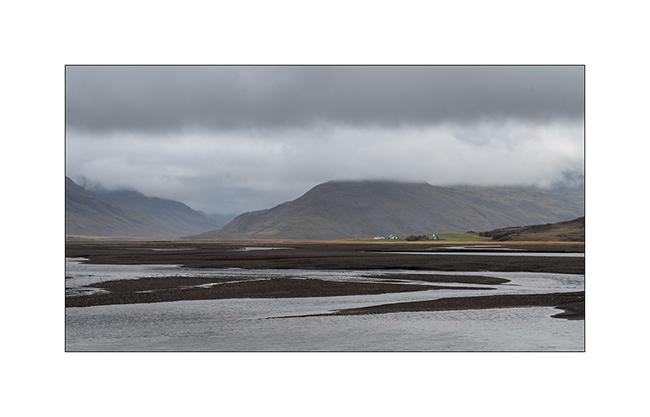 2. These plains are actually alluvial deltas (gravel bars) down the mountains that form the eastern fjords.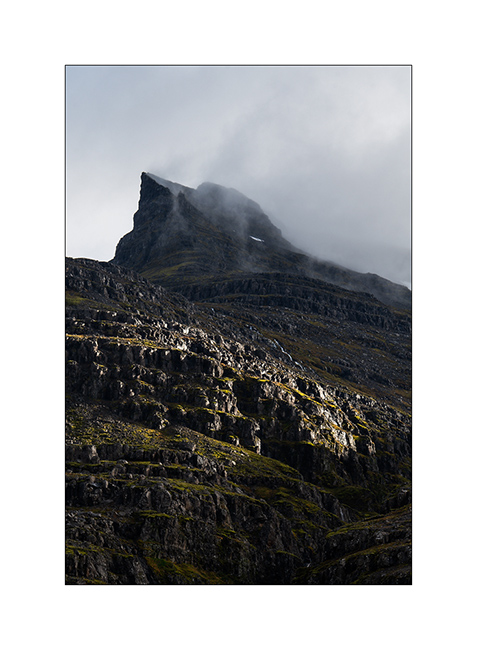 3. Short stop at the powerful Nykurhylsfoss waterfall, sometimes also called Sveinsstekksfoss.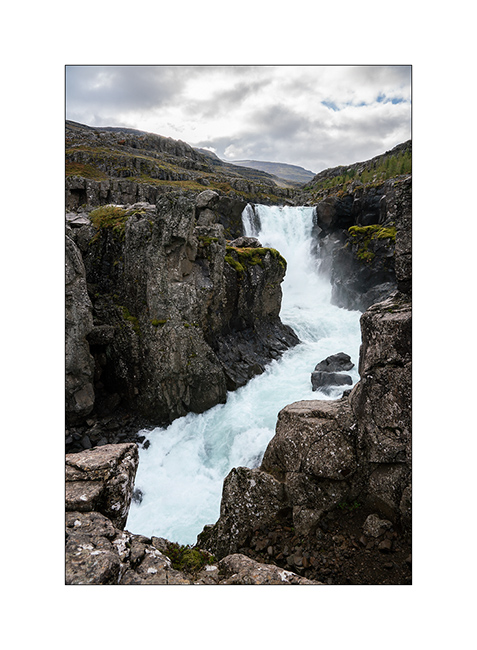 4. VivaLaVida makes a small detour through the valley from which she falls, on a track that looks more like a river in places 🙂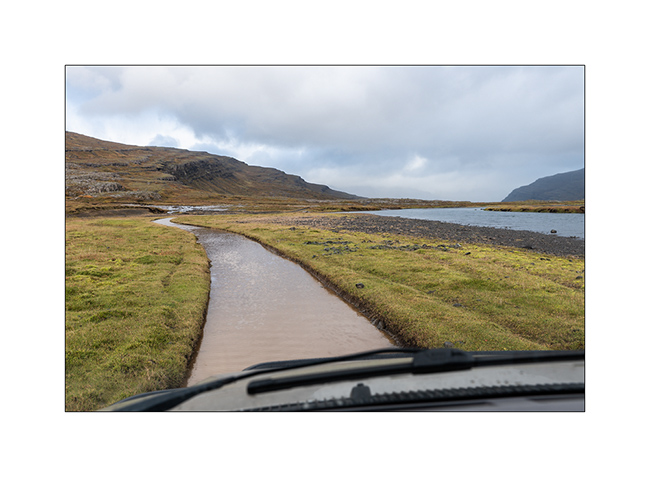 5. This valley is a magnificent basalt staircase, each step of which creates a waterfall. Gorgeous ! Too bad not to have time to explore it longer…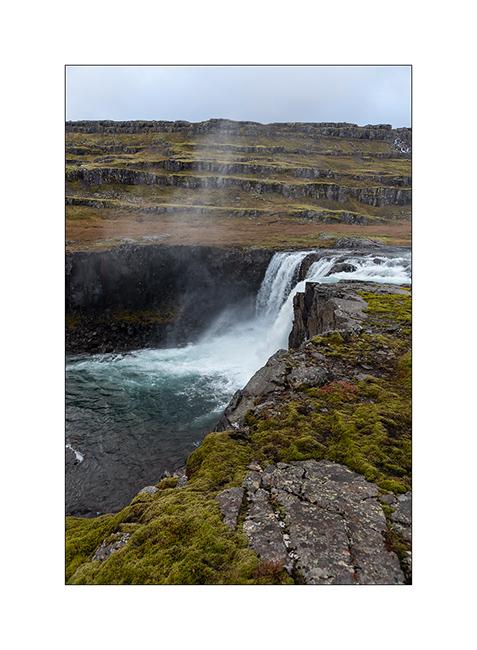 6. With autumn colors now very present, it's beautiful.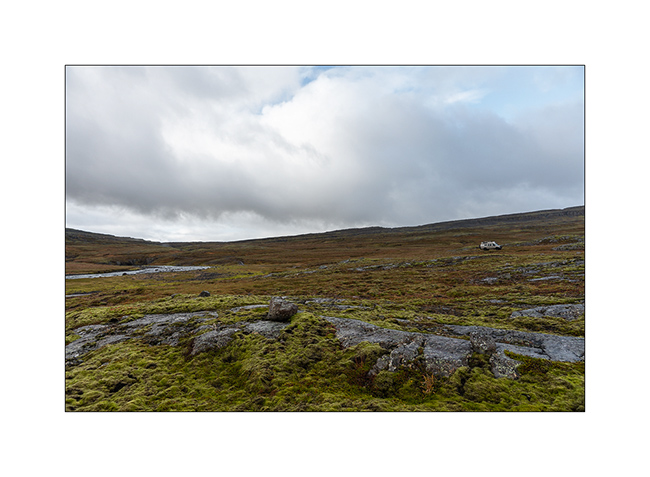 7. A little further, on a small pass, the fall of Folaldafoss.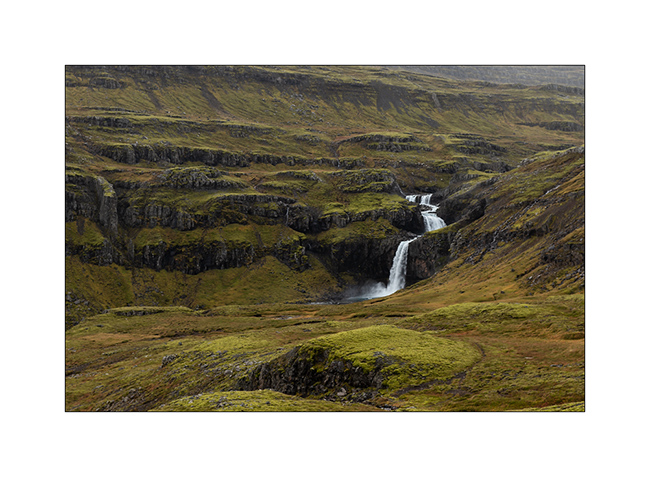 8. VLV will take a chaotic path to find a beautiful Icelandic camp near a small lake, 2100 feet above sea level.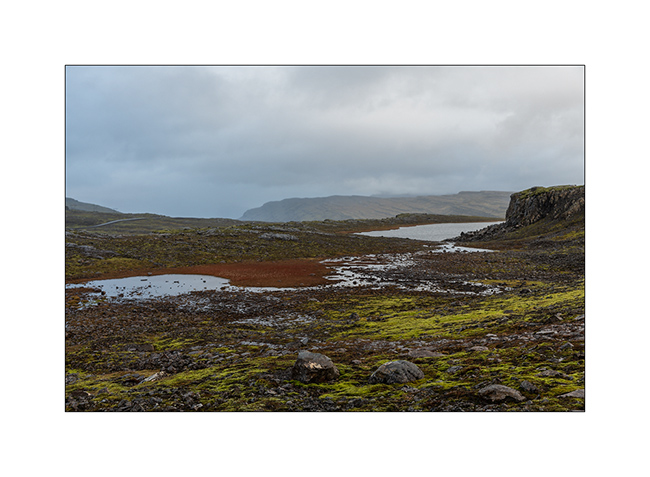 9. The night will be particularly turbulent, with winds to almost 70 mph and heavy rain. In the morning, the rain gives me some respite while the wind maintained.





10. As I have a few hours left before boarding, I decided to take the F936 trail and was surprised to discover it perfectly leveled, without washboard or potholes. After ten miles, I understand why..! I do not take the risk to pass and turn around.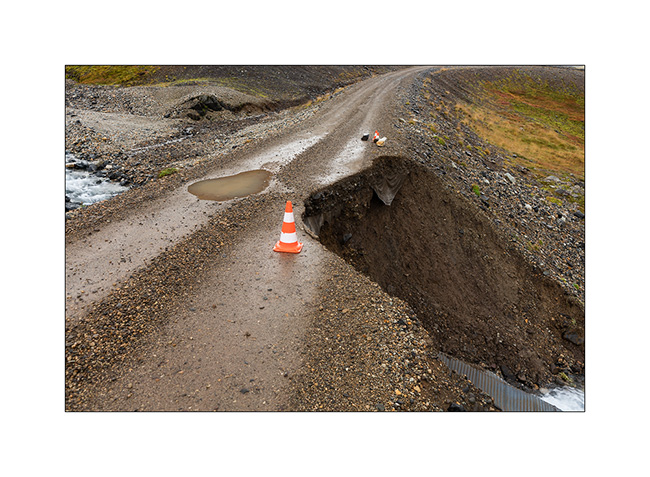 11. So, VLV goes up to do a small exploration towards North…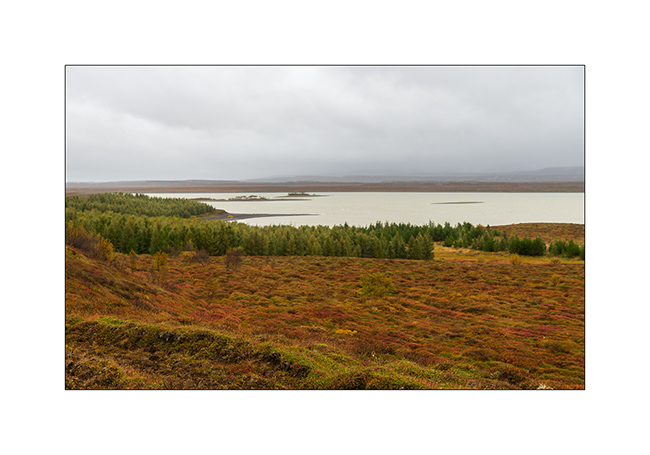 12. … discover the beautiful church of Kirkjubaejarkirkja.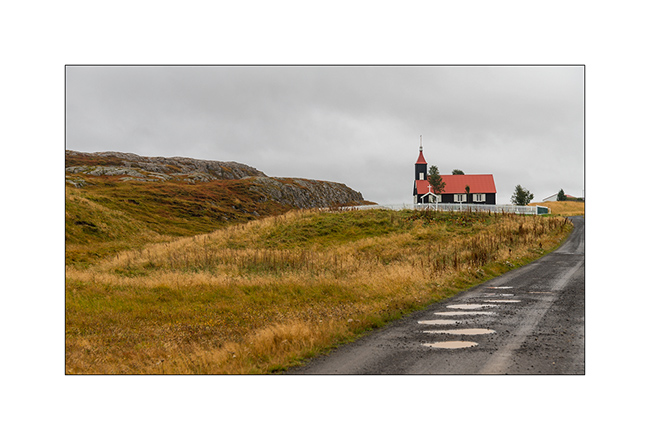 13. Details of door shutters.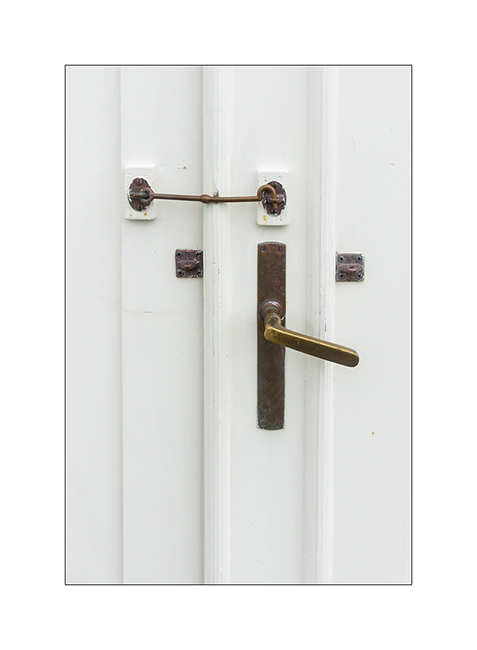 14. Climbing a small pass, a large beach exposed to the Arctic Ocean revealed.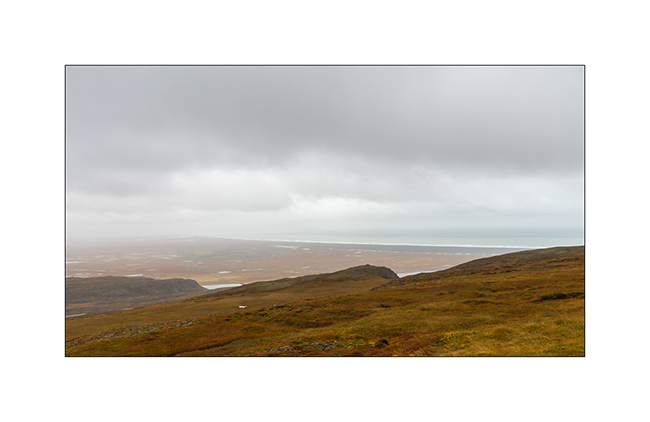 15. Small stop in a colorful side valley, obstructed by a wall of basalt.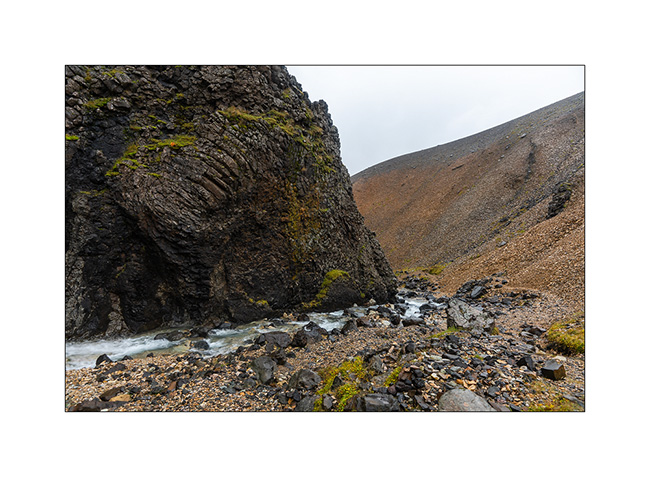 16. Mineral colors.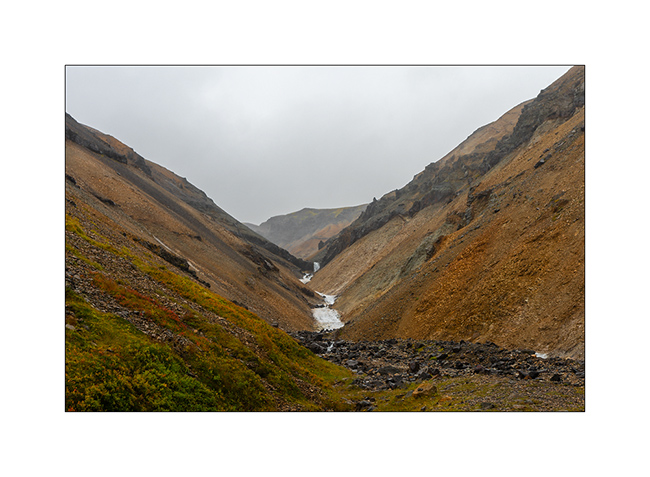 17. Last picture of a rainy heath…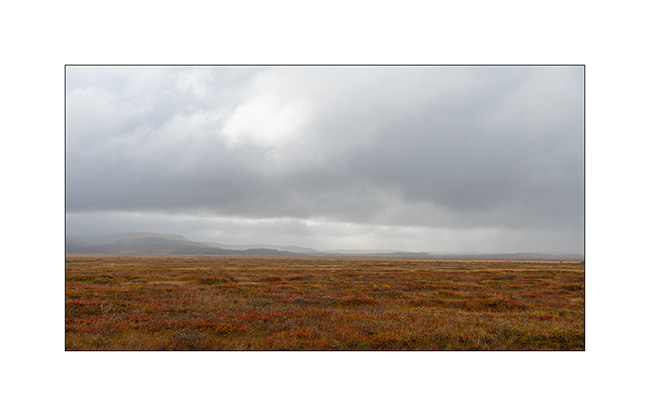 18. VivaLaVida finds back the Nöronna ferry for the return crossing cruise.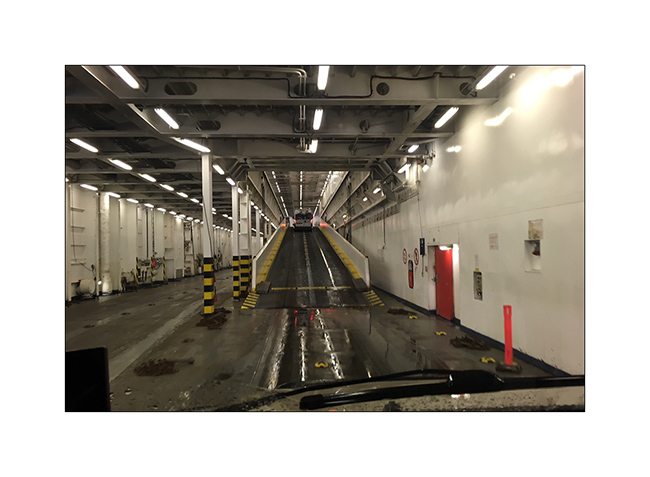 In conclusion of these few weeks in Iceland, I have some mixed feeling. The island is home to a wealth of incredible natural treasures for whom, like me, love desolate and wild Nordic landscapes. Combined with the omnipresence of sustained and often extremely recent volcanic activity, the cocktail is often breathtaking. On the other hand, because of tour operators eager to make money, this destination has become so touristy that the consequences of this mass tourism become visible almost everywhere. More and more frequent access bans, legislation seeking to limit the impact on the fragile nature, sites with often developed unsightly infrastructure and invaded by dozens of buses, mini-commercial campers rented by hundreds and, probably corollary, Icelandic not very affable and often even unfriendly with foreigners… Not to mention a exorbitant life costs : filling VLV was more than 400.- USD..!

Apart from the few indoor tracks that VivaLaVida allowed us to access off the beaten path, the pressure of this tourism really bothered me. And we were there at the end of the season, with significantly fewer people than in July or early August. Of course, I understand everyone's desire to discover this raw nature. Yet there are other places on the planet, equally spectacular but less exploited by tour operators who still know how to preserve their country and are in my eyes much more pleasant to visit.

No regrets, however, to have had the opportunity to make discover to Isabelle – Emile is probably still too small to remember of later – this large island and its beautiful and so changing landscapes!


While the Nöronna ferry made a stopover in Torshávn on the way back, I was lucky enough to have some nice weather to offer you some new pictures of the capital of the Faroes.

19. This small town offers dozens of narrow streets with pretty houses that denote with the American-style pavilions of Iceland.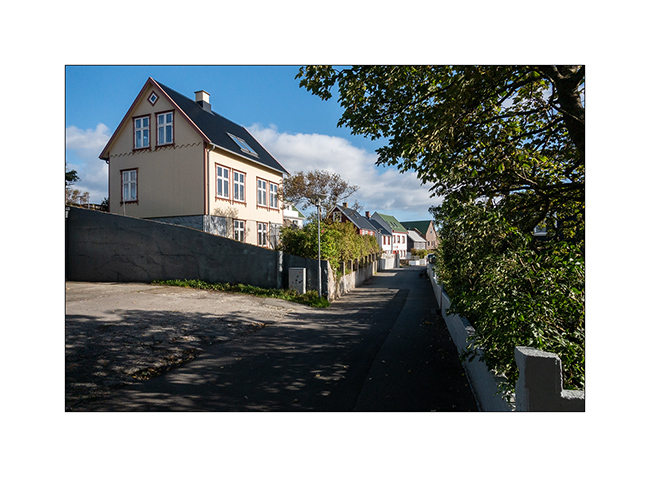 20. View on the city.





21. Marina.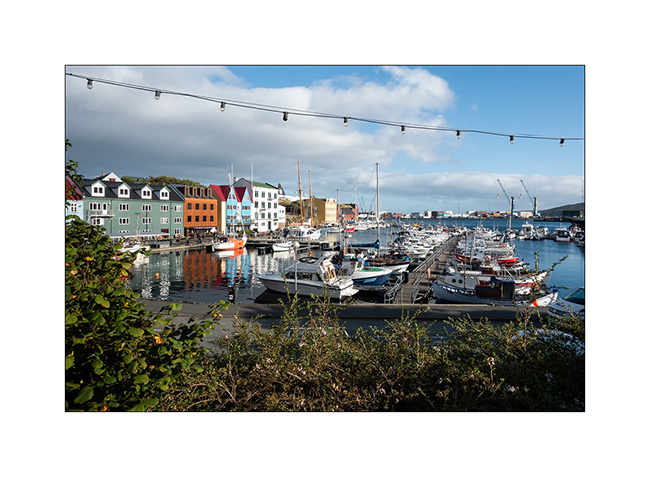 22. The crossing to Denmark will be somewhat turbulent, with strong winds up to 80 mph and 18-21 feet waves.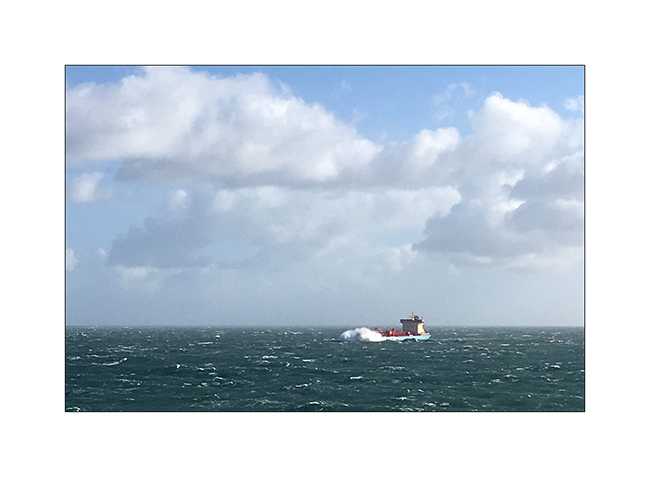 23. Venting sinset…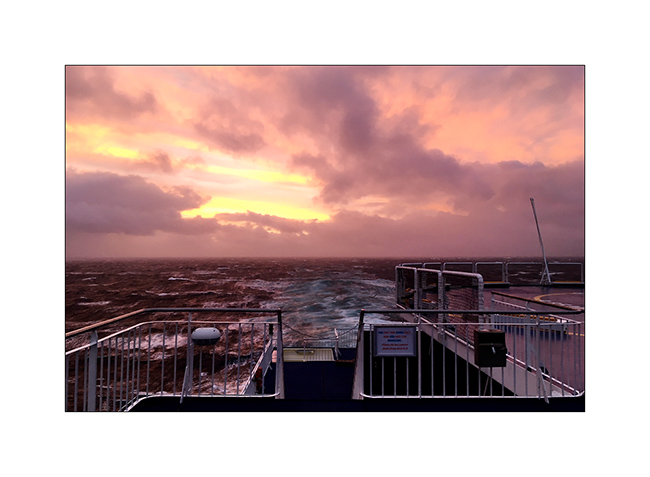 The return to Switzerland was normal except for a turbo hose that dislodged, forcing VLV to drag on the last 350 miles…

Thanks to you for having followed the story of this Icelandic journey of VivaLaVida which will now be rebuilding a small health (axle simmering to change, kneecaps to replace, and complete frame check after more than 6000 miles traveled, of which probably more than a thousand on the various tracks borrowed. You can also view the route on the map "Europe" of this blog… 😉

And see you soon for following VivaLaVida's new adventures! 😀



1. After refueling VivaLaVida (with about 10$ a gallon of diesel, it's more than 400$.- to fill VLV!), we begin the crossing of the Highlands to the Northeast via the F26 road then the F910 which passes north of Vatnajökull.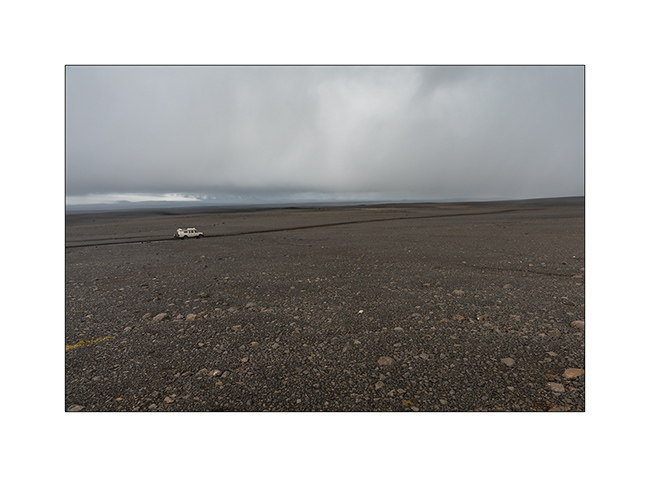 2. We took two days to reach the site of Askja through beautiful and immense landscapes.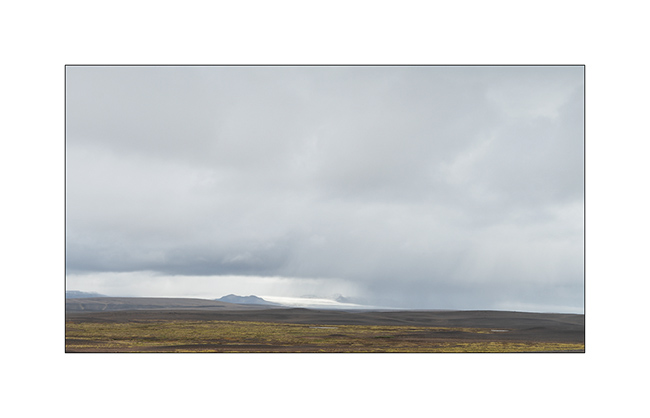 3. …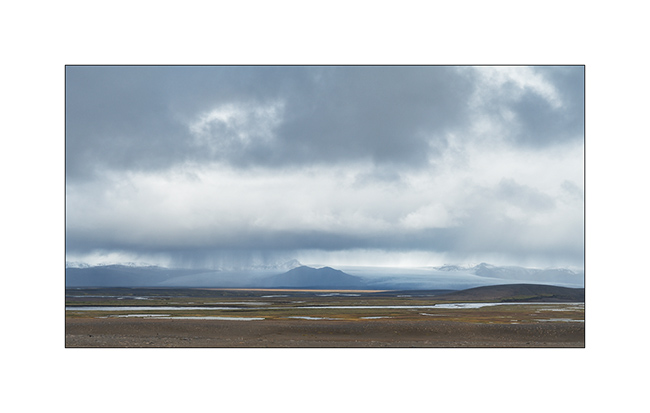 4. …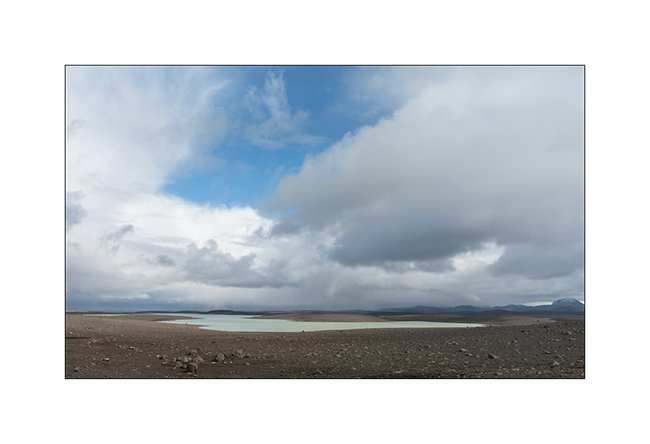 5. …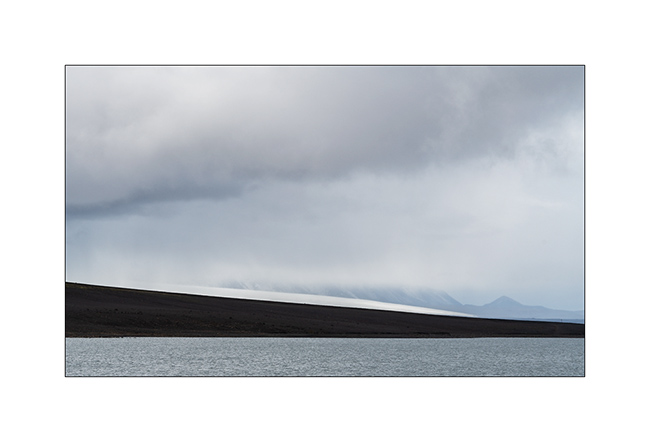 6. …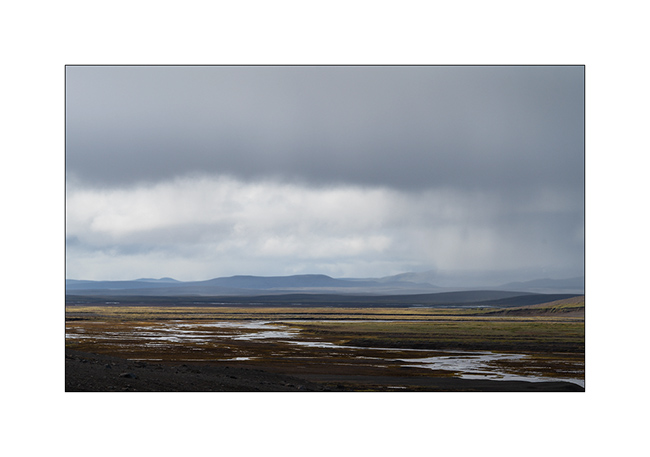 7. Giboulée…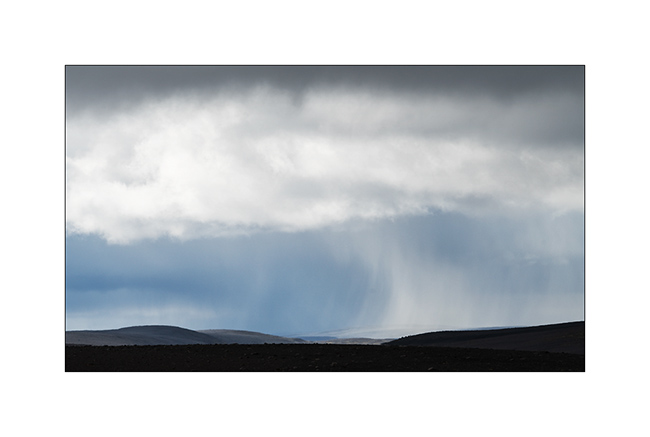 8. Notre piste…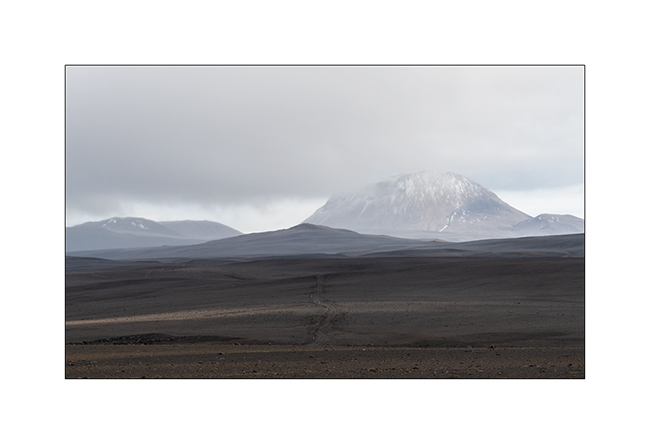 9. …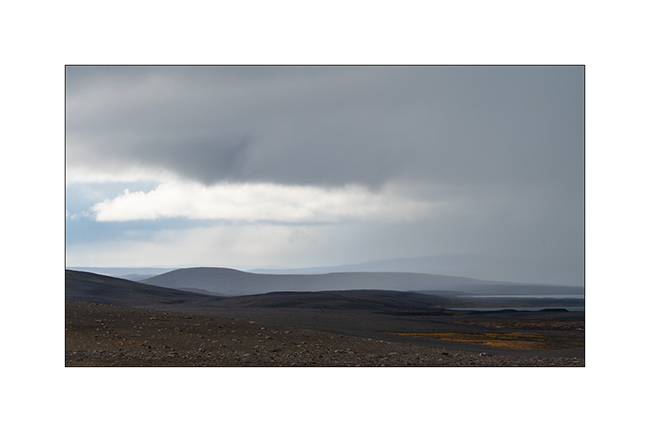 10. …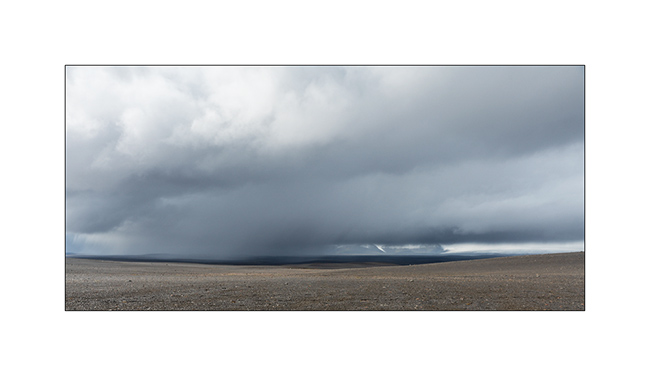 11. After about 150 miles exclusively mineral, we found some vegetal colors again…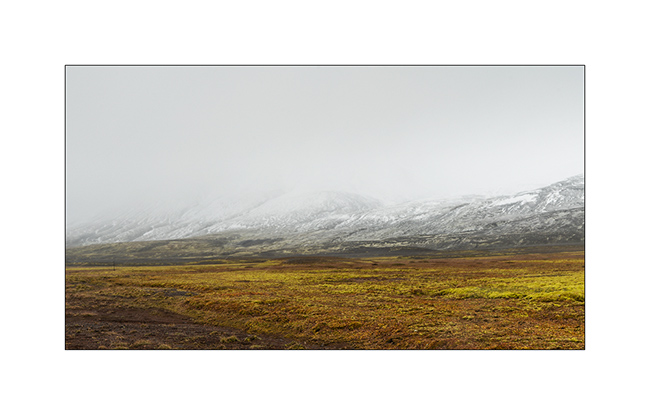 12. At 2400 feet elevation, snow is close.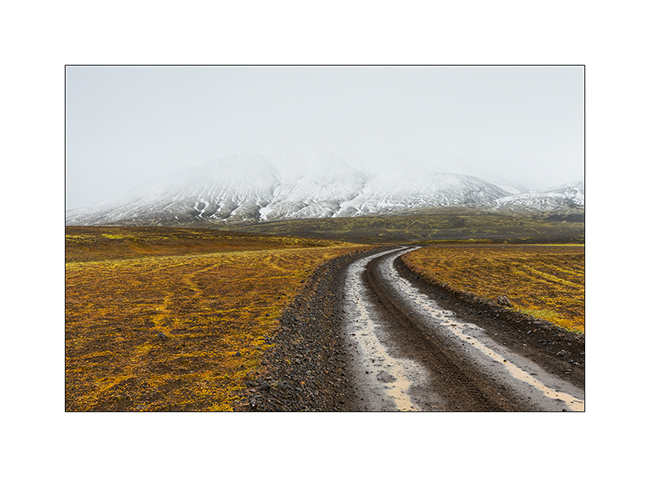 13. Moss grows along furrows carved by surface water, forming geometric shapes.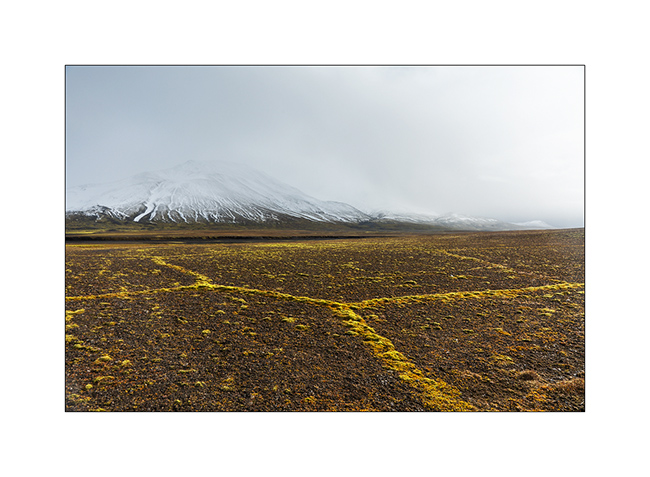 14. The sky ends up opening to the north.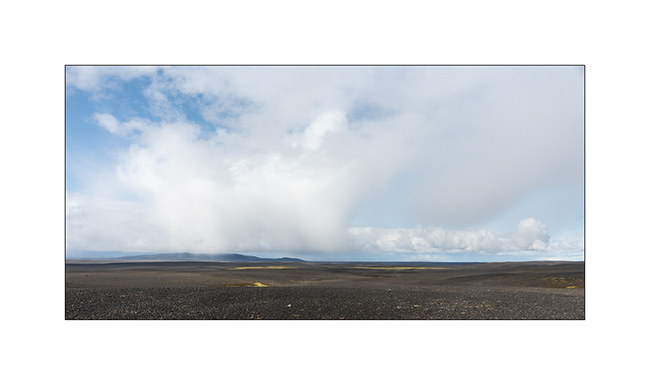 15. The opportunity for Emile to stretch his legs! 😉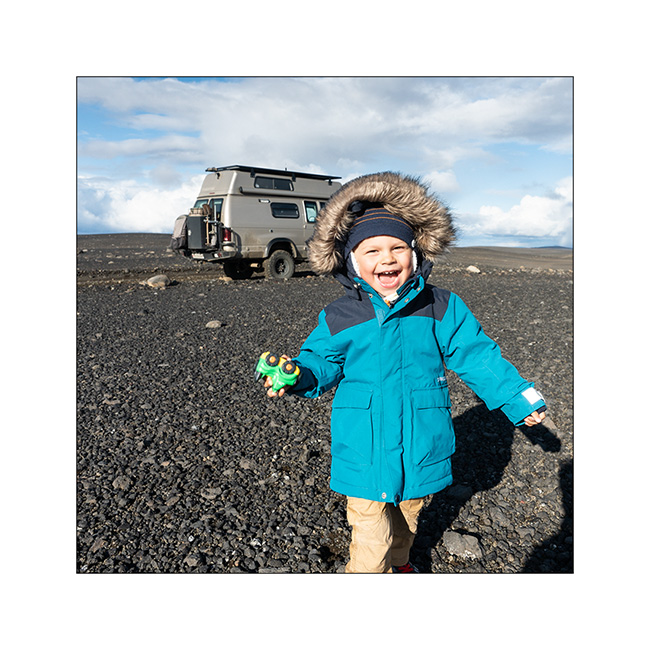 16. …





17. …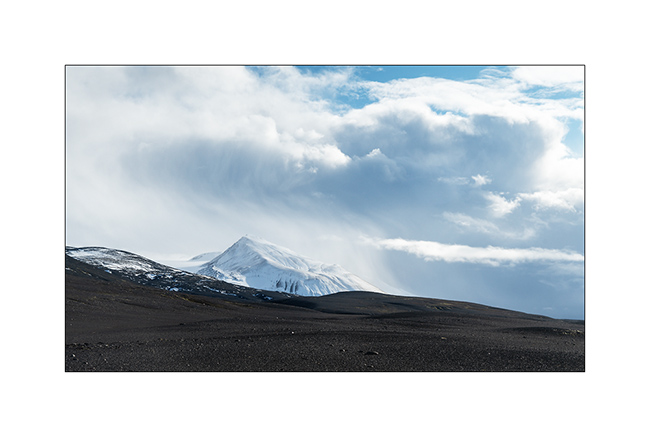 18. As we borrow the Southern variant of F910, as we gain altitude, the weather decays and the snow quickly covers the lava.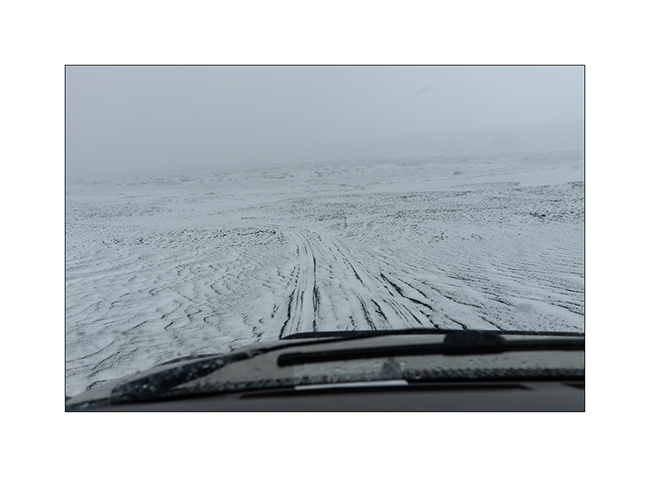 19. While snowing, VLV is the only color note of this landscape.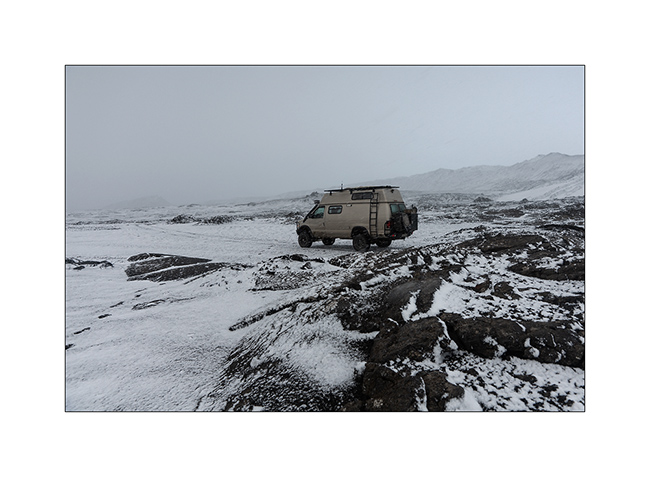 20. Naturally monochrome landscape.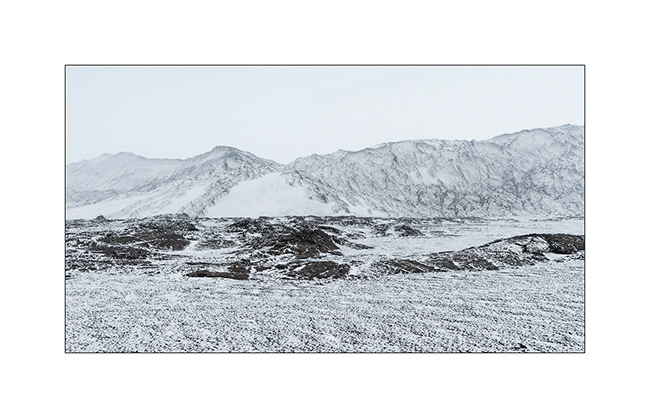 21. …





We spend a cold night not far from the Kistufell refuge, near the Northern end of the VatnaJökull.

Continuation of VivaLaVida's journey soon! Thank you for your loyalty.


 
After the Lakagigar, rather than go directly to the Landmannalaugar on F208, we decided to go to Langisjór Lake via some less traveled trails that proved to be gorgeous…
 
 
1. River in the rain, along Southern F208.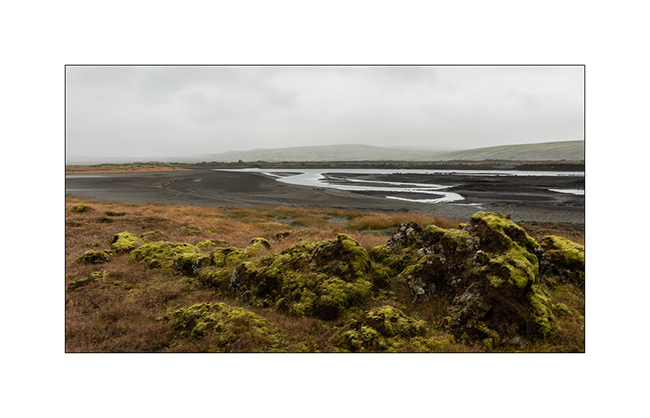 2. Rather curious sign, isn't it? In fact, the trail goes into the lake on approx. 300 yards.
 


 
 
Here is a video of this unusual path done by Isabelle. The weather was windy, with rain and fog…
 
 
3. In places, everything is only mineral.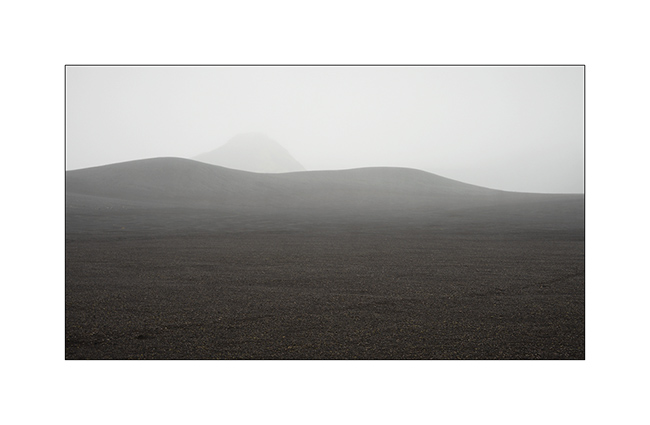 4. Langisjór lake in the rain.
 


 
 
5. Trail…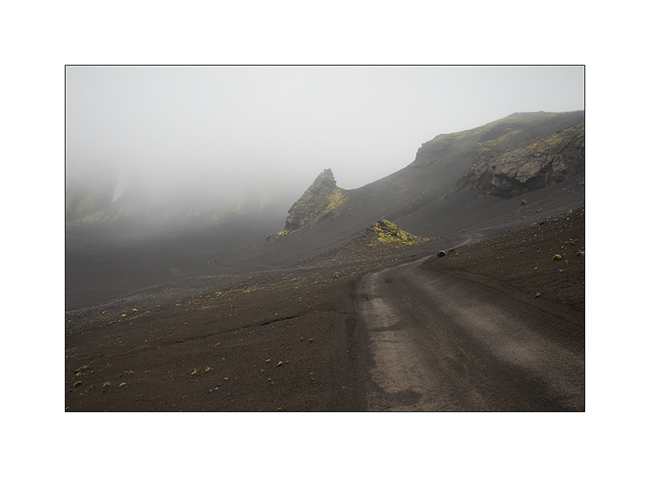 6. …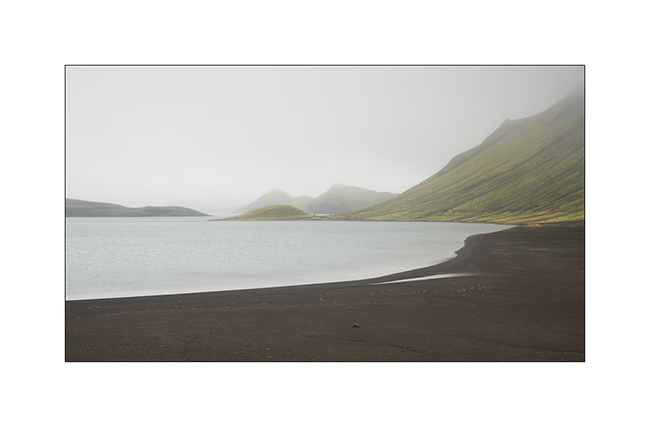 7. River…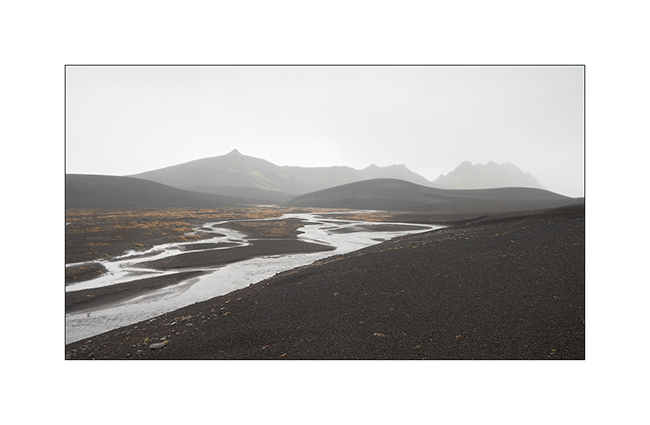 8. Fog…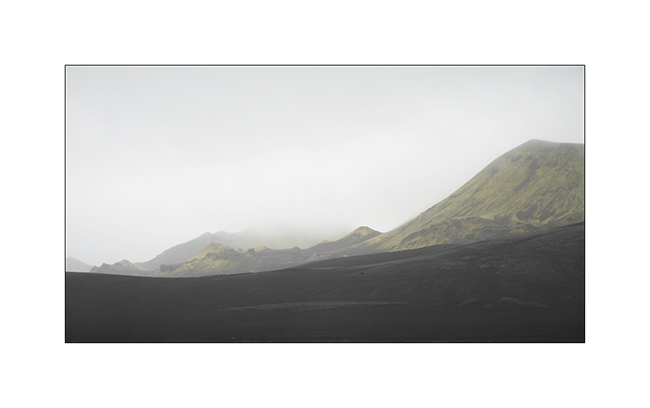 9. VivaLaVida riding the moon.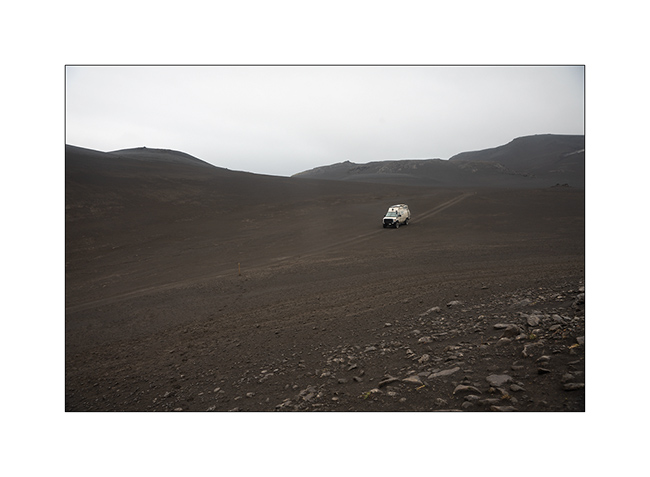 10. The rain finally stops.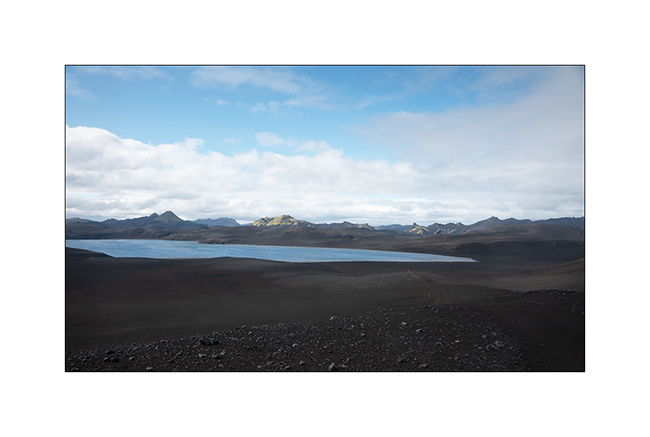 11. Invisible track. Thank you GPS.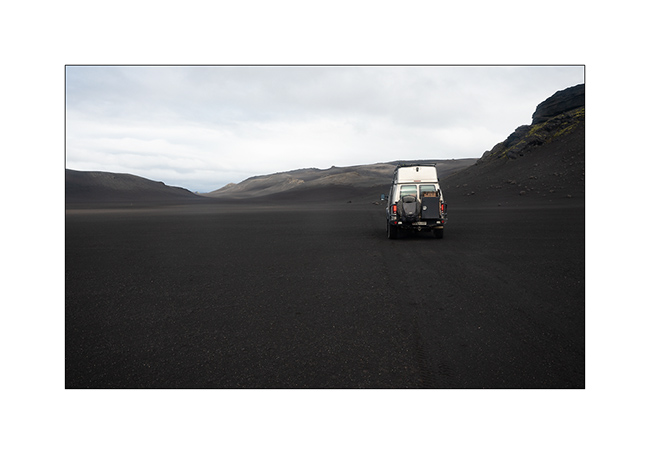 12. Desolation…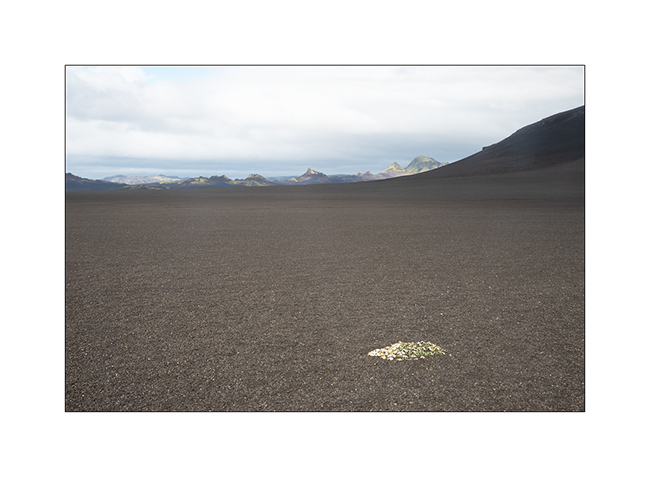 13. … and blackness.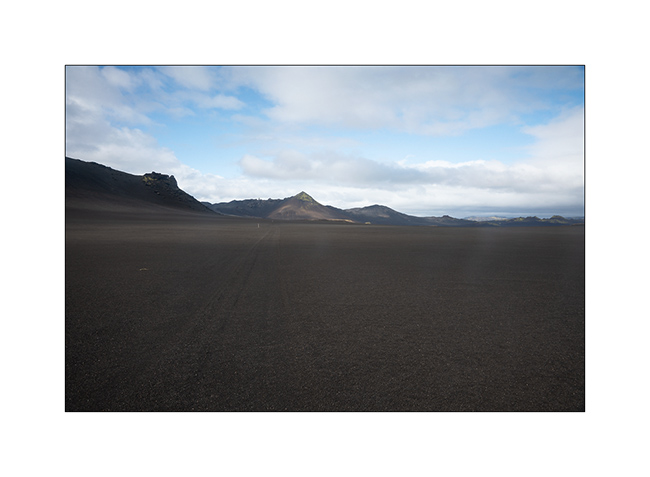 14. But these landscapes are amazing.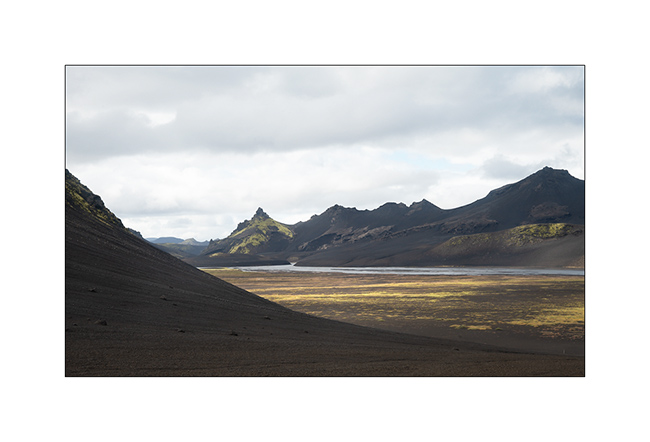 15. The trail crosses another lake.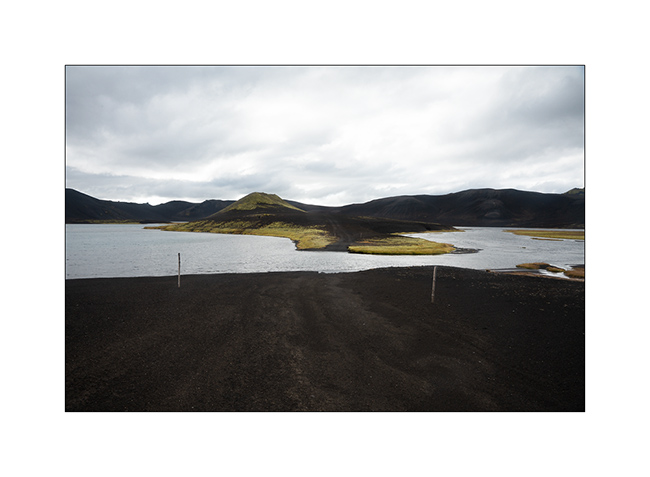 16. Contrasts are everywhere.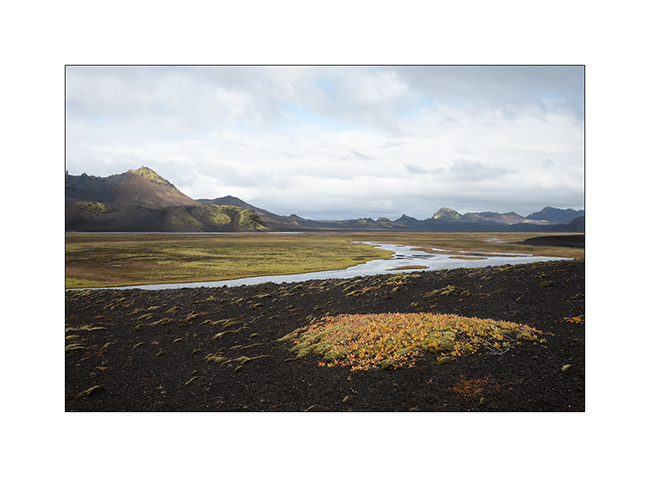 17. Our trail seen from the top of a hill.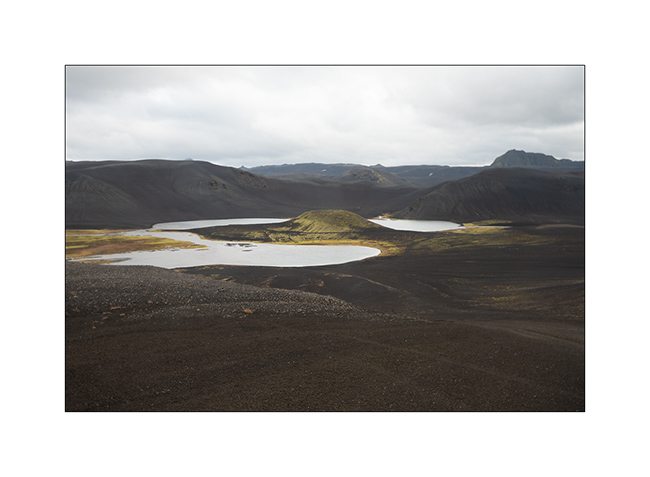 18. After driving in a lake, here we follow the riverbed for nearly one mile to change the valley! 😉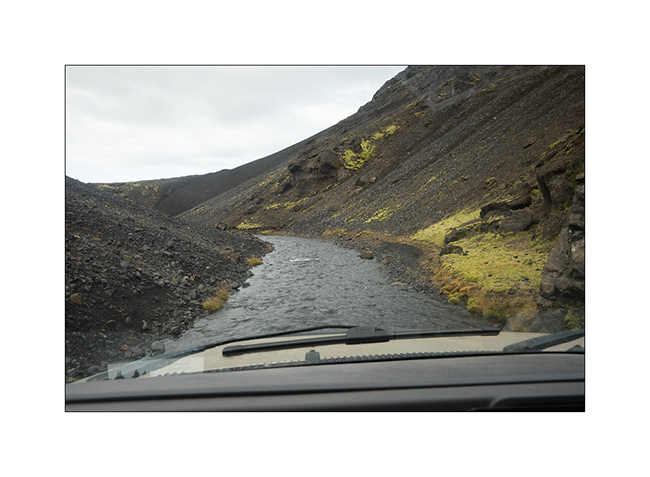 19. …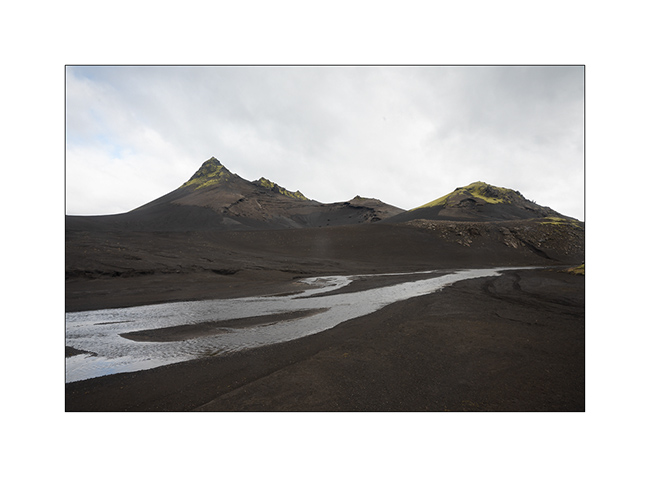 20. Fairy…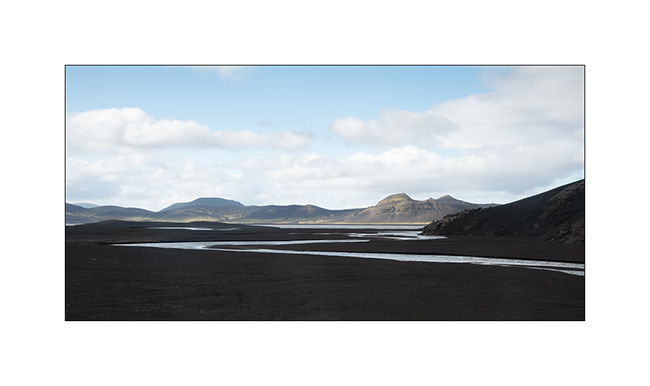 21. …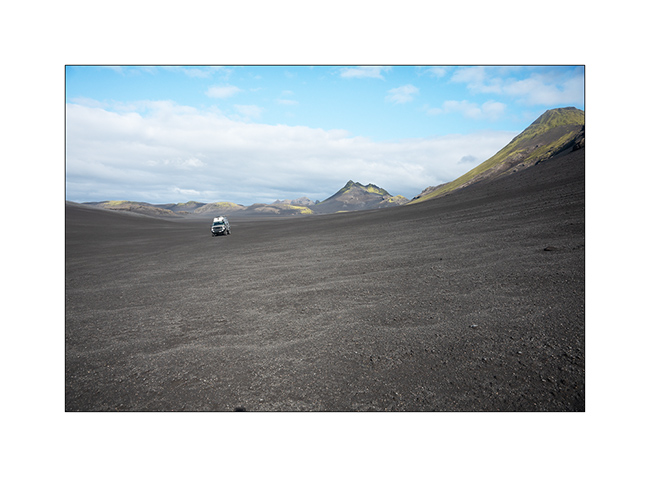 22. Another ford.
 


 
 
23. … and another.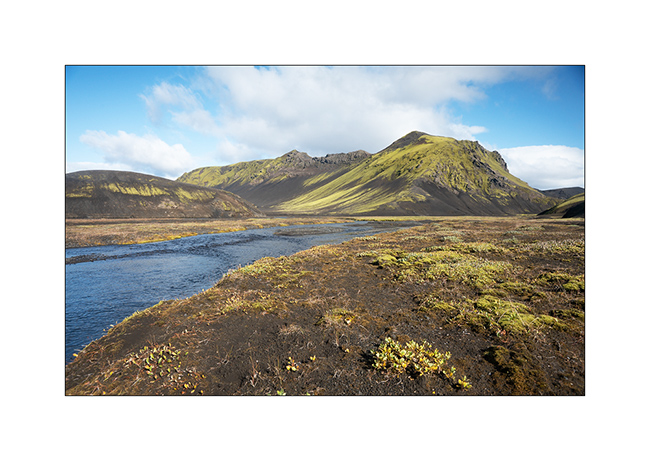 24. We walk and play too!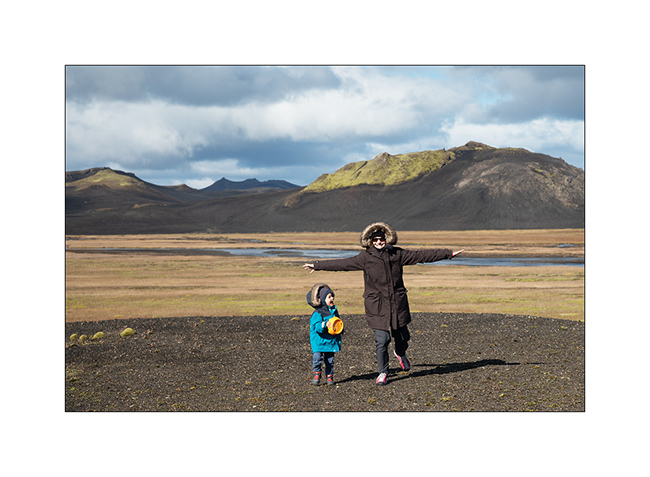 25. Selfie 😉
 


 
 
26. Emile loves it.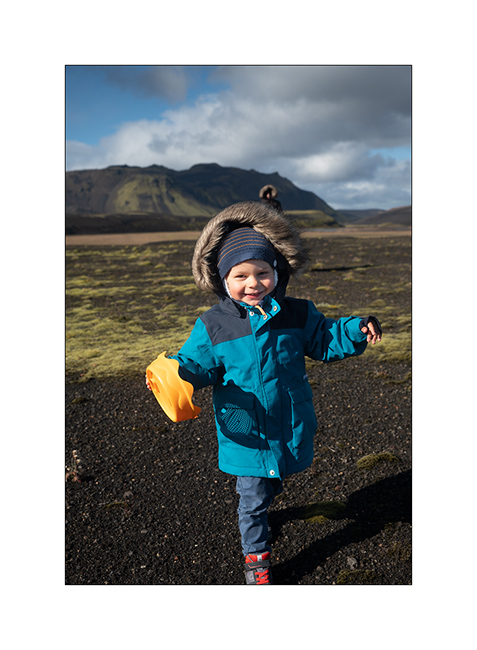 27. Late afternoon contrasts.
 


 
 
28. …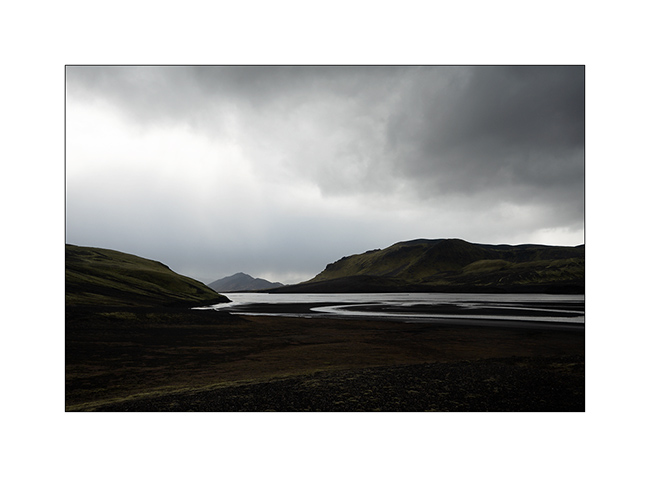 29. In places, this track less traveled requires a good 4WD transmission, as here in a steep descent.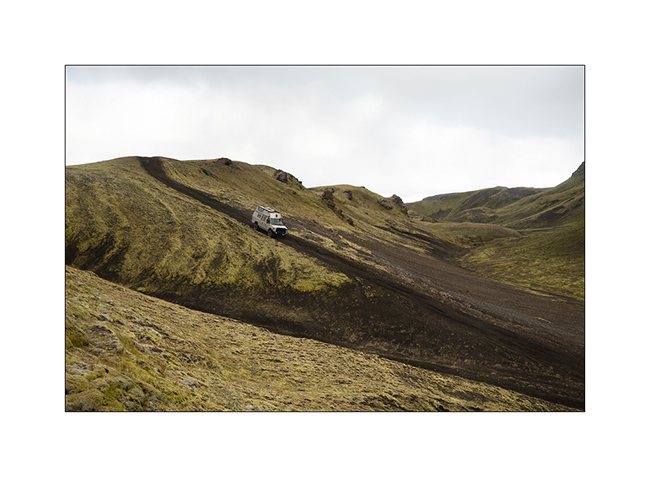 Here is another short video showing this trail. In video background, we can see the continuation of the track over the river, which goes up in the hills.
 
 
30. Rain showers are back.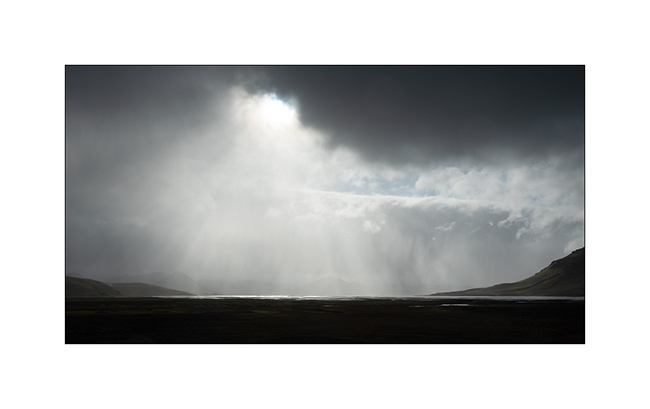 31. …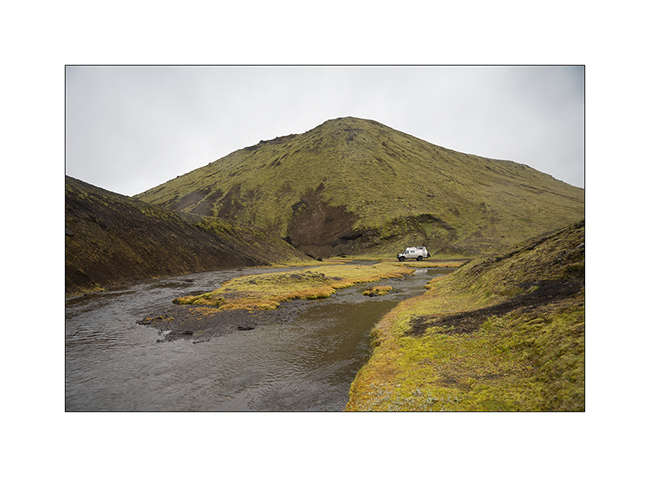 32. …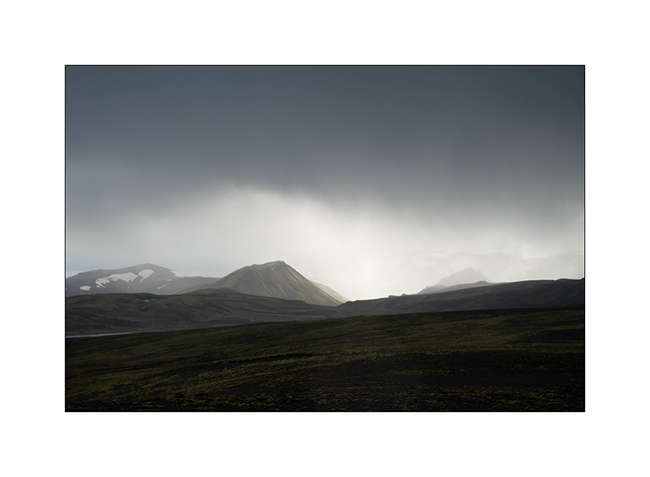 33. Another particularly saturated rainbow.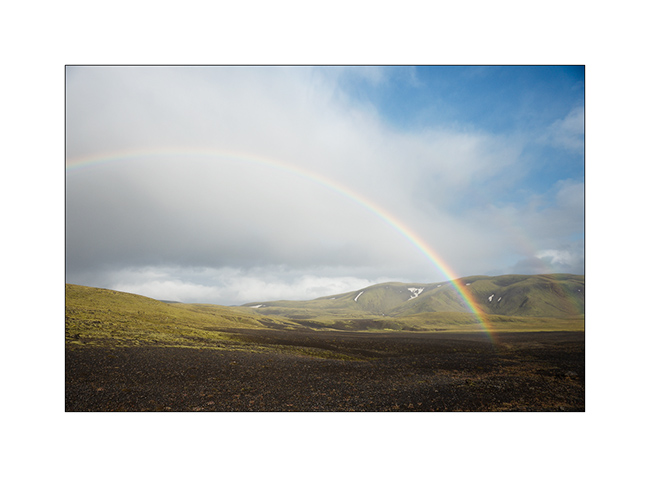 34. We spend the night on the shore of a lake, near a shelter already closed for winter…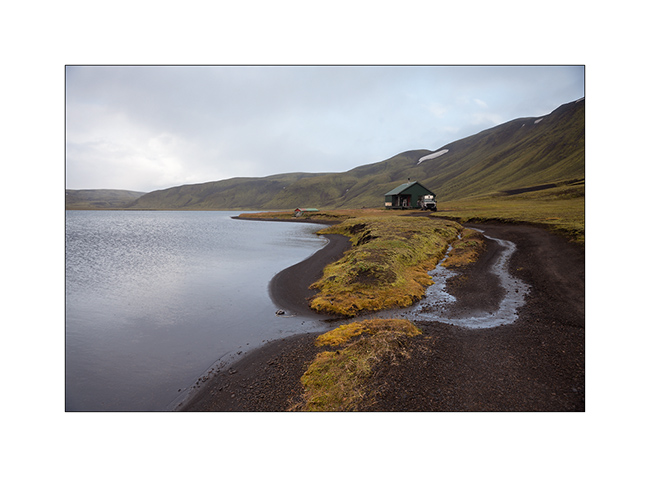 Hoping that this update won't have been too long… 😉
 
To be followed in Landmannalaugar soon.
 
 
 
1. From the Tende Pass, the switchbacks of the southern side are impressive !
 


 
 
2. We decide to borrow part of the Ruta del Sale which connects various ruins of military forts.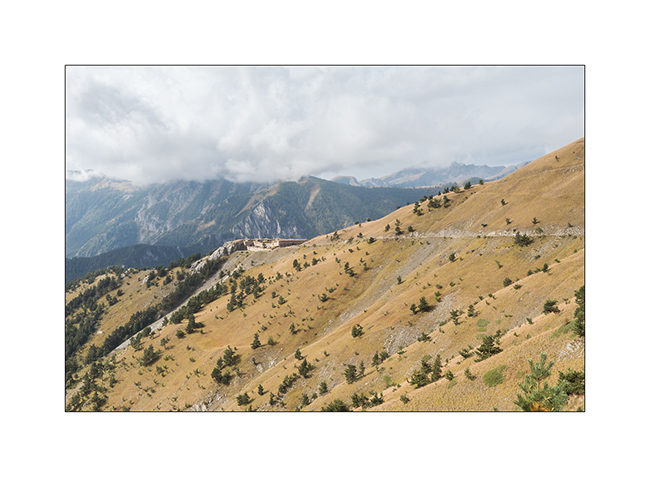 3. It's well inhabited by many marmots almost ready for their next hibernation.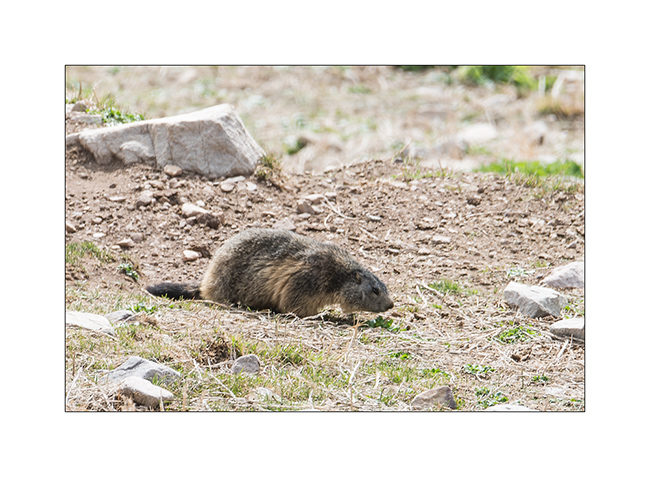 4. She looks like a ranger, isn't she? 😉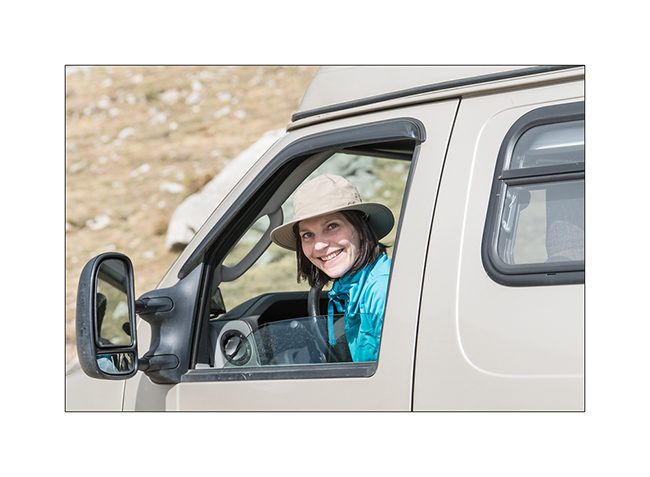 5. VivaLaVida follows ridges…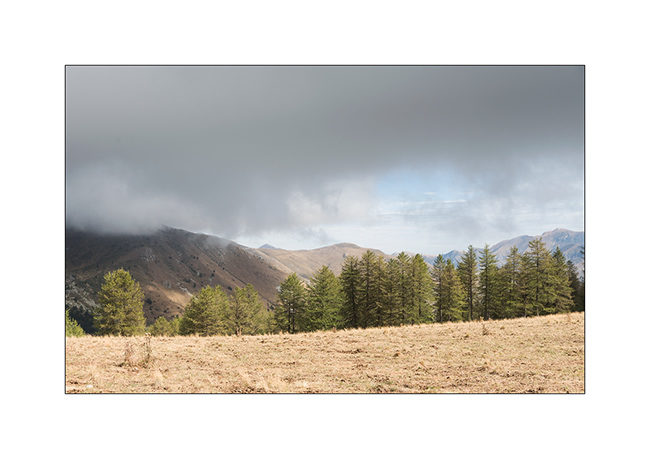 6. … with new landscapes at every turn.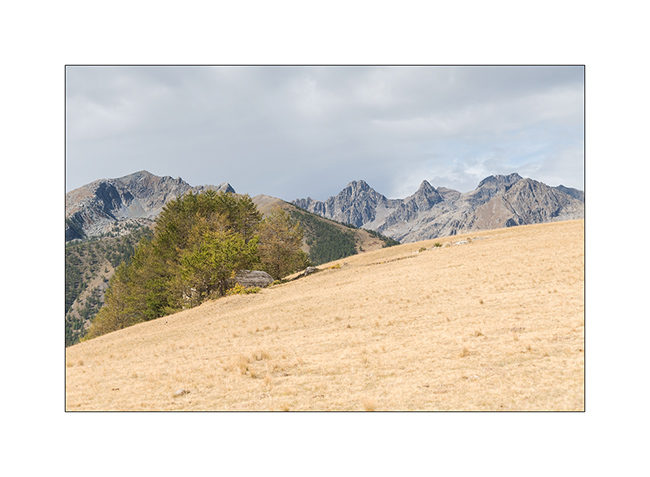 7. Clouds are close.
 


 
 
8. Nice bridge on our trail…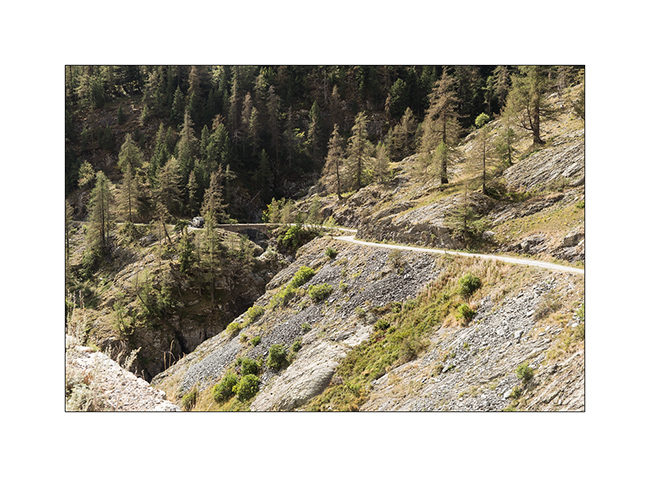 9. … which spans a torrent having dug the rock.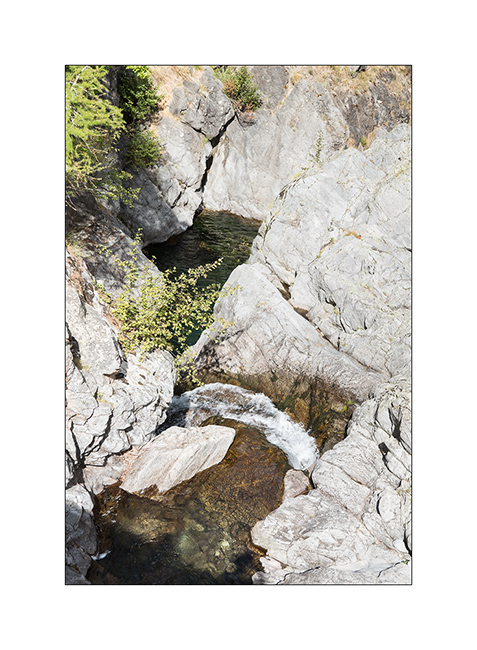 10. VLV makes a short stop.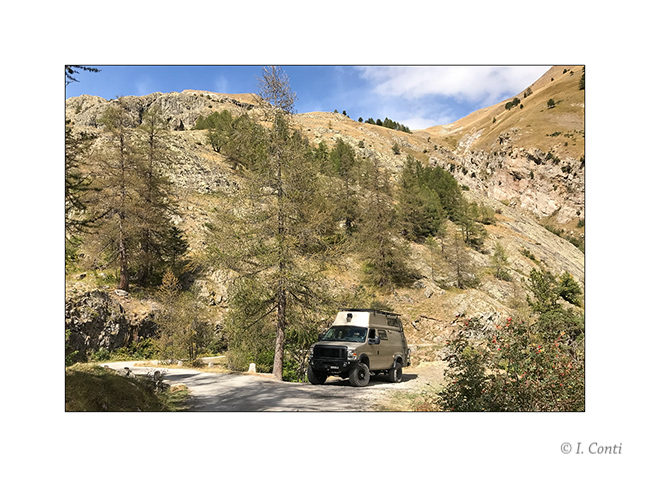 11. Lunch break in a pretty clearing in the larches…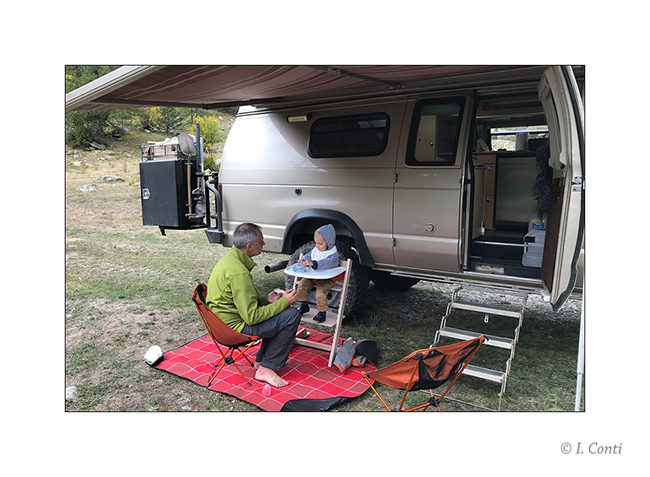 12. … and some play for Emile.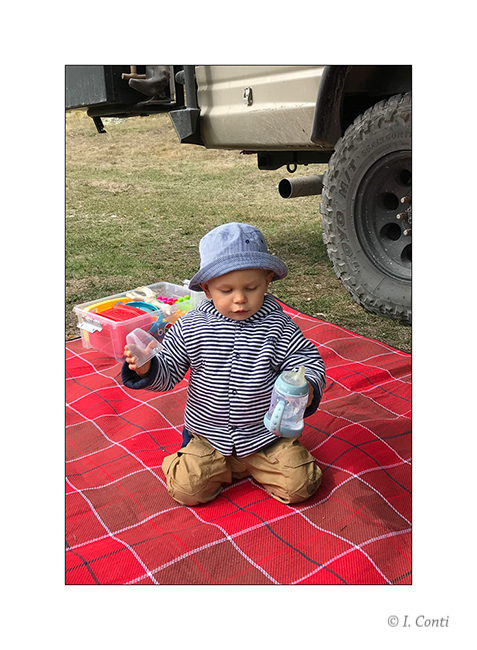 In the next update, we will show you Tende, a pretty village perched on the slopes of a deep valley.