July, 2014
now browsing by month
As anounced, VivaLaVida arrived in Yukon, the most North-West province of Canada. This territory extends till the Arctic Ocean. The South is hilly and covered with a uniform boreal forest, the North is only tundra till out of sight.


1. The famous "Sign Post Forest in Watson Lake. It currently has more than 78,000 signs led by travelers. One wonders how official entrance panels of German villages got there… 🙂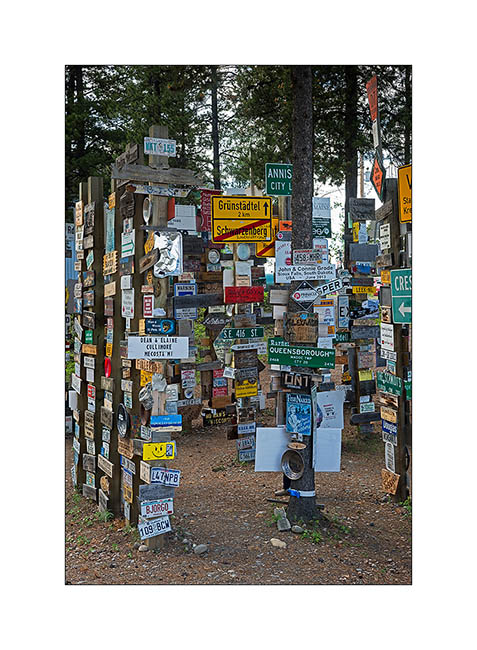 Vivalavida then left the Alaska Highway to sink deeper into the Yukon Territory along the Robert Campbell Highway, a dirt road more than 400 miles connecting Watson Lake to Carmacks.
2. Frances Lake, more than thirty miles long. The mountains in the background is the border with the Northwest Territories.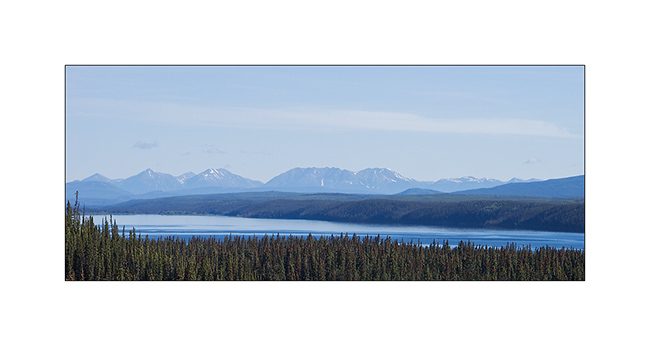 3. Robert Campbell Highway. Yes, it's considered as an Highway! But I saw only one car along the 400 miles…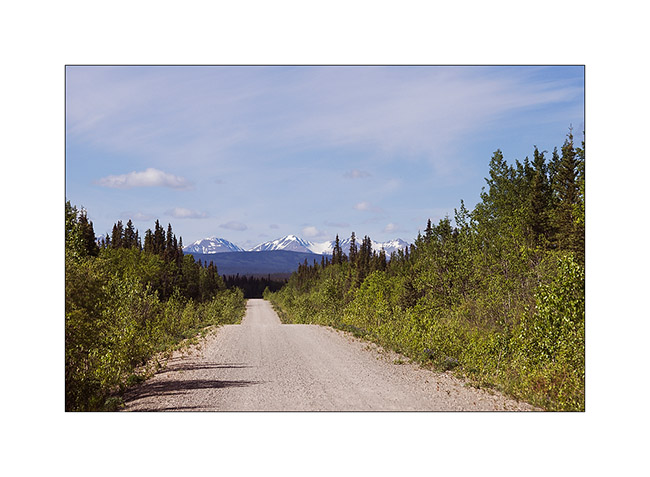 4. Succession of nice small lakes…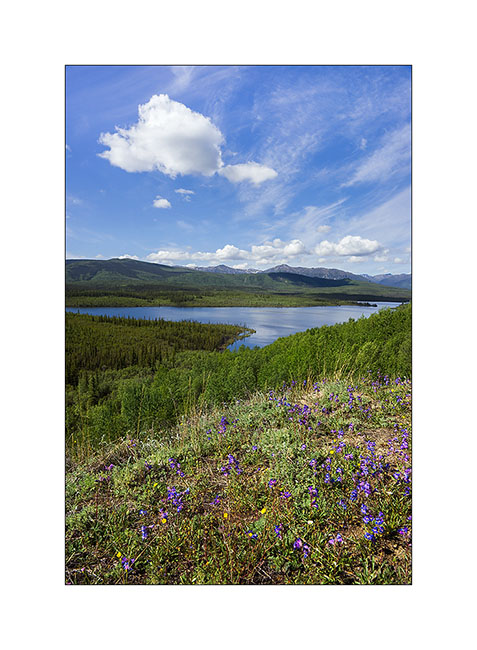 5. Another one…





At Ross River, I turned south to travel the South Canol Road, a road built by the U.S. Army during World War II to supply a military base in the Northwest Territories, one of the closest points of Japan by air…


6. Lapie River Canyon.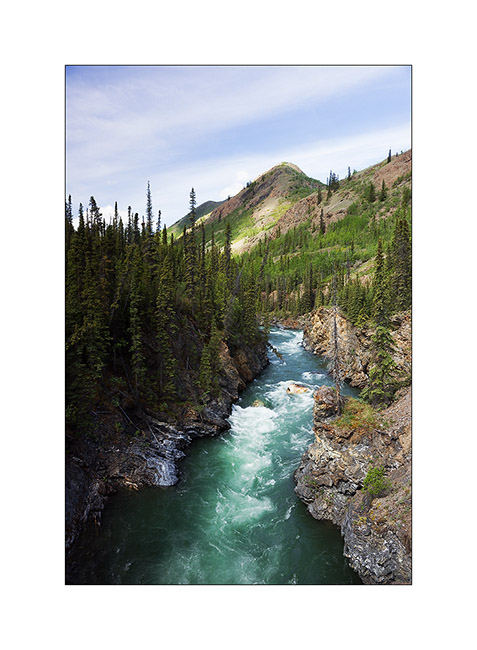 7. Lapie Lake, wonderfull.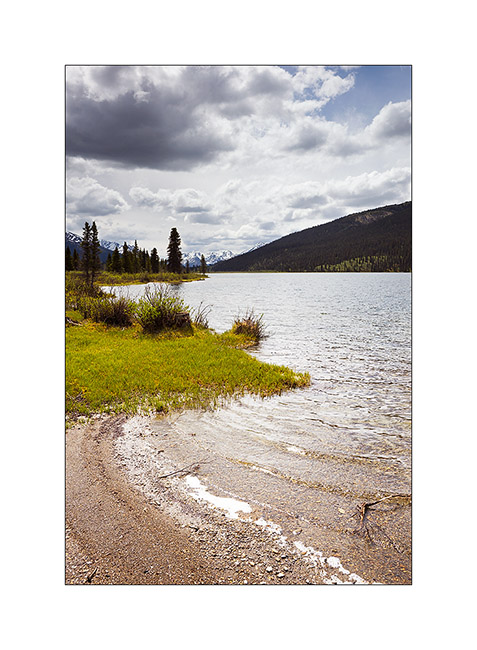 8. a pond along the road…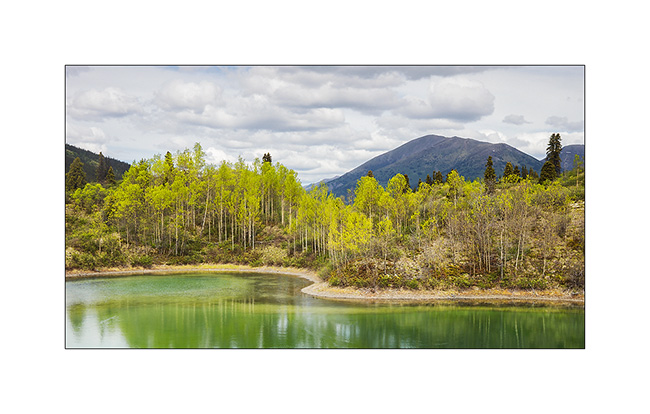 9. While I stopped along the road to have some lunch, I had the chance to see this spruce grouse, a mother who was quite aggressive to get me away from her progeny.





10. View on Quiet Lake.





11. Anecdote: when I found a nice camp spot for the night, this porcupine came Under Vivalavida and tryed to taste some pipes ..! I had to make it run away from the rear axle with a long stick, the rascal!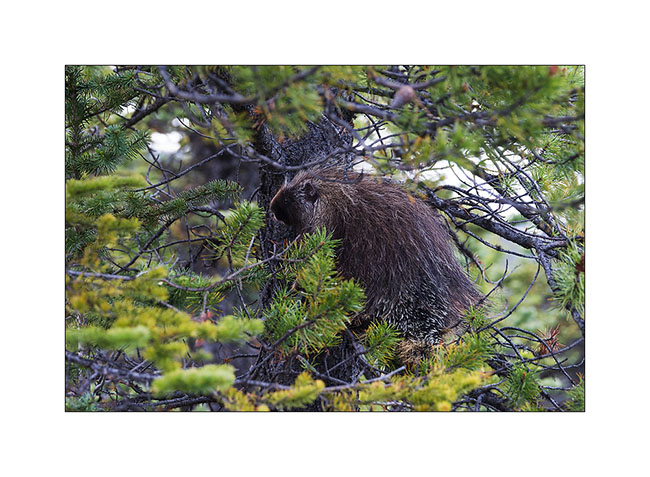 Arrival at Carmacks, on the Klondike Highway, Shanon and Garry, who propose good coffe and icecream at the Carmacks post office, indicated me some nice places to visit only know by local.

I take this opportunity to invite all travelers passing through Carmacks to stop at The Barracks. You will be warmly welcomed to drink a good coffee – even a "espresso" if you ask Shanon or Garry for a "Short Coffee" – and can enjoy one of the twenty ice cream flavors offered. Ideal for a quick stopover on the road or to send a post card to your family or friends. 😉

As there is very few backcountry roads in Yukon, I decided to go to the adviced places, starting with the ancient village of Yukon Crossing along the famous Yukon River. The trail leading to it is long disused but confident in the capabilities of Vivalavida, I decided to try to go through. After a few miles, I arrived in front of a big mud hole of a twenty yards long, a real muddy pond. After walking it for recognition, I decided to go for it. I lock the front hubs, switches 4×4 low speed, selects the third gear and locked rear differential and go! But after about 5 yards at most, VLV stops… A little surprised, I locked the front differential, put in reverse but VLV didn't move a single inch. Strange… Would mud be more slippery here than elsewhere? I go down, find some branches that I put under the wheels, nothing happens, I am indeed stucked! The only way to get out was winching to pull VLV out. I'll even have to use a pulley system to increase the strength of the winch as the mud really retained my home on wheels … But after three quarters of an hour, VLV has recovered strong ground. I arranged winch and straps, engage reverse and once VLV moves, I heard big Glong Glong Glong ..! Oops, something wass wrong there … Looking under VLV, what a surprise: the front driveshaft was laying on the gearbox cross-member! Exactly the same problems that VLV encountered at Steele Pass with the rear axle: bolts were gone. I then understand why Vivalavida was miserably stuck in that mud; it was only two-wheel drive at the time…
It will take me down back to Whitehorse the next day, 110 miles south, the only place where I could likely find some metric bolts to make the same modification I made to the rear and then solve the problem once for all …


12. Winching VivaLaVida stucked till the axles…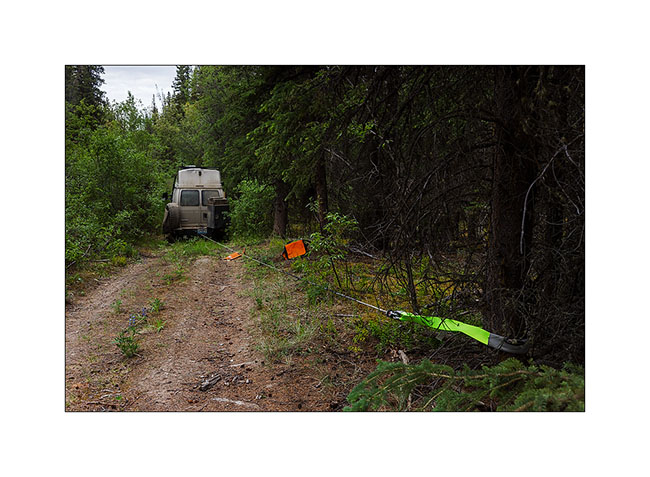 13. Here he is out!!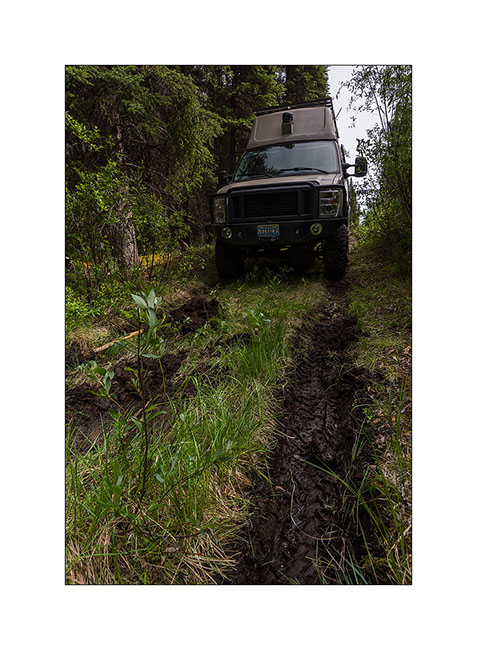 14. I still continued the exploration of the area in two-wheel drive, discovering this "Magic Bus" lost in the middle of nowhere. Probably a hunting camp…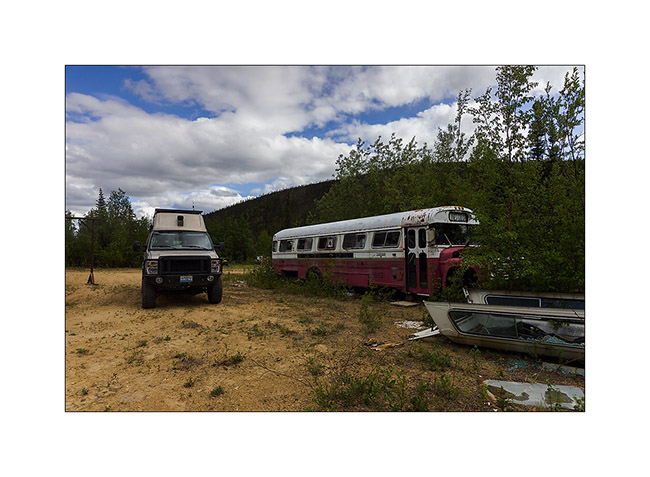 15. Log cabin dating from the gold rush at the beginning of the last century.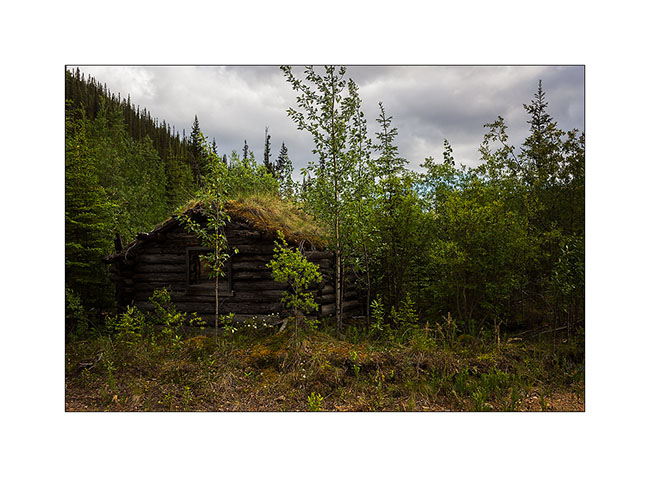 16. Some more recent remains…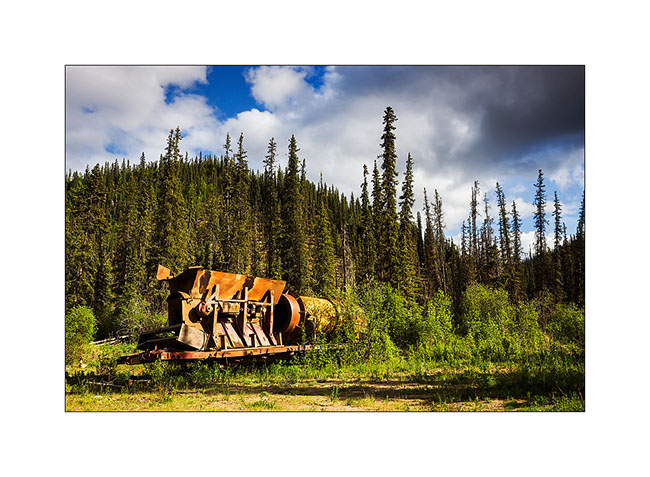 17. I even found an prospecting site where drill cores remain.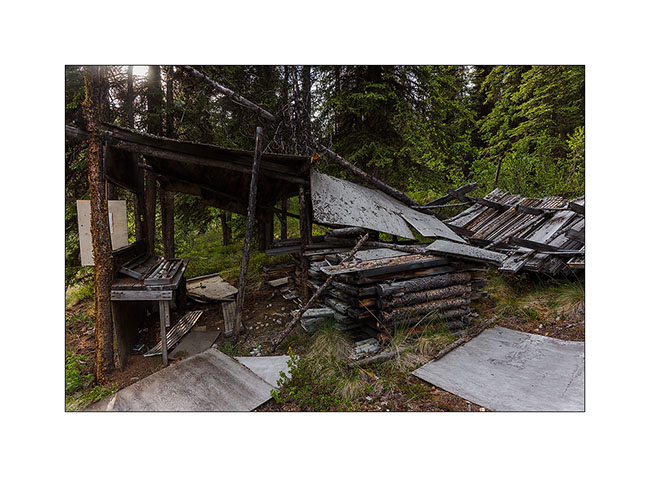 18. Aligned in cases.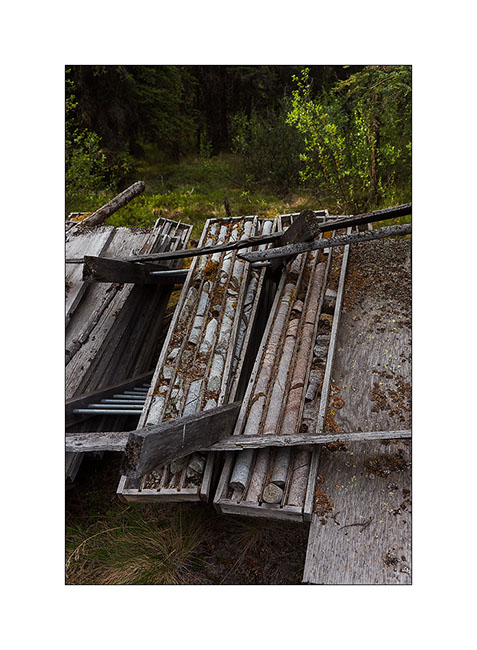 19. Although abandoned, it's evidence that the site is more recent, some prospectors still continuing research in the area.





20. I found a nice bonndocking spot not far away … The salmon is cooking in my summer kitchen..! 😉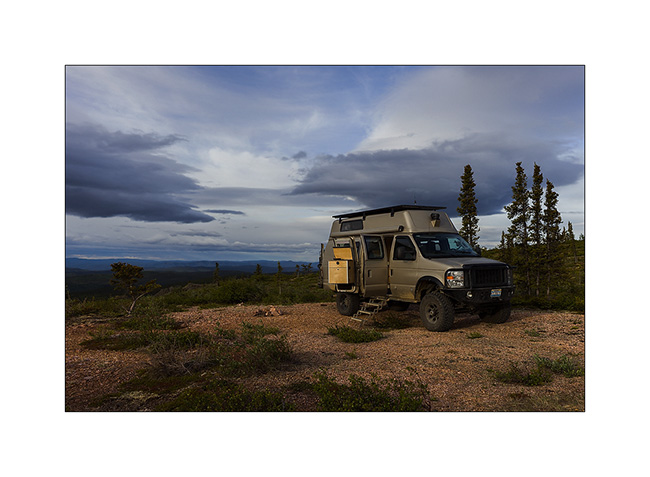 21. Over the tree limit at about 4,000 feet elevation, I enjoyed nice sky at sunset…





22. At midnight, it's still daylight..!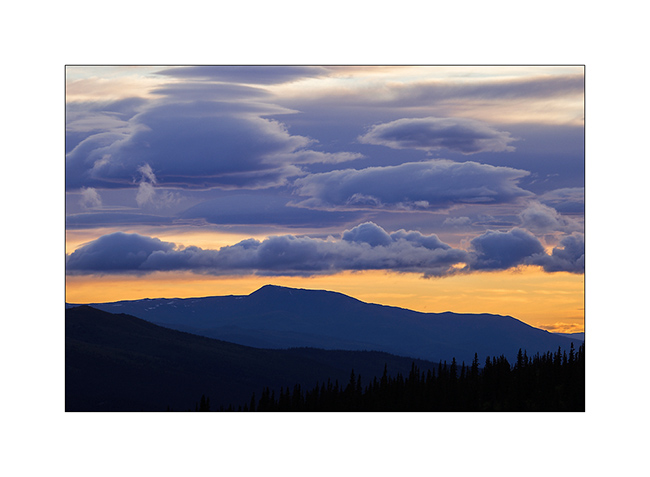 More to come soon… 😀